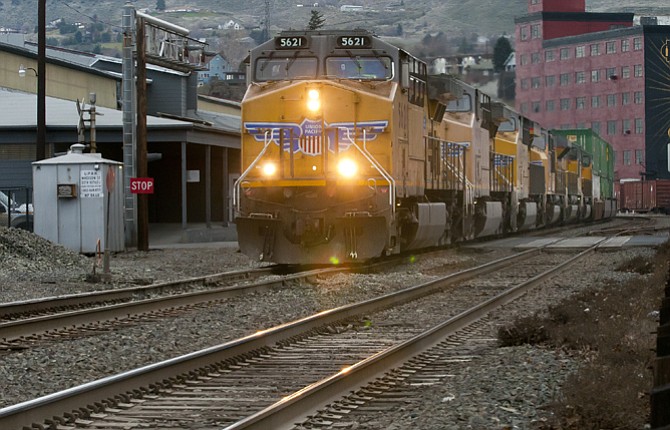 Railroad safety
Union Pacific and Burlington Northern Sante Fe railroad officials weighed in Wednesday on safety issues involving oil trains passing through the gorge.
Aaron Hunt, director of corporate communications for UP, said crude oil unit trains do move through the gorge on the Oregon side of the Columbia River, but he declined to provide specific numbers.
"For contractual reasons, we do not confirm specific information about any one commodity, but we currently move about 20-30 trains daily through the gorge," he said. "Crude oil shipments on behalf of our customers currently represent about one percent of our business in Oregon. Our business mix is constantly changing but crude oil is currently a small part of our business in Oregon."
Hunt said UP had invested more than $1 billion to enhance infrastructure in Oregon over the last decade in order to prevent derailments.
He said that work included track replacement and both rail and tie renewal beyond what was required by regulators.
"We have a robust track inspection process in place as well that includes the use of high-end technology, such as lasers and ultrasound, to detect flaws in the rail before a crack can develop," he said.
Hunt said a trackside sensor also performs a real-time analysis of a car's condition every time it passes by. That allows UP to spot early signs of potential problems that could cause premature equipment wear or failure. The program equates to about 20 million car evaluations per day.
"BNSF believes that every accident and injury is preventable," said Courtney Wallace, regional director of public affairs for the railroad.
She said BNSF's vision and focus has long been on been on preventing accidents in the first place.
"The rail industry as a whole is also very safe and has reduced employee injury rates, train accident rates, and grade crossing collision rates by 80 percent or more since 1980," said Wallace.
She said BNSF experienced the fewest mainline derailments in its history in 2014, and the Federal Railroad Administration reported that, based on preliminary data, it may have been the safest year for the rail industry as a whole.
Similar reviews were given in 2013.
"We have made this remarkable safety progress in partnership with our employees and by continually investing in new technologies that help make the railroad safer and more efficient," said Wallace.
Hunt said Rail Corridor Risk Management System touring protocol is applied to trains carrying 20 or more crude oil cars.
That system determines the safest and most secure routes for transports and was developed in conjunction with the Department of Homeland Security and Federal Railroad Administration.
According to a fact sheet provided by UP, the RCRMS takes into account 27 risk factors to assess rail route safety and security. Speeds are also kept down to 40 miles per hour — 10 less than UP's current self-imposed speed limit — in urban areas when trains are carrying 20 or more crude oil cars.
"This reduced train speed significantly reduced the kinetic energy that contributes to tank car breeches in accidents, without creating a major disruption to America's rail network," states the fact sheet.
UP contends that trains carrying oil shipments are provided with superior brakes to increase their stopping power. Because of the safety measure it takes, the company reports a 23 percent reduction in derailments over the last 10 years.
To prepare for the potential of an emergency, UP also offers comprehensive training to hazmat first-responders in communities along railroad tracks. About 2,500 local, state and federal professionals are trained each year on ways to minimize the impact of an emergency.
UP reports that 38,000 public responders and almost 7,500 private responders (shippers and contractors) have received hands-on and classroom training since 2003. The company has a new Emergency Preparedness Network Map gives first-responders an hour-by-hour snapshot of hazardous materials moving on UP track within state boundaries. And an AskRail real-time mobile application is also available that allows first-responders to obtain information about shipments of hazardous materials through their area.
BNSF provides hazardous material traffic flow reports upon request to local emergency responders, elected officials and emergency management administrators.
According to Wallace, BNSF was the first railroad in the industry to deploy a fleet of industrial fire-fighting foam trailers on hazmat routes around its network.
The trailers produce alcohol-resistant foam to extinguish fires involving materials such as ethanol and crude oil by covering the spilled material and depriving it of oxygen.
Wallace said the trailers are made available to local emergency responders. In addition, the company has other specialized spill response equipment and hazmat responders staged across its network. In Oregon, these resources can be found in Portland, Eugene, Klamath Falls, Maupin, Moody and Prineville.
The Dalles City Council has joined Hood River, Mosier and other Oregon towns in urging state officials to pursue greater federal regulation of crude oil transports.
The resolution approved by a unanimous vote Monday, Jan. 26, also recommends that rules be put in place to require that rail companies pay for damages caused by catastrophic fire and explosions following a derailment or accident.
Councilor Dan Spatz asked to have the issue put on the agenda, but was not at the Jan. 26 meeting.
The initial resolution, which is a formal expression of the council's opinion, did not mention finances. However, local conservationist John Nelson, who has been pursuing action regarding oil trains at the city level, gained agreement from city officials to have the language included. "It's a very complicated issue," said Nelson, who provided the council with two news articles about the potential dangers of having oil shipped via railroad.
He said a 2013 derailment in Quebec, Canada, that killed 47 people ended up costing $2.7 billion in cleanup, damages and settlements.

The Washington side of the Columbia River Gorge has become the Pacific Northwest's major railroad avenue for moving oil -— about 18 trains weekly — from North Dakota to shipping terminals.
Burlington Northern Sante Fe Railroad carries Bakken crude from North Dakota that is extracted from underground rock formations and is reportedly more flammable than traditional crude.
Environmental organizations, such as the Sierra Club, are seeking greater regulation of oil transports given the potential for an increase in shipments with North America on track to lead the world in oil production within five years.
Councilor Taner Elliott was unsure that the city's resolution, which is non-binding, would be as solid an approach as sending a letter requesting details about safety measures to railroad companies, gorge legislators and state officials.
He said the city could ask for a briefing about what measures would be taken if an emergency occurred and to be kept abreast of new safety standards.
He said conversations with BNSF and Union Pacific, which operates on the Oregon side of the Columbia River, revealed "staggering numbers" tied to their respective prevention and emergency response plans.

"It appears they are very involved," said Elliott, who did not provide specifics about what he had learned.
Representatives from both railroad companies said Wednesday that they had not been invited to Monday's council meeting to answer questions or address safety issues.
Nelson told the council that the city's resolution would let state officials know they was concerned about the welfare of citizens, as well as the environment in the Columbia River Gorge National Scenic Area. He said there was no local source for the foam that was necessary to extinguish flames if an explosion occurred.
He said travel to and from Portland for that product could delay response time, which would further threaten human life or resources.
In addition, he said local fire departments did not have the manpower or equipment to fight a catastrophic fire.
At Monday's meeting Mayor Steve Lawrence said, once the resolution was approved, the Community Outreach Team could follow up by voicing concerns during a visit to Salem in the spring.
Tim Schechtel, a downtown property owner in The Dalles, said the oil boom in America had created an "unprecedented" risk for communities along railroad tracks.
According to information obtained last year by a Chronicle reporter, oil is traditionally delivered via pipelines, but the growth in U.S. and Canadian production has exceeded what they can carry.
That has caused oil transport by rail to increase from 9,500 carloads in 2008 to 400,000 in 2013.
Schechtel said oil unit trains were more than one-mile long with 100 cars and the potential to carry three million gallons of crude.
According to BNSF, 18 unit oil trains travel through the gorge each week. Schechtel said that put 54 million gallons of crude near residential communities.
"A lot of people are chiming in on this, nationally as well as locally," he said.
Schechtel said the bigger picture was that fossil fuels contributed to global warming and acid rain around the world. So it was not too much to ask big oil companies, which were making huge profits, to better protect the public safety.
Councilor Linda Miller asked Schectel to expand upon his statements about the problems caused by the use of petroleum products.
"So, do you want to stop all oil trains coming through or just to make things safer?" she asked.
"I think just make safer at this time," said Schectel, who felt the issue of pollution should be addressed at some point in the future.
"The bottom line is, if we had a catastrophe, it would be overwhelming," said Lawrence.