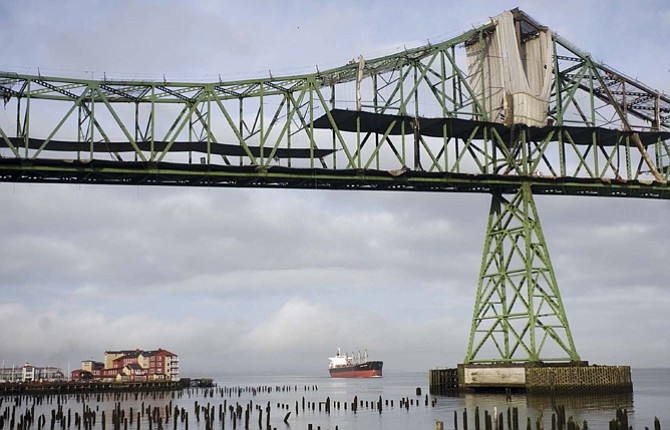 ASTORIA — Ships drop more than just their anchors when they settle into the Astoria Anchorage, giving the economy a boost as crews hit dry land for supplies.
Exact numbers are hard to determine, but water taxi drivers say it's a vibrant sector of the economy.
Alan Brann, known better as Kiwi, ferries passengers and cargo to and from the big ships aboard his boat, Miss Molly. In addition to himself and one crew member, he can carry 18 passengers below or 10,000 pounds of cargo on deck.
While he does more than haul crew and cargo to the ships in the anchorage, that's his main business. He takes shipping agents, sub-agents, surveyors, Customs officers, inspectors and crews to and from the ships.
The trips add up. And the effects go well beyond the money Brann makes carrying passengers back and forth. For one thing, crews need ground transportation once they hit dry land, he said.
"Cab companies make a killing off these guys," he said.
A lot of shopping business goes to Warrenton.
"They'll be at Fred Meyer for six to eight hours," Brann said. "They love going to shopping malls. They love computers. Filipinos like Levi's, vitamins, beef jerky, computers and cameras."
When they need provisions, they head to Safeway.
Brann took a crew there when he first started Kiwi's Water Taxi service. The manager at the time saw the size of the order and the number of ships in the mooring basin and recognized the potential, Brann said.
Crews get a discount for shopping at the store, and clerks are eager to help, he said.
When your ship comes in
Suzie Conner serves as a sub-agent through her company, Leland Vessel Assistance. When owners send ships to a port, they hire an agency to look after their interests, as far as getting the ship loaded, dealing with Customs, the Coast Guard, docks and other issues, she said. The list goes on and on.
Sometimes those agents will hire a sub-agent.
Conner got involved in vessel work when she worked at a nautical supply store in Portland. She got to know the shipping agents coming in to buy supplies for ships. That led to a job with a customs brokerage house that moved her to Astoria in 1990.
She started her own company in 1992 and has been serving ships in the anchorage ever since.
"Since I'd worked in Portland, I kind of knew who all the agents were," she said.
Grain ships make up about 85 percent of her business. She also works with ships picking up potash.
"When the ships pull in, I board with Customs (and) Border Protection," Conner said.
She takes care of the paperwork and the taxes the ships must pay. That's crucial, because foreign ships have only 48 hours to take care of those issues or they get penalized.
Local Customs
Customs and Border Protection officers serve a variety of roles in the anchorage, said Ed Colford Jr., supervisory officer for the U.S. Customs and Border Protection Field Operations in Portland.
They include checking crew passports and visas, ensuring there are no agricultural pests or contamination aboard and checking for wanted criminals, he said.
Vessel operators are required to submit information on crews to CBP 96 hours before arrival. In addition to a passport, crew members have a crew visa (D), a crew-in-transit visa (C-1) or a combination (C-1/D). If a crew member does not have the proper visa, they are not permitted to leave the vessel, Colford said.
CBP officers can issue shore passes to crew members with visas, but it is at their discretion, he said. They consider the risk factors and make a decision.
First-time visitors may receive more scrutiny than others because there's no track record of them going ashore and returning to the ship, Colford said.
Vessel operators pay to transport CBP officers to the ships, he said.
International appeal
Brann speaks highly of his clients; he enjoys meeting them and ferrying them to and from their ships. They're very honest, he said.
"If there's ever a mistake out there, it's me," he said.
This native New Zealander feels a certain kinship with them. He was a commercial fisherman for 18 years and knows what it's like to be out at sea and find yourself longing for a friendly port of call.
The Filipino seamen are the most numerous, he said.
"They're phenomenal; they're respectful, professional and polite," he added.
Work on Brann's boat for any length of time and you'll encounter seamen from India, China, Indonesia, Europe, Russia, Australia, "All over the world," Brann said.
A Bosnian-Croat crew enjoyed an evening at Drina Daisy in November.
Which brings up another issue for Brann: Tipping at restaurants is a cultural issue. Foreign sailors may not be familiar with the custom. He noticed staff at some restaurants were upset when they didn't get a tip, so he explained.
A few restaurants started adding a gratuity to the sailors' checks when they dined and it solved the problem.
They're happy to pay it, Brann added.
And he's happy to have them aboard his boat.
"For 40 years I took; when I started this business my parents said, 'It's time to start doing some community service. I don't care what it is.' So I take the crews to shore at cost."