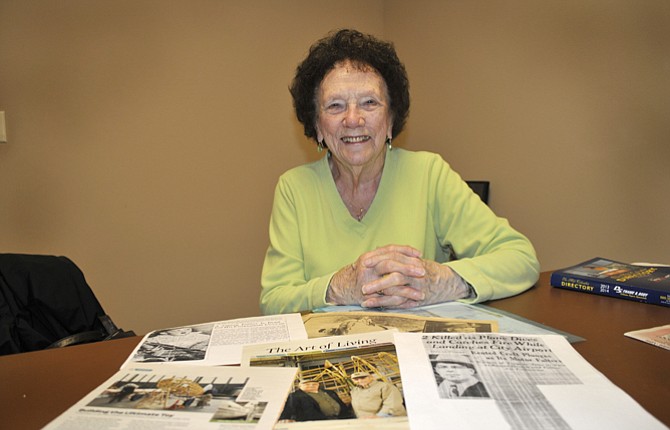 When American aviator Wiley Post arrived in Detroit, Mich., on Aug. 6, 1933, within a month of being the first to fly solo around the world in his Lockheed Vega aircraft, the Winnie Mae, one of those gathered to greet the famed pilot was amateur Detroit pilot Nelson H. Clark.
That same day, Clark's wife Winnifred gave birth to a girl who, at the recommendation of Post, was named "Wynne Mae Clark."
"When my mother Winnifred was in the hospital delivering me, Wiley Post came to the hospital, asked if she had named her little girl yet," said Wynne (Clark) Cheadle, who now lives in The Dalles
"My mother said, 'No.' He said, 'Why don't you name her after my airplane, the Winnie May?'"
Mr. and Mrs. Clark agreed, with one caveat: "Winnie" was the actual name of the plane, Wynne said, but she was named "Wynne" so people would not call her Winnifred.
In 1933 Nelson Clark died in a fiery crash at the Detroit airport. A newspaper clipping published at the time shows then 20-month-old Wynne sitting on the floor, a little plane in her hands, under the headline "A flying father is dead, but his enthusiasm lives on."
"While Mrs. (Winnifred) Clark receives the sympathies of friends and holds back the tears, Wynne plays on the floor with a model biplane which her father fashioned with his own hands," reads the story. "The little plane is her favorite toy, and the big-eared Easter bunny sits neglected in a corner."
Two years later, in 1935, Post himself died Aug. 15 while flying with Will Rogers in Alaska, where Post was interested in developing a mail and passenger air route. Rogers, a Cherokee cowboy, vaudeville performer, humorist, motion picture actor and nationally syndicated columnist, was accompanying Post on the flight to gather material for his column when Post crashed on takeoff and both men were killed.
The Winnie Mae, on display at the National Air and Space Museum's Steven F. Udvar-Hazy Center from 2003 to 2011, is now featured in the "Time and Navigation" gallery on the second floor of the National Air and Space Museum in Washington, D.C.
Cheadle is pleased to have been named after the famous airplane, and has carefully saved clippings related to her father's death, and the subsequent deaths of Post and Rogers.
She was thrilled to recently read that yet another "Winnie Mae" is on display, this time a reproduction of the actual globe-trotting plane.
The Winnie Mae Café in the Oklahoma History Center offers a variety of menu items for visitors, including gourmet sandwiches, soups, salads and snacks, all of which can be enjoyed while gazing over a replica of Post's famous Winnie Mae airplane.
Cheadle, almost 82, would like to see the plane and visit the café in person but doubts that will happen at her age.
"I hope I can," she said. "I was only 18 months old when my father died so I really didn't get to know him."
She and her late husband, Richard, came to The Dalles from Michigan in 1954 to be closer to his family. They raised six children and lost two to illness and one to an accident.
Two of her sons now live with her and a third is nearby in The Dalles.
"They've always been excited about it (airplane reproduction with her name) and thought someone should know about it," she said.