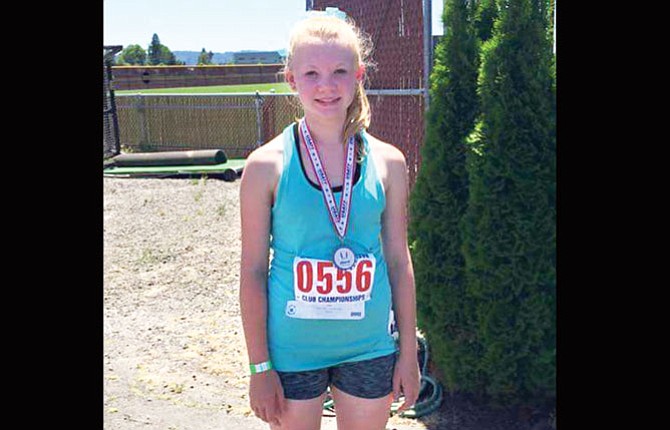 Facing the stiffest challenge of her summer season, The Dalles Middle School seventh grader Emily Johnson placed 10th in the 1,500-meters and added 11th in her 800-meter try at the USA Track and Field Junior Olympic regional meet this past weekend at Jesuit High School in Portland.
"She was disappointed in her placings and time, but this was the toughest competition she has had to date, and it was a good learning experience for her," said coach Heather Fitz-Gustafson.
After matching her personal record in the 1,500 on Fourth of July weekend in McMinnville with a time of 5 minutes and 35 seconds, Johnson finished with a mark of 5:44 to secure 10th place.
In her 800-meter race, Johnson, who is part of the Athletics East Running Club, crossed the wire in 2:49 to capture 11th place.
Considering that Johnson is a first-year participant, and that she had to face top runners hailing from Oregon, Washington, Alaska and Western Idaho, she still put forth solid numbers.
With this summer and this past weekend as a measuring stick, Fitz-Gustafson is confident Johnson will come back better prepared to match or surpass her times.
"The best part about regionals was how upset she was with her performance," Fitz-Gustafson said. "This actually shows how much passion she has for the sport. I said, 'I'm glad you're crying because that shows me how much you care, and you know how hard you've worked and that you can do better.'"
Johnson, 12, worked tirelessly this summer trying to perfect her craft, running 3-5 miles, three days a week.
Johnson will take three weeks off and then will start back up again in mid-August with The Dalles Middle School Cross Country team, where the game plan is to run with the lead pack. "After her great track season, I think that helped boost her confidence a little bit," Fitz-Gustafson said. "She is lacking in mental toughness and hopefully that will come with age and experience."
Having one athlete shine is great, but Fitz-Gustafson looks to Johnson's output to open the door for more athletes.
"We are hoping that with Emily's success this year in track, to develop a track club for other kids and get The Dalles back on the map for having excellent runners," Fitz-Gustafson said.