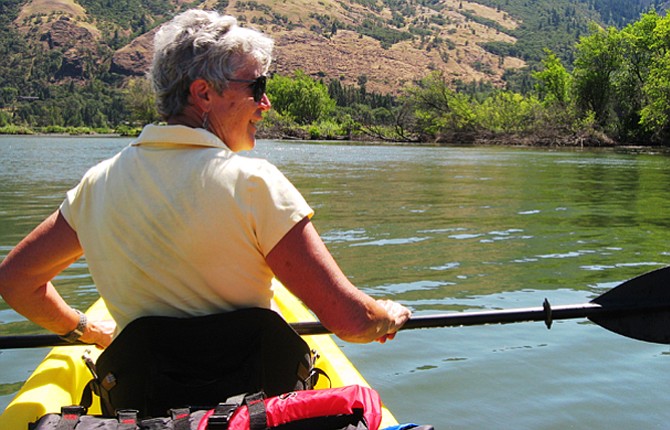 The one thing that I don't deal very well with is heat and it looks like thermometers in The Dalles will be in the triple digits through July 4.
And that makes me cranky.
I don't like hot weather, but after living in the gorge for several decades I have found three sure fire ways to stay cool even when you can fry an egg on the sidewalk: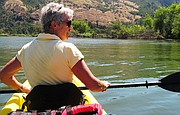 FIND WATER: Janet and I have two kayaks, one is a self-bailing sit-on-top that Janet loves because you can't sink it no matter how hard you try. Mine is a sit inside kayak that can and will tip over at the most inconvenient time but has lots of storage. In the past, water sports haven't been Janet's favorite way to pass a lazy day. She grew up on the high desert in Idaho and the only water, other than swimming pools, were cold white water rivers that did not lend themselves to leisurely summer swimming holes. The rivers we grew up with had names like The River of No Return or the Mad Canyon of the Snake. That said; Janet took to our kayaks like a duck takes to water.
The best part of having a boat is that when it is 105 degrees in The Dalles, it feels like 85 degrees on the water. A couple of hundred dollars will buy you an entry level kayak, for a bit less you can get an inflatable raft. Don't forget to buy, and wear, a personal floatation device and take plenty of sunscreen.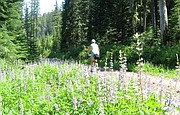 GO HIGH: For every 1,000 feet of elevation gain you will lose about 3.5 degrees of temperature. That means if it is 100 degrees here in The Dalles it will be just 88 degrees at Pocket Creek. If you have a mountain bike but are not into hard-core mountain bike trails, Pocket Creek may be just the place for you. There is an old one-lane paved logging road that goes 3.5 miles from the Pocket Creek SnoPark to a system of gravel roads that lead to various old clear cuts in the Pocket Creek drainage.
There are three options for a starting point. For the longest ride, park your car at the SnoPark and you can ride for 12 or more miles without ever leaving a road. Continue driving to the bridge that crosses the East Fork of Hood River and you will save a mile. Drive to the end of the paved road and ride the gravel, anywhere from 3 to 6 miles. There are lots of places, with world-class views of Mount Hood, to have a picnic. And best of all, you probably will see very few people. Do the ride in the next week or so and you will see lots of in-season wild flowers.
Take lots of water, your camera and a sense of adventure; you won't be disappointed.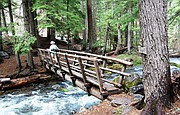 GO HIGH AND FIND WATER: One of the most picturesque waterfalls in our area isn't in the Columbia River Gorge; it's high on the east side of Mount Hood. This great hike starts by crossing the East Fork of Hood River and then following Cold Springs Creek to Tamanawas Falls. Cold Springs Creek is never calm; the sound of rushing water will be your constant companion all the way to the waterfall. As always, take a minute to stop and drink in your surroundings. This is beautiful old growth forest. There is simply too much to see to be in a big hurry.
Speaking of stopping; take a few minutes and watch for a small bird at stream side that bobs up and down like a Tommy Tippy Cup on steroids. If you happen to spy one of these elusive birds you will have found an American dipper; a most unusual bird to say the least. This bird makes its living by flying underwater to find its next meal.
This trail ends at the foot of Tamanawas Falls and no matter how hot the day is, the waterfall's cool mist will feel like heaven on earth.

Pocket Creek and Tamanawas Falls are both south of Hood River on highway 35. Tamanawas Falls is near mile post 72 and Pocket Creek is about 6 miles uphill on your left.