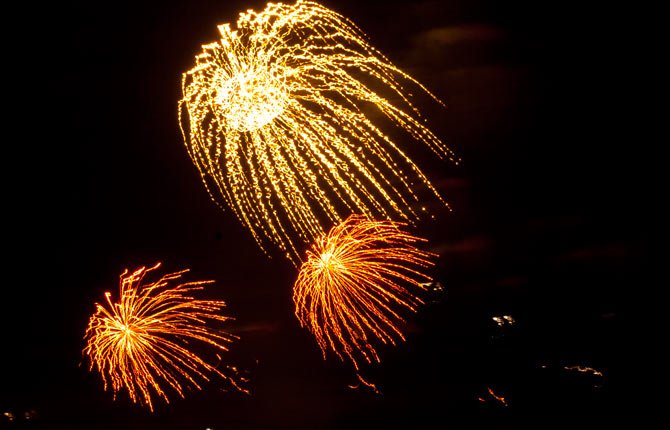 A mailer is going to thousands of homes in The Dalles and Dallesport seeking donations to the Fort Dalles Fourth committee as it hopes to grow the July 4 fireworks celebration.
The mailer, out at the end of the week, will ask for a "patriotic" amount — $76 — to become a Fort Dalles Fourth member. "It's called the Spirit of 76 Campaign," said Doug Kirchhofer, president of the group that operates under the umbrella of the Mid-Columbia Veterans Memorial Committee.
"It's an 'ask' of $76 to become an individual member of the Fort Dalles Fourth and we'll have some swag and some perks that will go with membership that we're working on forming. But 100 percent of it goes into the festival," Kirchhofer said.
Donations can be made in honor of a veteran or someone in the military. "We can create mentions and start to build some recognition for that aspect as well," he said.
"It's a single donation a year we'll try to get from many people to help support this level of production," he said of the planned 18-minute fireworks show on Saturday, July 4.
"We're hoping for an above average response rate from this mailer and, if we can, we'll achieve everything," he said. "Everybody's always asking for an easy way to donate. Here it is, coming in your mailbox. Stick a stamp on it and mail it in and we have a show, a regionally significant show."
Another main revenue source is the "adoption" of rockets through the committee's Facebook page. The committee wants 270 adopted by the end of March. Rockets cost from $15 to $450, and the donation doesn't get taken from checking accounts until the end of the month.
Last year's event cost $70,000, and the new event, which will take place over two days, including a Friday, July 3 concert by a nationally known country singer, has a cost of $110,000, Kirchhofer said.
The singer will have a new album out soon and had a chart-topping album in 2008. Kirchhofer hopes to have details finalized to name the singer in April.
"We're really stretching for a big show because this is the last weekend Fourth of July that we'll have for five years, so we're trying to get proper altitude on what this can be and try to sustain it from there," he said.
After a Friday evening concert from the big-name country act, Saturday's events start at 6:30 a.m. with a pancake breakfast, then a fun run/walk, an even-larger-than-last-year parade at 10 a.m., booths and activities, a slate of seven regional acts that will be on the music stage until 11:30 p.m., with the evening's main event being the fireworks display.
Also planned is a return of free bounce houses. "With successful fundraising that's going to be free to the community and that was important to a lot of people," Kirchhofer said.
This year, plans include generating more money at the event itself, including something like a donation kiosk.
As with last year's event, the Fort Dalles Fourth committee hopes to raise 30 percent of its costs from individuals, 40 percent from business sponsors and 30 percent from a city grant.
Last year, they got $20,000 from the city and are seeking $35,000 this year.
Kirchhofer said the event seeks to turn The Dalles from a place that people left on the Fourth of July to a place that people flock to on the Fourth of July.
It was the emptiness of the town on July 4 that drove Kirchhofer to start the fireworks celebration, which had its first year last year.
"With our river display we have a huge advantage in this kind of spectacle because of the layout of the city and the river," he said.
They estimate around 30,000 people watched the fireworks from various venues last year, not only at the event site, but at Sorosis Park, Riverfront Park, Dallesport and in homes throughout town. He's expecting over 50,000 will see it this year.
"I was so surprised last year, we all were. We were completely unprepared for how large of a response we got," he said.
The Dalles will also be one of the first two cities in the U.S. to use the same technology for displaying pyrotechnics that was used at the 2012 London Olympics.
It's a German-made system called Galaxis. Kirchhofer said he was told "It's the Lamborghini amongst Volvos. They can time the pyrotechnics to music within 1/100th of a second. They're able to fire different patterns at a much quicker rate. Visually it's going to be different."
Western Display Fireworks is again providing the fireworks.
"It's going to be fun to watch. Our committee is beefed up. We have lessons learned, we're still stretching for max potential for the weekend," he said.
For it to succeed, "most of it has to come from people putting in a little bit."