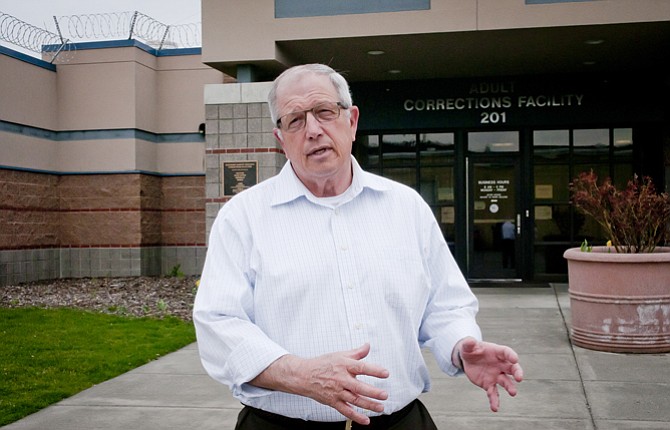 When James Weed took the job of executive director at the regional jail in April 2009, he inherited eight pending lawsuits over alleged inmate abuse and a spate of high-profile personnel problems.
The man he replaced, Ron Hager, resigned after four months due to an FBI probe into his investigative work in Mexico. Hager was under suspicion for activities related to his employment with the Cochise County Sheriff's Office in Arizona. For two years before Hager, the Northern Oregon Regional Correctional Facilities had operated with no administrator.
Morale problems were magnified by employee complaints about a wide range of issues, including sexual harassment, gender discrimination and money mismanagement.
In federal civil rights cases, inmates claimed to have been brutalized or mistreated by corrections deputies at the jail.
"Things were pretty bad when I got here and there were times in the beginning when I was very, very unpopular," admits Weed.
"I guess the intriguing thing that drew me to this job was that this was a regional facility and had the opportunity to be a model. I was actually looking forward to all the challenges."
TIME TO GO
Almost six years later, he feels the operation is in good shape and it is time for him, at the age of 65, to head toward retirement. He plans to step down in mid-June and will spend the spring months helping the NORCOR board choose his replacement.
His immediate plan is to return to the agriculture industry — the farming life he left behind to become NORCOR's director. He had only been farming about two months after leaving a position with a title company, which followed two years of running youth trail crews, three as Okanagan County Administrator, 13 as the elected sheriff of that North Central Washington county, and another 15 in law enforcement.
"This time I really intend to retire," said Weed. "Well, at least I hope not to have another law enforcement job. In my next position, I'm going to be the only employee and I'm going to be a problem employee — some days I might not even show up for work."
CHANGES MADE
As a sheriff in Washington State, he managed a 132-bed jail with a multijurisdictional base. So he was familiar with the operation at NORCOR, although he encountered many complexities in having four jurisdictions share responsibility for the same facility. "There is a real benefit to this because you are sharing public resources," he said. "But it does create some interesting challenges."
The nearly $15 million jail opened its doors in 1999 to serve Wasco, Hood River, Sherman and Gilliam counties. Policies and procedures were in need of updating, or missing altogether, when Weed arrived.
Within a short period of time, he also had to figure out how to overcome a budget hit when federal agencies began reducing the number of inmates housed at the jail.
Weed winnowed down the number of employees in the adult section, which houses a daily average of 130 individuals, from 65 to the current 55. The juvenile side of the operation also took on the Tools Program offered by the Oregon Youth Authority to help troubled teens from around the state get their life together.
The program helps 16 young males in trouble, such as those who have tried to run away from non-secure facilities.
Although these teens live in the jail, they are kept as separate as possible from the 16 incarcerated youth, by attending classes and exercising at different times. Tools focuses on education, life skills, anger management and the structure of a regular routine.
OTHER ISSUES
As Weed was working out budget issues in 2012, discord grew between Hood River and the other member counties over the funding formula for the jail.
Hood River objected to paying for more bed space than it was using. Wasco officials said the funding split for the facility had been decided upon prior to construction and Hood River's decision to have offenders perform community service instead of put them behind bars shouldn't change the prior agreement.
The issue became divisive enough that Paul Crowley, former presiding judge for the Seventh Judicial District, offered to mediate a compromise agreement. That deal gave Hood River a funding break but also provided a discount for Wasco as the county that housed the jail and had to deal with problems once inmates were released. Weed said the counties are working well together now and uniform polices are in place to guide operations.
LOOKING AHEAD
He sees the biggest problem facing NORCOR at this time is a societal issue that needs to be addressed by state and federal lawmakers.
"There are a lot of people who aren't dangerous walking our streets," he said. "The rest of society doesn't tolerate them very well when they take their clothes off or steal food from the grocery store. So, they end up in jail."
In a recent report, Weed calculated that, out of 2,502 inmates put behind bars in 2014, almost 800 had also been clients of Mid-Columbia Center for Living. Of the 32 percent of the jail population with mental disorders, he said 33 percent also had substance abuse problems.
"When they can't cope they find a way to get arrested because they know they will get 'three hots and a cot,'" he said. "So, jail has wound up being almost a residence for many of these people. It's an expensive and inappropriate way to help mental illness."
He said many homeless people end up in jail to have their medical needs taken care of. They arrive with STDs, infections from untreated cuts on their feet, ear aches and, often, diabetes or heart problems.
"Providing this medical care is very expensive and I think the next five years are going to find NORCOR defining how it wants to deal with this situation," he said.
Weed's method of handling problematic inmates has been simple — take away something they enjoy doing until they comply with the rules.
'TOUGH LOVE'
Toward that end, he used money in an inmate fund to purchase televisions for the common areas in every unit. The inmates vote once a day on what channel to watch and, if there are any problems, they lose that recreational experience.
"The rule is: If there's vandalism in here or you give staff a hard time, the TVs go out," he said. "I like people, I really do, but my job is to make sure that everyone is playing by the rules."
Because there were so many contraband problems in the jail, Weed set up a video visitation system that is now the only way that inmates can spend face time with families. He said inmates come from all over the state and it costs less for their families to visit from home than to drive to The Dalles.
Weed knows the "tough love" approach works because he's had former inmates stop by from time to time to thank him for helping them get things straightened around.
"I had one guy tell me, 'You never talked down to me, you never disrespect me, you treated me right,' and I thought that was pretty good," he said. "People do some stupid stuff but it doesn't make them bad people."
GIVING CREDIT
He credits the increased professionalism of the jail and corrections deputies who are "bright, pleasant and cooperative" for the fact that there are no pending lawsuits. In addition, there has been no time loss due to injuries during the past several years.

His managerial philosophy is also simple: "If people under me fail at something, they better have a good reason for it." He expects deputies to work hard "because they are paid with the public's money and need to give them their due. Period."
As a result, Weed said the jail is being run efficiently and effectively. And the facility has earned an "A+" on its credit profile, qualifying the agency for a lower interest rate on financing.
The five acres of jail-owned land next to NORCOR is leveled and is ready to build on, which Weed expects to provide additional revenue at some point in the future.
Long ago, when he was working on his criminal justice degree at Washington State University, Weed competed on the rodeo circuit and worked as a cow hand for a rancher with 1,000 mother cows.
His parents were older when he was born and died before he finished college, so Weed took jobs wherever he could. His early employment included railroad construction, fruit warehouse laborer, janitor, wine steward, and bus boy.
"I just did a little bit of everything and maybe that set the stage for the rest of my career," he said. "You never know what's going to come along next.