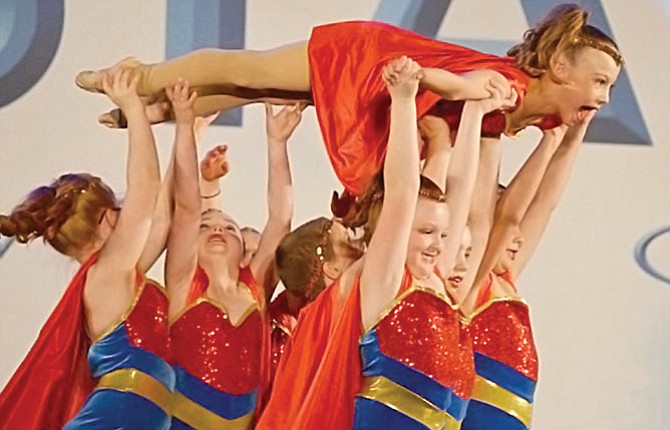 The Dalles Dance Club academy attended the regional dance competition this past weekend at Onstage New York May 1-3 at the Portland Convention Center and picked up several high scores and awards through the three days.
With approximately 40 studios around the Pacific Northwest and 861 dances performed, in what was the biggest regional competition ever, said TD dance instructor Kristi Maley.
"I was so proud of the kids," she said. "We had a lot of first-time competitors and we did really well. We had 9-10-year olds competing at 10 o'clock at night and they were true champions, and looked amazing on the stage."
In the prep division, receiving a gold medal in tap and a high silver in jazz, as well as a judges' choice award were Sophia Bucher, Mckenzie Barrett, Ella Anderson, Rylee Camp, Tygh Timinsky, Ava Malcolm, Jayden Hansen and Bridget Donnell.
Receiving a gold medal in the mini-division for their work in jazz and tap were Mckenna Strain, Katelyn Vassar, Tora Jo Timinsky, Madison Malcolm, Laurel Kirby, Vivian Harrah, Hayley Peterson, Madilyn Markwood, Allie Masterson, Madison Stembridge and Ahnikah Rubio.
Onstage New York is the ultimate talent search and competition, Maley said.
The dancers are judged by Broadway professionals from New York in jazz, ballet, lyrical, musical theater, hip hop, contemporary, song and dance, acro and open categories.

In the junior division, receiving a gold in jazz and tallying the fifth highest score and a high silver in tap, and a judges' choice award were Meli Avila, City Mains, Alyssa Weis, Paige Bankhead, Kamrey Fransen, Monica Gonzalez, Jayden Szeremi, Lorelay Berry and Hannah Kortge.
Kortge also received a gold in her solo and both Berry and City Mains received a high silver in their duo.
Aidan Telles, Nathan Nanez, Evan Despain, Electra Wickersheim, Sophia Pullen, Willow Drake, McKenzie Smith, Sydney Rains, Addie Klindt, Jordyn Hattenhauer, Anna Singhurst, Brooklyn Bate, Gillian Wolf, Ella Morgan and Giselle Schwartz earned a junior division platinum medal in jazz, had the third-highest score group and placed eighth overall.
Taking home a silver in tap, and a judges' choice award was Telles, and the tandem of Telles and Pullen received a gold in their hip hop duo.
In the teen division, Crysta Harris, Abbey Helseth, Abby Mains, Jessika Nanez, Tianna Smith, Madison Richardson, Kendyl Kumm grabbed a gold in jazz.
Ale Pena, Lauryn Despain, Lillia Chance, Taylor Sugg, Delaney Schanno, Abby Mains, Abbey Helseth and Jessica Nanez took home first place honors for the highest score in the teen division receiving a platinum medal and were third overall in the judges' choice category to win a cash prize.
In the senior division, receiving a gold medal, a judges' choice award, first place in high score and second place overall and nominated for the critics' choice award were Ale Pena, Taylor Sugg, Alissa Pastor, Alexis Pastor, Madison Rowland, Lauryn Despain, Keagan Rice, Delaney Schanno, Sydney Langer, Lillia Chance and Lilly Ley.
Pena received a gold in her jazz solo and Sugg was recognized for her efforts with a gold medal in her acro jazz solo.
The dance club is holding its year-end recital at 7 p.m. on Saturday, May 16 at The Dalles High School.
Admission is $4 a person for adults and children.

The dance club is located next to The Dalles Fitness and Court Club.
Summer session starts on Monday, June 22.
Interested parties can go to the front desk or call 541-298-8508.