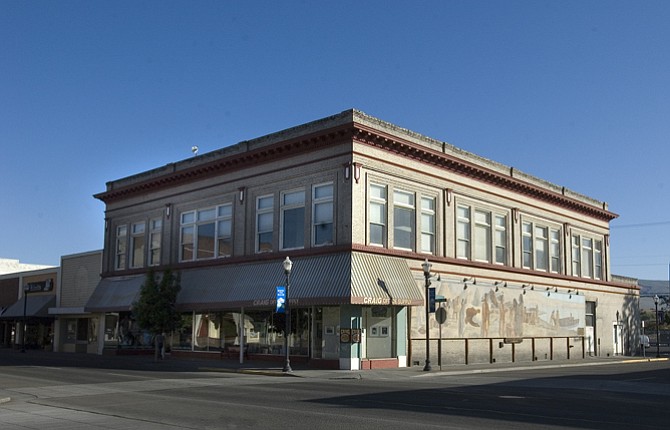 Mid-Columbia Medical Center is in the process of leasing two downtown buildings, one for office space and the other for a project to boost the local economy.
Gary Rains, business development director for the City of The Dalles, announced Wednesday that MCMC is finalizing agreements for the Craig Building at the corner of Second and Federal streets, and the former medical equipment center at First and Union streets.
"It feels good to begin to see the conclusion of some of these things I've been working on," said Rains, who is also helping to get a neon sign museum set up in the former Elks building at the corner of Third and Court streets.
He said MCMC and building owner Jim Craig expect to have their lease signed by the first of June.
Renovation of both the interior and exterior of the building will then begin and Rains said local contractors will be used for that project, which is expected to be completed by January 2016.
"This is going to be the largest renovation of single (second story) floor space that has taken place in the city and we think it will be a great kick-off for a lot more," he said.
He said the historic features of the Craig building, such as its large Chicago-style windows and 14-foot ceilings, will be highlighted by the renovations. Built in 1880 and remodeled in 1916, the building has been occupied by Craig's Office Supply since 1998 and was home to Gordon's Menswear before that.
"Though I love this building, this absolutely would not be possible without MCMC," said Craig in a May 6 press release about the deal. "You can just imagine how difficult this would be without a strong partner.
MCMC plans to relocate several departments and occupy much of the first floor and all of the second floor once the renovations are complete. Finance, patient accounts and the Mid-Columbia Health Foundation will have use of that space, according to the release.
"After considering several alternatives, the board of MCMC determined this was a wonderful opportunity to support change and the preservation of historic downtown The Dalles," stated Duane Francis, MCMC president and chief executive officer. "We look forward to being part of this project."
The press release said MCMC patients and staff alike will benefit from the consolidation of departments and the location will also provide convenient parking and easy customer accessibility.
"This is going to bring more foot traffic downtown and that will benefit many other businesses," said Rains.
The Dalles Mayor Steve Lawrence said of the pending plans: "Saving the heritage of The Dalles is a key goal for the city, and this is the best place to start. The success of this building will demonstrate what can happen in a number of others."
He said Craig was fortunate to have a corporate partner like MCMC to get the changes made.
Lawrence also praised MCMC for its plans to set up a business incubator that will help start-up companies and bring more jobs to The Dalles.
"A business incubator is a needed addition to The Dalles," said the mayor in a May 5 press release. "It's the ideal project to stimulate and promote community partnerships and economic growth."
Rains said business incubation programs typically support early-stage companies by providing them with a full array of business, planning and financial services. He said research has shown that 84 percent of companies that graduate from the program remain in their community.
The building at First and Union is a good fit for the incubator, said Rains, because it has both a retail floor and a product development area that will accommodate all types of businesses.
Because MCMC is partnering with the city on the project, Rains said the city council will have to approve the plan, which will be presented for consideration in mid-June. If approved, The Dalles Main Street office will also be sited in the building.
"MCMC is committed to The Dalles and we're committed to improving downtown," stated Francis in the May 5 press release. "MCMC is extremely pleased to give this concept a home and a start. We understand that it will take a willing partner to make it possible."
Rains, who has been the city's business development director for 10 months, hinted at a Wednesday interview that more good news may be coming soon.
"Stay tuned, there's a lot going on right now," he said.
For more information about either of the pending projects, call Rains at 541-386-5351 or email gary@garyrains.com.