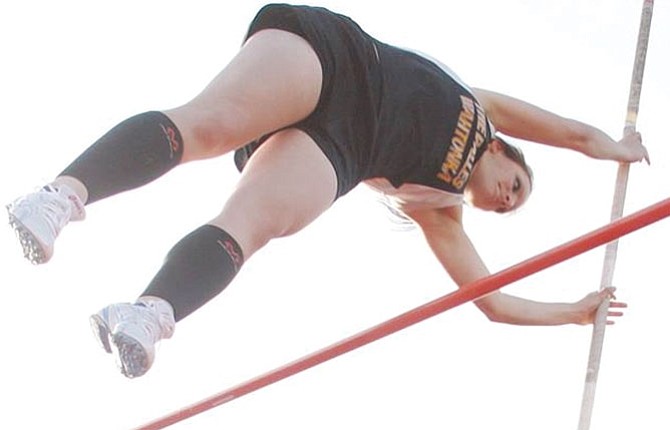 With one final chance to prepare for the upcoming Columbia River Conference district meet, The Dalles High School set 37 personal records at the CRC Last Chance Meet Saturday in Pendleton.
"We had a real good tune-up before our district meet here. The kids competed well," said TD head coach Garth Miller. "For some kids, this was the last meet of the season. Others have one more opportunity to fine tune in time to start district competition on Wednesday."
On the girls' side, Caela Dunagan had a first-place time of five minutes and 31.56 seconds in the 1,500-meters.
Katie Conklin set a personal record in a one-on-one showdown between the league's top-2 hurdlers with Pendleton's Hannah Boozer.
Conklin came away with the win in 16.22, beating Boozer (16.37) by .15 seconds.
Conklin added another winning effort in personal-record fashion with a height of 5-feet-2 inches.
Yasmin Hill picked up first place in the pole vault with a top height of 9-0 and the senior added a 16-0 in the long jump for first place in her field.
Kayla Seibel won the triple jump in 30-02, and the 4x400-meter relay team of Hill, Peyton Wojtecki, Aileen Luna-Lopez and Molly Nelson took top honors with a time of 4:42.29.
Paul Clark had a win to lead the Riverhawk boys with a long jump of 18-11 and Ian Corey placed first in the 300-meter hurdles with a final time of 45.57 seconds.
Jesse Schacht (12.40), Dominique Seufalemua (13.03), Julian Hernandez (13.31) and Cory Cameron (14.02) all set personal records in the 100-meters.
Schacht had another personal record in the 200-meters in 26.79 and Hernandez finished in 28.23 for another PR.
Murphy Goldsberry had the second-best time of the season with a personal record of 56.55 in the 400-meters.
Michael Lantz (2:30.18), Ethan Shubert (2:31.90) and Chris Montecalvo (2:43.26) had season best times in the 800-meters.
Luke McLean (4:40.96) and Lantz (5:02.87) had PRs in the 1,500 and McLean set a career-best in the 3,000 with a time of 10:18.97.
Jacob Schacht had a shot put toss of 29-5 for a personal record and Logan Nerdin was good for a distance of 21-5 for his best throw of the season.
Riley Bardes had a PR in the discus event in 130-9 and Michael Parrish went for a 71-1, a personal-record.
Peter Cardosi (69-9) had a PR in the javelin, Tyler Seibel had his best jump of 5-7 for second place in the high jump, and Orion Smith had a 10-6 for a career-best in pole vault.
Josiah Abrams had a PR long jump of 17-8.25 and he went for 37-1 in the triple jump and Antonio Morales had a personal record in the triple jump with his 36-0.
The Riverhawks had five female athletes set personal records in the 100-meters with Taylor Sugg (13.97), Lune-Lopez (13.97), Ivorie Taylor (14.08), Lexi Thomas (14.86) and Coy (15.67) putting their best foot forward Friday.
Emily Clark had a PR in the 200 in 32.41 and Gabby Quintana went for 34.78 in the same race, also a personal record.
Bailey Nearing had a more than four-second improvement in the 800 with her time of 2:51.50 and the standout freshman shaved four second from her previous best in the 1,500-meter with a time of 5:53.26.
Louis Smith had an 18.54 for a personal record in the 100-meter hurdles and she tacked on a 54.12 for a PR in the 300-meter hurdles.
Alexia Tapia dropped 1.5 seconds from her top time in the 300-meter hurdles with her mark of 59.28.
Wojtecki had a season-best in the shotput with a 27-9 and Karen Jesch showed a 2.5-foot increase in her discus toss of 92-11.
Sugg went for 7-6 for a PR in the pole vault and Jennifer Salinas had a PR of 23-11 in the triple jump.
The first day of CRC district action is at 3:30 p.m. Wednesday. Competition concludes at 3:30 p.m. Friday.
"I am excited for the kids," Miller said. "I am looking forward to seeing all of their efforts pay dividends for them at the district meet."