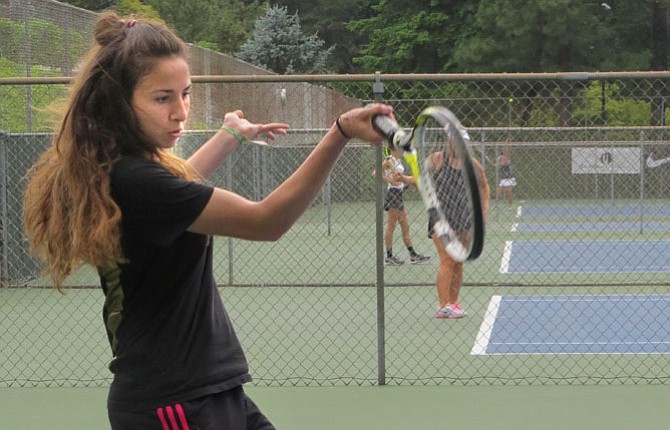 The Dalles girls varsity tennis team finished the season with a top 8 finish at state last week in Portland.
The Dalles' doubles team of Johanna Wilson and Anna Miller, who took second place at the Class 5A Special District 1 tennis championships May 16 in Hermiston, competed May 21 in the OSAA/U.S. Bank/Les Schwab Tires state championships, losing the first round to the No. 1 seed, defending state champion senior duo Vika O'Brien and Anne Kim of Ashland, 0-6 and 1-6. In consolation play May 22, the duo fell to Sandy's Wells/McGaughey, 5-8.
"I'm so proud of the year Jo and Anna have put together," said The Dalles head coach Debby Jones. "I know it was bitterly disappointing for the girls. I hope they are able to look back and really believe that they belong with the top doubles teams in the state."
In singles competition, The Dalles senior Marisa Cianci defeated senior Maddy Kunstel of Wilsonville 6-2, 6-3 in round one, but fell in the quarterfinals to two-time defending state champion, Marist Catholic junior Madisyn Bryant, 0-6, 6-2 in the quarterfinals. Bryant went on to defeat Wilsonville senior Haley Moss 6-3, 2-6 in the semifinals, and became state champion by topping Ashley Knecht of Ashland, 6-4, 6-4.
"Marisa lost the first two games of the match against her Wilsonville opponent. I met her at the fence and she confidently commented to me not to worry, she had her opponent sized up and knew what she needed to do," said Jones. "She backed up her words with a geat strategy and rolled off 6 straight games to take the first set."
Marisa ends her brief tennis career at The Dalles high school with only four losses, three of those to the top six players in the state. She will return home to Italy, and has already been invited to join an elite Italian club team, Jones said.
"This has been an amazing journey but the best part has been the overall change I have seen in our players," said Jones. "If you had told me that this was even a possibility at the end of last year's season I'm not sure I would have believed it. Competing with the top player and teams in the state tournament was a very eye opening experience."
"Unfortunately our time on the court was not as long as we hoped," Jones added.

The team has big plans for the offseason and are determined to prove this season was not a fluke. Jones said they also want to share what they've learned with younger players and will be hosting two clinics this summer.

For clinic details and summer program specials contact head coach Debby Jones at The Dalles Fitness and Court Club, 541-298-8508.