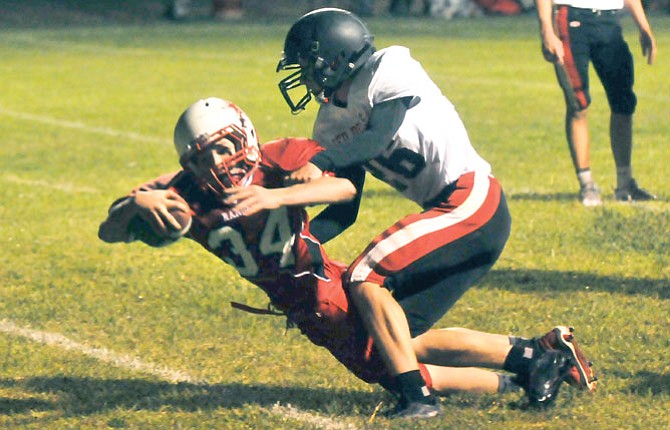 It is the Rangers against the Wolves.
Two top-10 teams in Dufur and Days Creek with prolific top-10 offenses battling it out for chance to advance to the Elite-8 of the state football playoffs.
Days Creek, which ranks 10th in the state offensively (411 points), is led by quarterback Colton Fuller and running back Jed Hays and bookended by a mammoth offensive line that features 985 pounds of girth spanning four players.
The Wolves are riding a four-game win streak with victories over Butte Falls (64-18), Glendale (86-28), Elkton (62-24) and Triad (44-30). Only Triad has a winning record at 6-2, the other three are a combined 7-20.
Days Creek has scored 62 or more points twice and rattled off 85 or more points two other times this year.
"Days Creek is a multiple formation team that does many different things on offense," said Dufur coach Jack Henderson. "They have the ability to pound it at you and attack the perimeter as well. Their quarterback can hurt you with his legs as well as his arm. He plays with a great deal of poise and is cool under pressure. Hays is probably the other go-to guy. He has great hands as a receiver and runs the ball with authority."
Dufur's defense has allowed 29 or more points just twice, both losses, but is entering play with the state's fifth-ranked scoring defense (17.3 points a game).
When allowing less than 29 points, Dufur is 7-0.
It will take discipline and an attacking style of defense to slow the Wolves.
"Assignment football, and the team aspect of the game are key," Henderson added. "To have success, we have to work together and fill our assignments and hopefully slow down Days Creek's big play ability."
Defensively, the Wolves have allowed 226 points and allowed 106 in losses to Yoncalla and Powers this year.
They face a Dufur offense that outscored playoff teams Lowell, Triangle Lake and Hosanna Christian by a 160-28 edge.
On the year, Dufur is ranked eighth in the state at 418 points scored, but since the return of a healthy quarterback Bailey Keever and tight end Kolbe Bales, the Rangers have scored 180 points in their past three games, all wins.
In last week's win over Mitchell, Dufur's Hagen Pence had 73 yards on five carries and Keever went for 80 on just two totes.
In the air, Keever completed 7 for 11 passes for 175 yards and four touchdowns, as Bales chipped in two grabs for 83 yards, Pence went for three and 77 yards.
Henderson is hoping for more of the same this weekend.
"We need to be consistent, execute and limit our mistakes," the coach said. "Their size will create challenges for us, so we have to be physical and not allow ourselves to be pushed around. Our attack needs to continue to be a strong running game, and a passing attack that keeps the defense off-balanced. Our kids have improved a great deal this season, which has led us to be really pretty efficient of offense."

The offseason work started after a 58-52 semifinal loss last season to eventual state champion Adrian on a walk-off, 86-yard touchdown, on Nov. 22, 2014.
The first step towards redemption starts at 1 p.m. Saturday in Dufur,
"This group is very focused on treating each game as any other football game," Henderson said. "Our goal is to out-prepare our opponents and execute the game plan. That doesn't change for the playoffs. We've had a great week of practice, thus far, and expect to continue that for the remainder of the week."