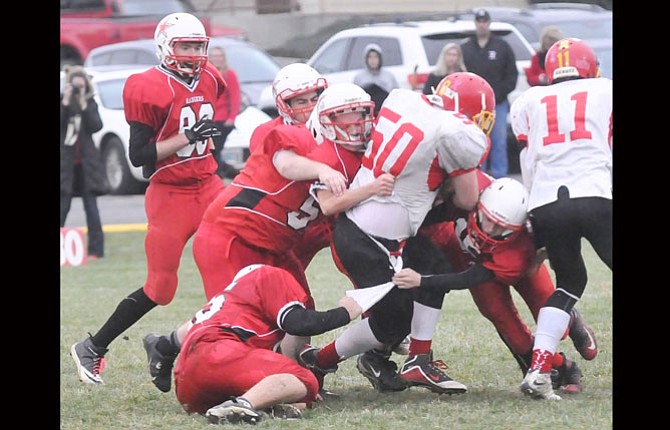 DUFUR – Defense wins championships, and the Dufur Rangers, the state's fifth-ranked scoring defense, provided proof of that adage, holding a high-powered Days Creek offense to 227 yards and no scores in a 62-8 victory in an OSAA/U.S. Bank/Les Schwab Tires 1A Football State first-round game played Saturday at Dufur High School.
The No. 7-ranked Rangers held Days Creek to 76 yards rushing on 26 attempts, 49 on 16 rushes by Jed Hays, forced four turnovers, two going for interception returns for touchdowns and Days Creek quarterback Colton Fuller completed 18 of 34 passes for 151 yards.
Of the 60 plays the Wolves (6-3 overall) ran, five went for 15 yards or more, one on a 20-yard run.
Aside from that play, the Wolves ran the ball 25 times for 56 yards.
"One of things we talked about doing was breaking down and keeping outside containment," said junior defensive end TJ Kennedy. "We wanted to stop their quarterback's momentum as much as we could and I feel like we did a pretty good job with that."
Kennedy and fellow defensive end Ben Anderson earned praise from Dufur coach Jack Henderson, and Kennedy sent high praise to Ian Cleveland, Jon Keyser and Zach Christiansen.
Cleveland had 20 tackles, Keever, a defensive back, added 19, both Christiansen and Cleveland had fumble recoveries, Anderson and Kennedy had two sacks each and Hagen Pence added another sack.
Keever had a 63-yard interception return that gave Dufur a 28-0 lead with seven minutes and 23 seconds left in the half, and with no time left in the half, Curtis Crawford had a 70-yard interception return to move the Rangers ahead, 40-8 at the half.
Dufur is now 7-0 when allowing two touchdowns or fewer in a game.
"I was really impressed with the way our defense played," Keever said. "As a team, we flew around and we attacked them. One of the things that stood out was we were excited about things. For the past years, we have kind of lacked that, but in this game, we really got excited about things and it kept momentum going. We flew around and it was a great overall effort."
After punting on its opening possession, Dufur found some offensive rhythm and hit the end zone on three consecutive drives to end the first quarter.
With Pence limited all week due to sickness, Cleveland, the 5-foot-8 inch, 210 pound running back got the Rangers on the scoreboard with a 21-yard run.
Pence would add an eight-yard run and Keever tossed a 43-yard pass to pence to swell the ranger lead to 22-0 with 3:52 remaining in the first period.
Keever had his interception return to make it 28-0, but on Dufur's next possession, Days Creek defensive back Kameron Stever returned an errant halfback pass 29 yards for an interception return to put his team on the board, down 28-8 with less than a minute left in the second quarter.
Keever and Crawford connected on Dufur's next time with the ball for 50 yards, and then Crawford added his pick-six to cap the first-half scoring.
It was much of the same for the Rangers in the second half, as Cleveland hit the end zone, Keever hit Pence for a 9-yard pass play to run the lead to 56-8.
On the last possession of the game, backup quarterback Derek Frakes hit freshman running back Tanner Masterson from 20 yards out to cap the scoring.
The Rangers (8-2) rushed the ball 26 times for 158 yards and passed the ball 14 times for 166 yards.
Cleveland totaled 55 yards and two scores, Pence went for eight and 44 with a touchdown and Cayton Sinay had four rushes for 22 yards.
Keever completed 6 of 12 for 146 yards and three touchdowns, hitting Pence twice for 52 yards and two touchdowns and Crawford had a team-high four catches for 94 yards and an end zone trip.
Crawford also added a one-handed conversion catch in the first quarter.
"I am really impressed with the way Bailey is throwing the ball down the field," Keyser said. "Our running backs are doing a great job of finding holes for big runs. Ian Cleveland did a great job of running the ball. He is a tough guy to tackle. He's come a long ways playing for us. Our entire offense is doing great now. In these last two games especially."
The task gets tougher this week in a quarterfinal showdown versus No. 2-ranked and undefeated Yoncalla (10-0) up next.
The game is set for 1 p.m. Saturday at Cottage Grove High School with the winner playing the Perrydale and Wallowa winner.
"We challenged our kids all week long that we need them playing their individual best in every game," said Dufur head coach Jack Henderson. "It makes the whole team stronger and better when we adopt that philosophy. We need to keep doing it from here on out. Our kids are taking on that challenge by working harder and knowing this is the time of year that we cannot afford to have any letdowns.
"We were ranked No. 1 for a while, but we are getting healthier and we are playing some of our best football of the season."