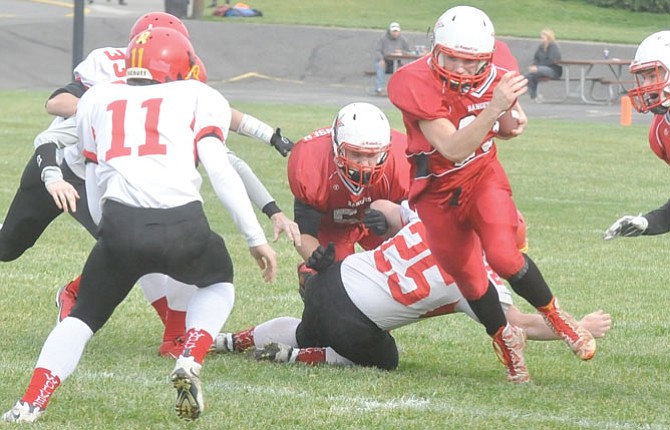 After a lopsided playoff-opening win over Days Creek last week, the biggest message sent to the Dufur Ranger football players is that the road to a championship gets tougher and tougher from here on out.
This is the moment of truth.
Up next for the Rangers is an OSAA/U.S. Bank/Les Schwab Tires 1A Football State quarterfinal tilt versus Will Shaw, Zach van Loon and the No. 2-ranked and undefeated Yoncalla Eagles in a neutral site game played on the turf at 1 p.m. Saturday at Cottage Grove High School.
Last week in their first-round playoff game, Shaw threw a pair of touchdown passes, rushed for one and returned an interception for another score to lead the Eagles to a 50-26 victory Camas Valley last Friday.
Yoncalla's senior quarterback had 202 yards passing and accounted for three touchdowns in the first half, as the Eagles led 28-14.
Friday's Yoncalla win was the closest margin of victory all season – Before that, they had won nine in a row by an average of 46.1 points.
Henderson said that Shaw is a quarterback with one of the best arms in the high school ranks and he also has an ability to run the football.
Van Loon is a rangy, 6-foot-2 inch receiver, who oozes athleticism, running back Noah Loeliger (5-11, 191 pounds) brings breakaway speed through the air and on the ground, and 6-3 tight end Rob Stewman is a threat.
Both Stewman (183) and Billy McKinney (175) are the standouts on a Yoncalla offensive line that has two starters weighing more than 200 pounds.
"Yoncalla is a spread team, that can throw it deep as well as run the ball very effectively," Henderson said.
Yoncalla (10-0 overall) boasts the state's No. 1 scoring offense at 62.1 points a game, amassing 77 or more points three times.
The Eagle offense has been held to less than 50 points just twice this season.
While the Yoncalla offense is very prolific, Dufur's No. 5 scoring defense (16.4 points a game) is on a roll of late and have been all season.
In 10 contests, Dufur has allowed two touchdowns or fewer seven times, and is coming off a game where it sacked the quarterback five times, held Days Creek to 76 yards rushing, forced four turnovers, two going for interception returns for touchdowns, and held Wolves quarterback Colton Fuller to an 18 of 34 completion rate for 151 yards.
Henderson and defensive coordinator C.S. Little have been working hard in the lab all week, devising a game plan to stop Shaw and company.
"It will take discipline in covering the field," Henderson said. "It is tough to cover the pass in Eight-Man football, but with a quarterback like Shaw, who keeps plays alive, it's that much worse. As always, we must work as a team to limit what they can do on offense."
Those same Yoncalla standouts will play on defense with van Loon as a defensive back, Stewman at linebacker and McKinney at nose tackle.
So far, Yoncalla is tied for seventh in the state in scoring defense (18.2 points a game).
The Eagles face a Ranger squad that is ranked fifth in scoring offense at 48 points a game, but has found a rhythm of late with a healthy Bailey Keever and Kolbe Bales (60.5 points a game in the past four).
In their 62-8 drubbing of Days Creek last Saturday in Dufur, the Rangers (8-2), playing against a defensive front that weighed a combined 985 pounds between four defensive linemen, rushed the ball 26 times for 158 yards and passed the ball 14 times for 166 yards.
Ian Cleveland and Hagen Pence teamed up for 99 yards rushing and three scores, Keever completed 6 of 12 for 146 yards and three touchdowns, and tight end Curtis Crawford added a team-high four catches for 94 yards and an end zone trip.
Yoncalla doesn't have the same girth as Days Creek, but they are quick and athletic up front.
That defense held 2015 playoff teams like Days Creek to 16 points, North Douglas to 14 and Triangle Lake to six points.
In their last four games, all against playoff-qualifying teams, the Eagles have gone undefeated with a combined winning margin of 239-76.
"Yoncalla is mostly an odd-front team that blitzes their backers on most every play, trying to knock you down at the line of scrimmage," Henderson said.
Henderson is looking forward to the chess match between Yoncalla's front and the Dufur offensive line of Alec Smith (260), Jon Keyser (260), Zach Christiansen (200), Crawford (210) and Bales (160).
Through the course of the season, the Ranger coach said they have developed a strong cohesion and have been an impressive and tough group to play against.
With the temperature expected to be 53 degrees Saturday with a 70 percent chance of showers, Henderson plans to unveil his physical backs in Cleveland (210) and Pence (200) with a sprinkling of the speedy Kurt Nuevo (140) to wear Yoncalla down.
"Our size, both on the line of scrimmage, as well as the backfield, should create a significant challenge for our opponents to stop," Henderson added.
Yoncalla has a roster of eight underclassmen, four juniors and five seniors under head coach Matt Bragg.
After going 3-6 in their first campaign as a 1A program in 2012, the Eagles have gone 26-6 in the past three seasons.
"Each week is tougher this time of year, as it should be," Henderson said. "Yoncalla presents challenges that we don't see week-in and week-out in league. They throw it better than anyone in the state at this level and have athletes in every position that you have to account for each play."
Both Yoncalla and Dufur are trying to break through into the Final-Four of the 1A bracket.
Last year, Dufur beat North Douglas (48-0) and Wallowa (72-20) in the first two rounds of the playoffs, before losing to Adrian in the semifinals by a 58-52 tally.
Yoncalla defeated Days Creek 66-60 and then lost to Adrian as well, this one coming by a 64-8 score.
So, both teams have something big to prove come Saturday.
"I expect us to play our best football of the season and continue to grow as a team throughout the playoffs," Henderson said.
"This group has a deep desire to continue to play until the end of the season. I'm confident that we will play with great effort and heart on Saturday afternoon."
Radio station KYYT 102.3 FM broadcasts the game locally in the gorge, and Roseburg station 1490 AM has the telecast at 1 p.m.