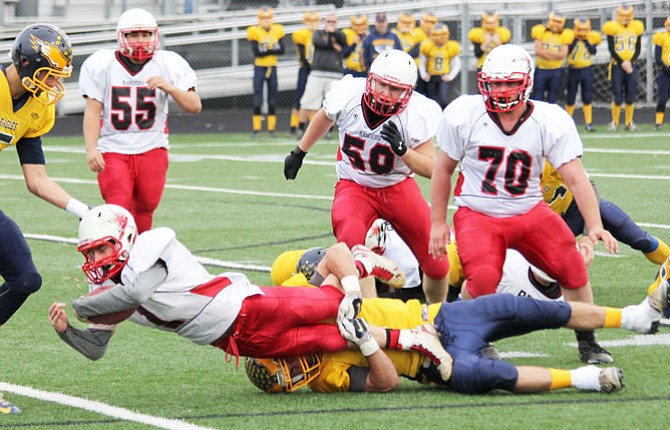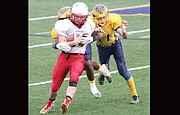 The game was over.
The season was over.
Apparently, somebody forgot to tell the Dufur Rangers.
Bailey Keever rallied the Rangers from a 14-point deficit with two rushing scores and two conversion runs to lead a stunning 74-72 comeback victory over No. 2-ranked Yoncalla Saturday in an OSAA/U.S. Bank/Les Schwab Tires 1A Football State quarterfinal classic played in Cottage Grove.
"We were down, but I myself never thought that we were down and out," Keever said. "This team has so much heart it's amazing, so I don't think we ever thought that we were done. Tons of people stepped up today and made big plays and that's really what makes us such a tough team. Because we have a full team that can make plays when it's crucial."
With an ear-to-ear grin, Keever was satisfied.
Dufur head coach Jack Henderson has won six state championships in his 28 years at the helm, but even he could not contain his emotions after the game.
"That was as emotional a win as I've ever been involved in," Henderson said. "It was incredibly inspiring the way the kids just worked and fought because Yoncalla is a great football team. They have five guys that could play high school football at any level. They were impressive. Physically, they are as good as any football team that I have ever seen at this level. Our kids battled and battled and battled."
In all, both teams traded scores throughout the 48 minutes of play, with nine lead changes and three ties, while amassing more than 1,100 yards of offense.
The two teams, vying for a semifinal berth, combined for 52 points in the fourth quarter, as the Eagles broke open a 58-all tie with two touchdown drives in a span of three minutes on a 15-yard touchdown pass from Will Shaw to Zack van Loon.
The two hooked up again on the conversion pass to make it 66-58 with 4:23 left.
Shaw then added a four-yard scoring run, but the conversion failed, so the Eagles were head 72-58 with 1:28 left.
That missed conversion proved to be costly.
After that score, Yoncalla attempted an onside kick, but tight end Kolbe Bales recovered to give the Rangers possession on a short field with time running out.
With 55 seconds left, Keever plunged in from two yards out and he tacked on a conversion run to inch the Rangers to within a 72-66 deficit.
Dufur (9-2 overall) attempted an onside of its own and running back Hagen Pence recovered the ball with 51 seconds remaining.
Keever had a few big plays left in his arms and legs, and he found an open Bales for a 57-yard connection to move the ball down to the Yoncalla 1-yard line, first and goal.
On second down and goal from the 1, Keever snuck in through the middle of the line for a touchdown to tie the score at 72 with 21 seconds left.
Keever added the conversion run to give Dufur its first lead since the second quarter.
Yoncalla (10-1) nearly flubbed the ensuing squib kick, but managed to hold the ball for a final drive with Shaw at the controls.
Shaw completed a pass to senior tight end Rob Stewman, who ran the ball for a 40-yard gain. It looked as though Stewman would find his way into the end zone, in a brutal revision of Ranger playoff history.
Last season, Dufur lost a semifinal game to Adrian on a last-second touchdown run, but Keever, a safety, hung by while Stewman ran the ball and Pence made the tackle, stopping Yoncalla on the Ranger 16-yard line as time expired.
Yoncalla's sideline was in disbelief, the pain had kicked in.
The Dufur players and coaches spilled onto the field in celebration, a sigh of relief and exhilaration.
In the locker room, tears of joy were streaming down faces.
One win for the history books.
"This was a great team win," Keever said. "It really took heart and passion and desire to pull this win out. The feeling and emotion from the fans, to the coaches and to the players is unbelievable. It's something that can't be described."
Keever rushed 12 times for 115 yards and had a career-high six touchdowns, and he completed 19 of 31 passes for 247 yards and two scores.
Ian Cleveland had 64 yards rushing and two trips to the end zone and Pence added 54 yards on 12 rushes.
Curtis Crawford led the receiving core with eight grabs for 141 yards and two touchdowns, Pence had seven catches for 49 yards and Bales went for 57 yards on three catches.
In his final season as a Ranger, Jon Keyser never wavered in his belief that this team could stage its comeback.
This win epitomizes what Dufur football is all about.
"I truly believe that this team has the heart and passion that the Dufur Ranger football team of 1994 did," Keyser said. "This is one heck of a big win. The major differences in this game from the rest are that we actually played with heart, passion and tradition."
For Yoncalla, Shaw completed 25 of 34 passes for 496 yards and five touchdowns. The senior also rushed for 92 yards on 14 carries and added three touchdowns.
Van Loon had 10 receptions for 189 yards and two end zone trips, Stewman had six catches for 111 and two scores, and Ted Wickman had six receptions for 103 yards and a touchdown.
The No. 7-ranked Rangers had their biggest lead at 28-21 with 5:08 left in the first half, but quickly fell behind 35-28, as Yoncalla answered with two touchdowns in a span of 3:07.
With three seconds left, Keever found an open Crawford for 14 yards, and Pence tacked on the conversion run to give Dufur a 36-35 lead.
On the ensuing kickoff, Yoncalla junior Noah Loeliger, who left the game in the second half due to a concussion, zigzagged through the Ranger coverage for an 85-yard return, and Wickman added the conversion to make it a 43-36 Eagle lead at the break.
Yoncalla led 50-44 through three quarters and had a 58-44 advantage with 8:52 left in regulation.
Dufur tied the score at 58 with 5:18 left, as Keever scored on a 17-yard run, and added a conversion pass to Bales.
The Eagles then scored two more times to lead 72-58 with 1:28 on the clock.
"What was really going through my head was we got to keep fighting for every inch and every second we are in hell and we have to fight our way back into the light of glory," said TJ Kennedy. "For this team to get this win, it just goes to show that you can never count out the Rangers. I still can't believe it. The heart of this team can't be matched anywhere in the state. No way."
The Dufur triumph sets up a rematch game with No. 6 Perrydale (10-0), the Big Sky Conference champions, at noon Saturday at Hillsboro Stadium.
On Sept. 25, the Pirates slipped past Dufur 36-34 in a game where Keever sustained a shoulder injury.
"Since we lost to them earlier in the year, it adds a chip on our shoulders coming into it," Keever said. "We know we have to battle each play and down to be successful in the end. So, we just need to keep working, because this win tonight is only a step towards the big picture."