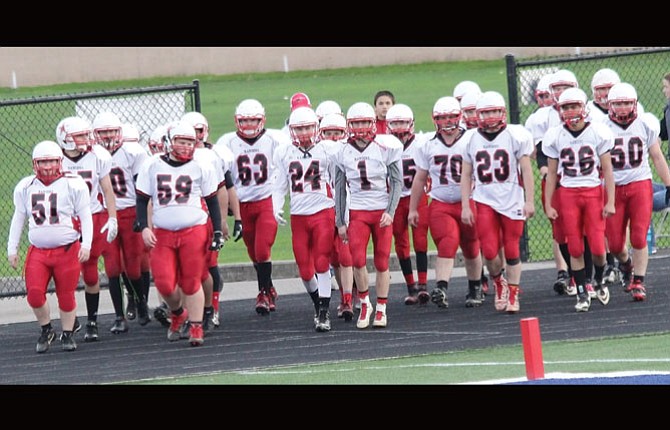 It is a Big Sky Conference fight to the finish in the 1A classification, as undefeated and No. 6-ranked Perrydale hits the field in Hillsboro at Noon Saturday against the No. 7 Dufur Rangers for a shot at a 1A state championship berth.
Both Dufur and Perrydale have gone through similar roads in the playoffs to earn a semifinal berth, posting comeback wins away from home over top-5 ranked opponents last weekend.
Perrydale, the 2015 Big Sky Conference champions, stormed back from a 30-8 third-quarter deficit, outscoring an injury-depleted Wallowa defense by a 28-6 margin in the fourth to secure a 42-36 victory.
With the score tied at 36 and Wallowa driving, Perrydale's Keenan Bailey, the Big Sky Player of the Year, intercepted a Wallowa pass and returned it 68 yards for a touchdown with 44 seconds remaining to give the Pirates a win and their first semifinal berth since 2011 and sixth in school history.
Perrydale (10-0 overall) ranks fifth in the state in scoring offense at 51.4 points a game and is led by Daniel Domes, Bailey, C.J. Marsters and Haylen Janesofsky.
In the Wallowa game, Janesofsky, a 6-foot-3 inch, 165 pound, multi-threat weapon, returned from an injury to score three rushing touchdowns of 15, 42 and 1 and added a touchdown pass on a wide receiver pass play for 52 yards to spearhead the Pirate offense.
With Bailey held to 80 yards rushing in the game, 37 coming on the first drive, Perrydale needed all of Janesofsky's contributions to pull out the win.
Last time Dufur and Perrydale met, Janesofsky did not play due to injury.
Dufur coach Jack Henderson is well aware of the different elements Perrydale will bring on Saturday afternoon.
On the surface, Perrydale (10-0 overall) runs a physical power-running offense, but will add some bubble screens, receiver sweeps, isolation run sets and will feature either Domes, tight end Brant Barnes or Janesofsky in wildcat formations.
Marsters is a 230-pound fullback who adds punch to the Pirate offense, Bailey is a 6-0, 200-pound back, and the offensive line has four players who weigh more than 200 pounds.
"Perrydale's base offense is a pound the rock deal, but they can also spread you out," the Ranger coach said.
Marsters is tough to tackle, their offensive line is big and can just knock you off the ball on every play and Bailey is dominant on both sides of the ball and creates major issues for the opponent."
Entering last week's game versus Yoncalla, Dufur had the state's No. 5 scoring defense (16.4 points a game), but gave up 496 yards passing and five touchdowns to Eagle quarterback Will Shaw. The senior also rushed for 92 yards on 14 carries and added three touchdowns.
After allowing 72 points to Yoncalla, Dufur boasts the 1A division's ninth-ranked scoring defense (21.4).
In their first meeting of the season on Sept. 25 in Perrydale, the Pirates fell behind Dufur 22-8 in the first quarter and 28-22 at the half, before completing a 36-34 comeback, as late defensive stand paved the way for a game-clinching, 14-play, 97-yard drive with a kneel down on the Ranger 3, sealing a win.
Bailey rushed the ball 51 times for 354 yards and four touchdowns in that win over Dufur.
"Perrydale defeated us in league play and are a very good football team," Henderson said. "They are well-coached and are a huge challenge for the Rangers."
In five home games, the Pirates have averaged 48.4 points a game, whereas away from their home turf, they scored 54.4 points a contest.
Henderson and defensive coordinator C.S. Little have been working on a precise defensive strategy to stop Perrydale.
"Fighting pressure, being fundamentally sound and rallying to the ball are key," Henderson said. "It's tough to tackle Marsters with one person, so it needs to be a team approach."
Dufur (9-2) enters action after an improbable late comeback, reaching down deep from a 72-58 deficit with 1:28 left in the fourth quarter with two rushing touchdowns and two conversions by Bailey Keever to pull off a 74-72 quarterfinal triumph.
The junior quarterback, who left the earlier Perrydale contest due to a shoulder injury, rushed 12 times for 115 yards and had a career-high six touchdowns, and he completed 19 of 31 passes for 247 yards and two scores to lead the Rangers over Yoncalla.
The Eagles are just as stout on the defensive end with size up front and speed on the back end to battle teams.
On the year, Perrydale has given up 193 points, good for the state's fourth-best scoring defense.
The Pirate defense has allowed 27 or more points twice this season, once against Dufur and the other time last week.
Leading up to its quarterfinal playoff win over Wallowa, Perrydale had been riding a five-game stretch of 72 points allowed (14.4 points a game) spanning from Oct. 2 to Nov. 7.
In the last three meetings between Dufur and Perrydale, the Ranger offense has racked up 134 points (44.6), so there are opportunities to be had.
"Perrydale runs both an even and odd front. Their size creates issues up front and makes it difficult on opponents to run the ball," Henderson said.
The Ranger offensive line has plenty of size with Alec Smith (260), Jon Keyser (260), Zach Christiansen (200), Curtis Crawford (210) and Kolbe Bales (160) working to open holes for Keever and bruising running backs Ian Cleveland (210) and Hagen Pence (200).
That duo combined for 118 yards and two touchdowns in last week's win.
"We will once again need to be balanced on offense to not let them settle in and crush us at the line of scrimmage," Henderson said. "Our offensive line has improved immensely this season and will have to have a big day for us to have success on offense."
Perrydale has two playoff wins, one over Pine Eagle (32-6) and Wallowa (42-36), and the Rangers are coming off two wins, the first one over Days Creek (62-8) and then Yoncalla (74-72), so they were each tested in the last round.
As emotional and memorable as last week's two-point thriller was, Henderson is hammering home the idea that Saturday's showdown is a new day and a new start.
"We feel good about our first two victories in the playoffs, but are also very aware that the first two weeks is old news," said Henderson, who has won six state championships, the last coming in 2006 against these same Pirates. "I'm very confident that we will show up on Saturday and give a great effort. Last week was one step along the way. I'm confident that our kids are fully focused on Perrydale and being successful in one more game."
Radio station 102.3 FM broadcasts the game live at noon Saturday from Hillsboro Stadium.