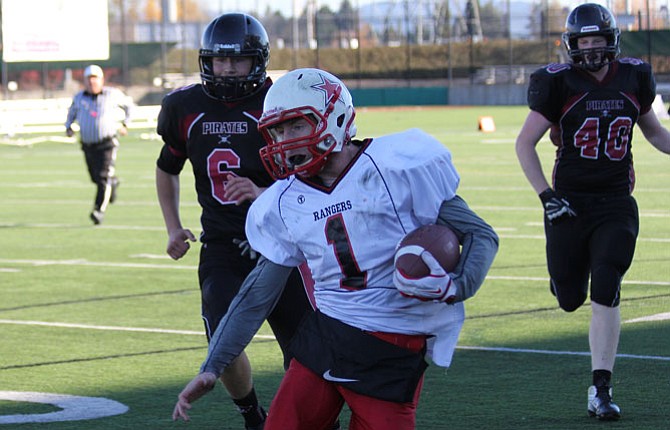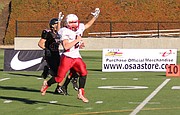 HILLSBORO—Down two points with 32 seconds remaining and the ball at their own 36-yard line Saturday, Dufur's chances of advancing in the 1A state playoffs looked slim.
But quarterback Bailey Keever remained confident.
He had been here before.
Keever dropped back, found sophomore Hagen Pence, who made at least one Perrydale defender miss and won a race to the end zone to give the Rangers a 42-38 victory in the state semifinals.
"I saw Hagen, he had a couple steps on him and I tried leading him as much as I could," Keever said. "When he got on to that ball and broke lose, my heart dropped once again. It's phenomenal."
The play call, "red buckeye," was Keever's idea.
"I had this feeling," Keever said. "It's been a successful play all year. It didn't work out too many times this game but it was just one of those plays that I thought we could catch them off guard with."
Keever finished with 291 total yards and six touchdowns. He was 9 of 16 passing for 202 yards and five scores.
Three went to sophomore receiver Curtis Crawford.
"Bailey is the player of the year," Dufur head coach Jack Henderson said. "He just makes things happen and he did that today. It was different today because Perrydale is a much different challenge than anybody else we play. They have a great football team. They've done a great job. Their coaching staff has done a great job this year. Bailey keeps it alive. Bailey makes things possible."
The come-from-behind win was the Rangers second in a row.
Playing in the quarterfinals against Yoncalla on Nov. 14, Dufur had to overcome a 14-point deficit in the final 1:28.

"Last week's comeback was just a huge booster and let us know that we can win in the end and it just gave us that courage that we carried on to this game," Keever said. "Like last game, we never gave up. We fought to the last second and it paid off."
The Pirates got on the scoreboard first Saturday at Hillsboro Stadium as Hayden Janesofsky, who missed the previous matchup between the two teams, a 36-34 Perrydale win, quickly made his presence known.
On fourth-and-3 from the Ranger 39, the junior running back found a hole in Dufur's defense and reached the end zone. The score capped off an 11-play, 82-yard drive that took nearly six minutes off the clock.
Janesofsky also ran in the two-point conversion to give the Pirates an 8-0 lead with 5:12 remaining in the first quarter.
It didn't take long for the Rangers to answer.
On the very next play, Pence broke loose for a 50-yard gain. Keever then had a 12-yard touchdown run and successful two-point try to tie the game 8-8.
Perrydale began feeding senior Keenan Bailey, who finished with 215 yards on 41 carries, on its next drive.
Bailey got the Pirates down to the Dufur 2-yard line and fullback C.J. Marsters punched it in from there. The two-point try was no good but Perrydale led 14-8 with 10:59 left in the second quarter.
The offensive surge continued when the Rangers got the ball as Keever broke multiple tackles but ran out of space down the sideline for a 39-yard gain.
Keever then connected with Crawford for a 7-yard touchdown and ran in the two-point attempt to give Dufur its first lead, 16-14.
Perrydale, who controlled the clock in the first half, went on another long drive. Starting at their own 34-yard line, the Pirates ran 16 plays over eight minutes. On third-and-16, the Pirates were aided by a pass interference call on Dufur and Janesofsky took advantage with an 8-yard touchdown run and two point conversion to give the lead back to Perrydale, 22-16.
"I've been telling people the last several weeks, Perrydale is the Stanford of eight-man football," Henderson said. "They really are. They just come down hill and they've got those big, strong kids and they just rack you, rack you play after play after play and you have to step up and make plays."
Taking over with 2:06 remaining in the second quarter, the Rangers were able to tie the game at 22-22 on a 17-yard touchdown pass from Keever to Crawford. The two-point try was no good.
After Perrydale scored on each of its three possessions in the first half, Dufur's defense finally got a stop to open the second. On fourth-and-inches from the Pirate 44, the Rangers tackled Bailey behind the line of scrimmage.
However, Dufur's offense couldn't take advantage of the turnover on downs, fumbling the snap and giving the ball back to the Pirates.
But the Ranger defense again stood tall, stopping Bailey twice to force a third-and-long. After an incomplete pass, Perrydale decided to again go for it on fourth down, which resulted in another incomplete pass and turnover on downs.
"We did some different stuff on the line of scrimmage to make sure their linemen couldn't get down on linebackers," Henderson said. "Our defensive coaches made some good adjustments. Our pad level was way better in the second half and our kids just played hard."
This time Dufur's offense took advantage.
On first down, Keever connected with a wide-open Kolbe Bales for a 44-yard touchdown. On the two-point try, Bales returned the favor and found Keever in the end zone to give the Rangers a 30-22 lead.
Perrydale needed less than four minutes to tie the contest as Bailey again found running room and capped off an eight-play drive with a 5-yard touchdown. Janesofsky ran in the two-point try.
"He's [Bailey] a great running back," said Keever, who also had 21 tackles to lead the defense. "We had to dig deep. In the second half we stopped them a little more. In the first half, they just pound, pound on us."
For just the second time in the game, Dufur had to punt on its next possession.
Perrydale took over and again began marching. The Pirates converted a fourth-and-1 and third-and-2 to set up a fourth-and-8 at midfield. For the first time, Perrydale got into punt formation but instead of kicking, quarterback Daniel Domes completed a 9-yard pass to Bailey to continue the drive. The Pirates then grabbed a 38-30 lead on a Janesofsky 10-yard touchdown run and successful two-point conversion.
"Perrydale is a much improved football team than when we played them in Week 4 and he [Janesofsky] makes the difference but they're better everywhere," Henderson said. "They had us on the ropes for the better part of the second half and our kids dug down deep and got it done."
With 4:30 remaining in the game, Dufur had to convert a fourth-and-5 to keep its next drive going. Keever was nearly sacked but was somehow able to get a pass completed to Ian Cleveland for 13 yards.
Keever then found Crawford for a 26-yard touchdown reception to get the Rangers within two. Dufur would have tied the game but the conversion was called back on a holding penalty. On a two-point try from the 14-yard line, Keever's pass to Crawford was incomplete.
With 2:37 remaining, Dufur's onside kick failed.
On seven plays, Perrydale was able to run nearly two minutes off the clock before turning the ball over on downs at the Ranger 36 with 41 seconds left to play.
Dufur ran one other play, an incomplete pass, before Keever found Pence to continue the Rangers' magical season.
"For two weeks in a row, we scored enough points to win," Henderson said. "It's just an amazing performance for these kids. They just keep playing and right now we just have amazing confidence in our offensive and I think our defense really grew today. In the second half, our defense did a great job and made a lot plays. We made it a lot less easy for them in the second half to run straight head and when they tried to stretch the field, we pursued better than we had in the first half.
"Hats off to our kids. They play hard and they make plays. I love them to death and look forward to playing another game with them next week."
Dufur, which has won six state titles under Henderson, will play for the championship for the first time since 2006.
"It's insane. We moved past two of the best teams in the state, for sure," Keever said. "We just got to keep pushing and win one more game."
That game will be played Saturday versus Crane at Hermiston High School at 11 a.m.