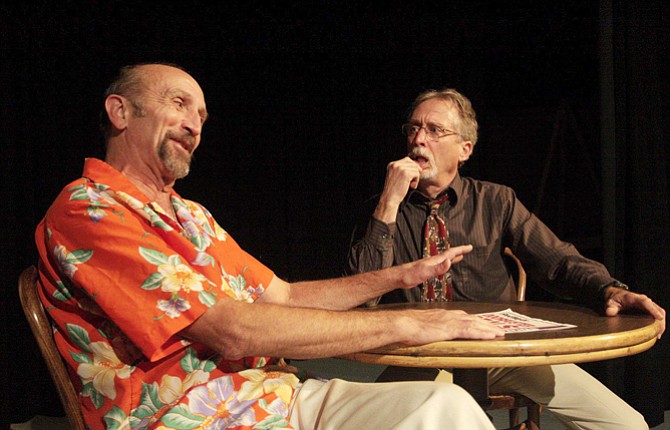 In 1965, more than 30 people formed a theater group in The Dalles.
Fifty years later, it's still going strong.
The first play, "All About Agatha," was a three-act family comedy, sponsored by The Dalles Elementary School PTA and directed by Jack McRedmond in The Dalles High School Auditorium on May 7 and 8.
The cast included Earl and Carol Curtis, Donnell Smith, Valora Vipperman, Bob Carsner, Genevieve and Pat Wright, Neil Howard, Megan Davidson and Helen McRedmond.
Tickets were $1 for adults and 50 cents for children.
The theater group, which called itself "The Masqueraders," put on nearly 50 shows through the rest of the 1960s and 70s.
Ray Swift, who minored and worked in the theater department at the University of Maine at Farmington, joined The Masquerader in 1978 when he moved to The Dalles.
"I heard they were doing "Fiddler on the Roof" and needed some guys," Swift said. "I auditioned and got a small part."
One of Swift's best friends is Dennis Morgan, who moved back to The Dalles from Colorado in 1986. Morgan had zero theater experience but accepted Swift's invite to stop by and watch a rehearsal.
"I walked in and he [Swift] said this guy [Morgan] wants to audition," Morgan remembered. "They were doing "Paint Your Wagon" and I got a part and was hooked. I was Reuben Sloane. I had seven lines but I and another guy opened the show."
In the early 1980s, the theater group began to struggle.
"We had hit a dead spot when we lost people, support in the community," Swift said. "There were some slumps and a lot of people left. We spent a couple years
not really putting out much of a season at all. We kind of rebirthed a little bit and figured if we start fresh that might help."
With the fresh start came a new name—"The Dalles Theater Company."
The new board, which was founded in the spring of 1987, had six members—Swift, Morgan, Paula and Gerald Richmond and Michael Ann Tiano and Earl Mohr.
The first production, "Love, Sex and the IRS," was a dinner theater in the Elks Lodge ballroom.
In 1989, The Dalles Theater Company did "A Christmas Carol" on a shoestring budget in a downtown warehouse. Swift played Ebenezer Scrooge and Morgan was Jacob Marley's Ghost.
"We had no budget," Swift said. "Somebody had a Visa card. I don't think we spent $300 but we managed to put up a tiny stage and do it in the winter and there was no heat in this place. We managed to put on five or six shows and really packed it in. For some reason, everybody came. They just all huddled in there all cold. It was all beaten up and old. The place was dirty. It was actually the perfect setting for "A Christmas Carol." We made money. We had been in the red before that. There was no money. But we all wanted to do something and finally got in the black again."
With an increased budget, the theater company was able to reach its goal of producing at least three shows in 1990, something it's stuck to ever since, usually with a musical in the fall followed by comedies in the winter and spring. The group has also put on free plays in the park and since 1989 has partnered with Missoula Children's Theater. MCT sends two young adults, one director and one actor, from its center in Missoula, Montana to places all over the world to put on shows with a cast built from each town's children. Each performance usually has between 50 and 60 kids and everything takes place in one week. Auditions are Monday, practices Tuesday through Friday and two shows on Saturday.
The Dalles first MCT performance was "Hansel and Gretel" in 1989. The latest was "Sleeping Beauty" on June 20.
The program is helped paid for by a grant from the Wasco County Trust Coalition with funds from the Oregon Cultural Trust to support Oregon's arts, heritage and humanities.
Over the years, The Dalles Theater Company has performed in venues all over town. In October of 1997, the theater did "Fiddler on the Roof" in the first show at The Dalles Civic Auditorium Theater in years.
"We packed that place," Morgan said.
Picking their favorite play is difficult for both Swift and Morgan. There have just been too many.
However, one does stand out—"Flaming Idiots," a farce performed in May, 2003 at Columbia Gorge Community College.
Swift played Officer Task, a policeman who keeps getting thrown off his horse and sliding across the stage each time he enters. The cast also included Dan Minnis, Jim Taylor, Jennifer Ashley, Collin Dillingham and Susan Harris.
"Everybody just pulled their weight in that show," Morgan said. "I'd love to do that show again and that's part of what keeps you coming, you have one like that. Every person in that show played their part to the hill."
Swift added, "It was just the right combination of people and energy."
Morgan also doesn't mind parts that call for cross-dressing. In "A Tuna Christmas" (2012), he played six men and four women. In "Red, White and Tuna," Morgan played seven men and four women.

"That to me was really rewarding because it's a real stretch to be able to pull those off convincingly," Morgan said.
Directed by Dave Owens, The Dalles Theater Company will close out 2015 with "Dracula, the Musical" on Oct. 16, 17, 23, 24, 25, 30 and 31 at the Civic Auditorium Theater. Morgan along with his wife Shannon are also directing "The Best Christmas Pageant Ever" Nov. 27 and 28 and Dec. 4, 5, 6, 11 and 12.
Through all of the performances, Morgan is proud of what The Dalles Theater Company has done.
"We really work hard to do quality shows and I think we succeed," he said. "I'm tooting our own horn but I think we deserve it. We have some very talented people. We try to do a professional, quality show with a bunch of amateurs."