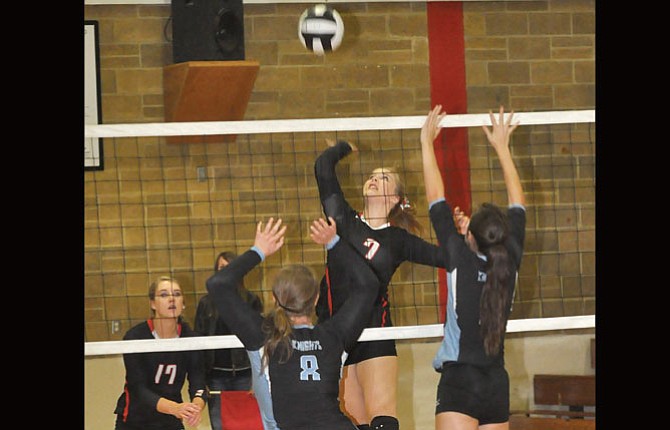 DUFUR – With several key members of the varsity roster gone for various reasons, the Dufur Rangers had to rely on underclassmen to fill the void.
Enter Haili Wolf-DePriest.
The sophomore moved to outside hitter Saturday for two league matches and delivered a kill, three aces and a block to help the No. 16-ranked Lady Rangers to a pair of three-game sweeps over Mitchell-Spray and Condon-Wheeler in Big Sky Conference action at Dufur High School.
"You need to be focused at any point," Wolf-DePriest said. "You have to be watching the game and watching everyone's position because you don't know who you are going to go in for. You have to be paying attention and you have got to be ready to play at any moment and ready to do what you got to do to help the team win."
In their first match of the day, the Rangers battled against Mitchell-Spray and used 14 aces and a 92.4 percent rate for three wins by an average of 7.6 points.
Dufur won the first set by a 25-14 score, and then added a 25-18 winner in the second set to take a commanding 2-0 lead in the match.
Mitchell-Spray put out its best performance in the third set, but could not sustain the rally, as Dufur moved ahead by a 25-20 mark for the sweep.
Chloe Beeson, who was moved to middle blocker Saturday, had five aces, three kills, three blocks and two digs to lead Dufur.
Emily DePriest added two kills, two aces and two digs, Tianna Ellis had three aces and nine kills, and Sydney Reed dished off 15 assists, four aces and three digs.
"The girls came out ready to play," said Dufur coach Jody Weaver. "I was very impressed with how they stepped up after our new rotations were thrown at them on Thursday. They did a great job. They came to play and they came to win."
Against Condon in their nightcap, the Rangers served at a 97.3 percent clip with 16 aces to secure another sweep and their fifth consecutive win.
Dufur fired home a 25-10 win in the first set to jump ahead 1-0 on the Knights, and took control from there.
The Rangers grabbed a 2-0 lead in the match after a 25-19 score, and then dropped the hammer down on Condon in Game 3 with a 25-20 score for the sweep.
Ellis had six kills, three aces and four digs, and Beeson tacked on another all-around effort with six aces, seven kills, a block and a dig.
DePriest had five kills, three aces and four digs, Kayla Bailey added two digs, and Reed tallied an ace, a dig and 17 assists.
Four Ranger players were perfect from the service stripe and overall, the team had two missed serve attempts.
That area has been a point of emphasis and coach Weaver was happy to see her team execute.
"Serving helps everything," Weaver said. "I think for us the key was us keeping our serves in and attacking at them, then the other team has to be on the defensive and it gives us a chance to be more offensive-minded."
Wolf-DePriest liked the energy her team showed in two matches on the day of Homecoming.
The sophomore continues to gain confidence on the court and is hoping to stay with the varsity group to help them accomplish its playoff goals.
"It is a great feeling to be on this court with the varsity team," Wolf-DePriest said. "It is so much more intense, energized and fast and it is so much. It is pass, set, hit, pass, set, hit and sometimes JV isn't always that. It is great. I got to play outside (hitter) today and it is so much fun to play there."
Dufur (10-8 overall, 7-1 league) hosts South Wasco County tonight for another league contest. The Rangers play Arlington and Ione in a double dual at noon.