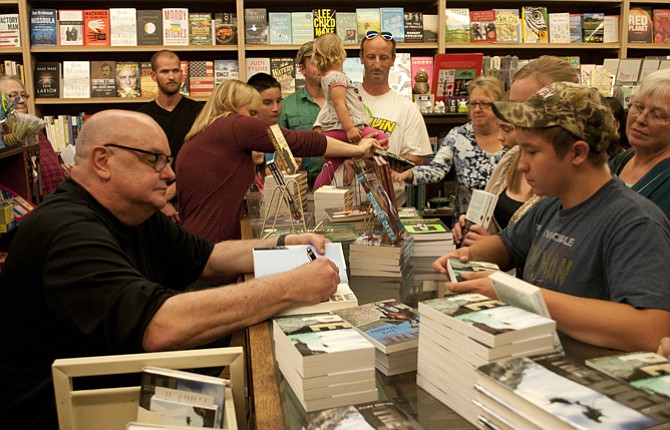 Editor's note: Contains spoilers.
Roland Smith's launch party for his latest novel "The Edge" Tuesday at Klindt's Booksellers in The Dalles was a long time coming.
Kristin Klindt and Joaquin Perez previously invited Smith to their bookstore multiple times but received no answer. However, they didn't give up on the award-winning author and asked him to attend their Spring Author Festival in May.
Smith, who lives in Wilsonville with his wife Marie, enjoyed the event so much that he decided Klindt's would be the perfect spot to launch his latest novel.
"I was really impressed," Smith told The Chronicle.
"It's the oldest bookstore in Oregon. It's had three owners. Everybody was really enthusiastic. They've done all these amazing things. I would do it again in a minute. It's the best book launch I've ever had."
"The Edge" is the sequel to "Peak," a story about a 14-year-old boy who climbs Mount Everest with his long-lost father. Released in 2007, Smith wanted to give a different tale about climbing Mount Everest, one that was about more than just getting to the summit.
"To me that particular climb has gotten a little ridiculous and most books that are written for young people about climbing Everest are really about getting to the top," Smith said. "For a long time I didn't know if he was going to get to the top or not. I played around with that but there's a really good reason for [not getting to the top], which is to help someone else. He makes an ultimate sacrifice. He could have summited it but decided not to and I think that's more of an important decision than getting to the top. In a way he got to the top."
Not everyone loves the ending. Smith's grandchildren are his biggest critics.
"My grandkids hated it," Smith said. "They threw it down. They were so mad."
Smith wrote 12 books in between "Peak" and "The Edge" but decided to write the sequel after the encouragement of his publisher Houghton Mifflin Harcourt. Smith said he plans to write two more novels based on the Peak character.
"The Edge" takes place in Afghanistan and while Smith said it's not a terrorist or war book, Peak's mom Teri, and several other characters are kidnapped while climbing the Pamir Mountains. Peak and an ex-Marine climber then set out to rescue them.
Along with the book launch, Smith also spent Tuesday morning speaking to 850 students in grades third through 12th in The Dalles High School Auditorium. It's a typical program that Smith does about 700 times a year. He showed the students how to write a book and they talked about reading, the places he's traveled and then Smith answered questions.
While in The Dalles, Smith visited the regional jail to speak to two classes of incarcerated teens before finishing with the launch party and then attending the book signing at Klindt's.
"It's been fun, [and] busy," he said.