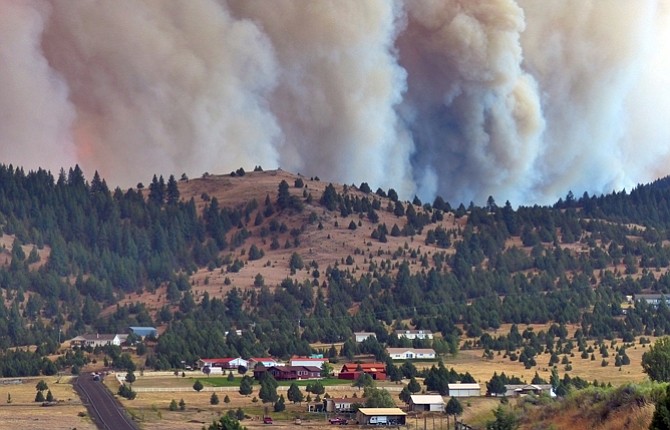 CANYON CITY — Driving up Canyon Creek, south of John Day toward Burns, the devastation is dramatic.
The Canyon Creek Complex Fire tore through this canyon, leaving the woods and community forever changed.
"This was so awesome in here before this," Grant County Judge Scott Myers said as he drove his pickup along U.S. Highway 395 through the canyon. For about 8 miles the highway cuts through where the wildfire burned and destroyed homes. Around each turn comes a shocking sight, remnants of once proud homes or homes that were somehow spared from the flames.
The Canyon Creek Complex Fire destroyed 43 homes in all. Now those who lost homes are weighing whether to stay and rebuild or leave the canyon. Concerns about potential flooding factor into the difficult decision.
The destruction is some of the worst in Oregon history.
The small size of Canyon City, the closest town to most of the homes lost, amplifies the impact of the fire. A mining boomtown in the 1800s and still the Grant County seat, Canyon City has about 700 residents.
Three times in its history Canyon City has had to rebuild from disastrous fire, in 1870, 1898 and 1937. Those fires burned through the town's business district. The Canyon Creek Complex Fire leveled homes scattered south of town in the scenic canyon.
The same canyon that funneled the firestorm could churn with floodwaters this fall and winter.
"We are preparing for the next big rain, that is for sure," said Myers, the rural county's top elected official. "We have a lot of black dirt with nothing holding it."
Myers lives in the canyon south of John Day. The fire came within 300 yards, but his home survived. He has been in touch with about half of the people who lost homes. Their feelings about whether to rebuild in the canyon are split, he said.
Rebuilding:
Andy Jones, 56, lived in a home just off the highway for 15 years. The house, built in 1941, had history. It was known locally as "Hank and Guernsey's Place" after the couple who used to live there. Guernsey Pond, between the farmhouse and highway, long served as a community ice rink.
The home was likely the second house destroyed by the fire as it charged through the canyon, said Jones, an IT worker for the U.S. Forest Service. Flames charred cattails that surrounded the pond. While Jones and his wife have been living in Washington to care for his ailing mother-in-law, he said the couple plan to return to the canyon.
Walking around the blackened, ash-covered ground he said he and his wife plan to rebuild.
Moving on:
Since 1975, Arlen Van Nice, 80, lived in a home along the highway. He and his wife were out Wednesday at what was left of their home.
Two weeks into cleaning up the couple were still sorting out scrap metal and hoping to find anything salvageable.
"You keep thinking you'll find something, and you don't," Van Nice said. "Everything is gone."
He had a small collection of items pulled from the ashes, mostly for sentimental reasons, in the back of his pickup.
"That's my skinning knife," Van Nice said, holding out a handle-less blade dulled by the fire. "I don't think it will skin any more elk."
Van Nice said they plan to move "Someplace green," he said.
Undecided:
Dean Elliot, 86, does not know yet whether he'll rebuild where his old home stood or move out.
He lived in a home along Canyon Creek for 53 years. His big concern is the flood and mud that will likely come down the creek during heavy rain and snowmelt.
Elliot and other locals are quick to mention the flooding of 2011, which damaged Grant Union High School downstream in John Day. They predict floodwaters could be worse this year due to the size of the fire.
For now, Elliot and his wife, Betty Elliot, are staying in a rental in Canyon City.
"(The rental is) all furnished," he said. "It even had elk meat in the freezer.
Going up fast:
The frame for the Foxes' new foundation is already in place and concrete was set to be poured in early October.
"We would like to be in it by Christmas," said Dean Fox, 51, who owns the Pioneer Feed & Farm Supply stores in Burns and John Day.
His wife, Courtney Fox, 33, said they had no choice but to rebuild; it's their property.
They are also quick to vent their frustrations about how the Malheur National Forest handled the Canyon Creek Complex Fire. Dean Fox said he is checking with his neighbors to see if there is interest in a class-action lawsuit.
"They should have put it out," he said, standing where his old home burned to the ground and his new home is being built.
Firefighters tried to keep the Mason Springs and Berry Creek fires small, but strong winds fanned the fires and caused a massive flare-up on Aug. 14, the day most of the homes were destroyed, said Steve Beverlin, supervisor for the Malheur National Forest.
In about six hours that day the fire burned more than 50 square miles of land, over 33,000 acres.
"You can't get in front of a fire that burns 33,000 acres in a day and hope to stop it," he said. "It is just too extreme."
Beverlin said three U.S. Forest Service employees lost their homes in the fire. Courtney Fox sums up what is evident in a drive up the canyon, from John Day headed to Burns.
"Forty-three homes in a community this size is a huge impact," she said.