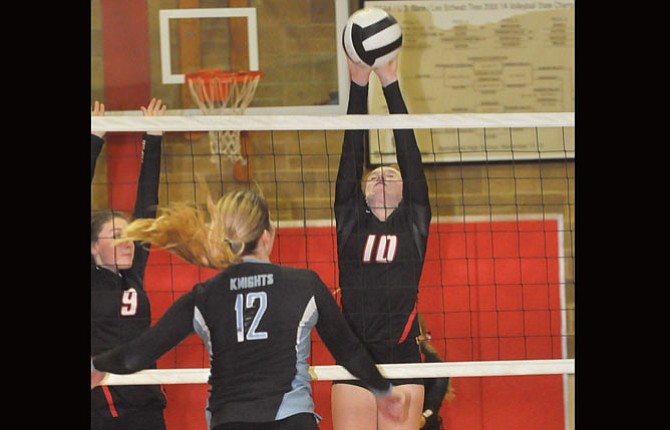 Looking to extend a season-high winning streak, the Dufur Rangers came on strong with a pair of wins over Arlington and Ione Saturday in a Big Sky Conference volleyball double dual played at Horizon Christian School in Hood River.
The wins were the seventh and eighth in a row, a season-high for a Lady Ranger team that also moved from No. 15 in the standings entering play to No. 9 overall Monday morning.
Against Arlington, the Rangers had three tough sets, two lasting more than 25 points.
In the opener, Dufur came out on top by a 27-25 margin to lead 1-0, and then in the second set, the Rangers secured a 25-12 winner to get into position for the sweep.
Dufur then added a 26-24 triumph in the finale for the shutout, the teams sixth in a row.
"It was a fun match against Arlington," said Dufur head coach Jody Weaver. "Both teams played well and had some great rallies."
Tianna Ellis had 15 kills and added four aces to lead the Rangers, who served an 89.5 percent with six aces and eight service errors.
Chloe Beeson had 12 kills, an ace and five digs, and Emily DePriest tacked on six kills and six digs.
Karaline Johnson had four digs and a block, Haili Wolf-DePriest had an ace, a kill and a dig, and junior setter Sydney Reed was good for a block, five digs and 18 assists.
In their final match of the day, the Rangers hit the court against No. 8 Ione with first place on the line.
Ellis had 13 kills, Emily DePriest had five aces and Reed dished off 14 assists to lead the Rangers to a four-set win over the Lady Cardinals.
"The girls really showed a lot of fire and tenacity today," Weaver added. "They really wanted the win and have been working hard in practice to get better every day. I am proud of their hard work and their teamwork. No matter what the score, they are encouraging each other and playing as a team."
Dufur won the first set in a back-and-forth battle by a 27-25 margin to gain the early edge in this first-place matchup.
The Rangers then took a 2-0 lead in the match after a 25-18 output.
Ione would not go down without a fight on the night and added a 25-17 winner to force a fourth set.
Dufur finally dispatched of the Cards with a 25-12 tally in the final set to secure a top spot in the Big Sky.
Beeson had seven kills, three aces and a dig, DePriest tacked on eight kills and two digs, Johnson picked up six digs and a kill, as Dufur had 31 kills and 18 errors.
From the service line, the Rangers had 17 aces and just eight errors for a 91 percent conversion rate.
Reed had an ace, two kills and seven digs, Sydnee Byers added a dig, Johnson tallied a kill, a block and six digs, and Alexus Outlaw tallied two aces and a passing average of 1.81.
Across the first two matches, Dufur had 65 kills and 26 errors and a hit percentage of .180.
"We have been working on our hitting in the last few days at practice," Weaver said. "We really needed to improve on that and they came out strong and not afraid to attack and they were able to hit the ball, so I am really proud of them for the improvements they made through the game."
Dufur (13-8 overall, 10-1 league) is in Moro tonight for a league match starting at 5 p.m. against Sherman.
After that, the Rangers head out to Spray on a long road trip Saturday for a double dual versus Mitchell-Spray (5-11, 2-8) and Condon-Wheeler (9-10, 7-3) at 10 a.m. and noon.