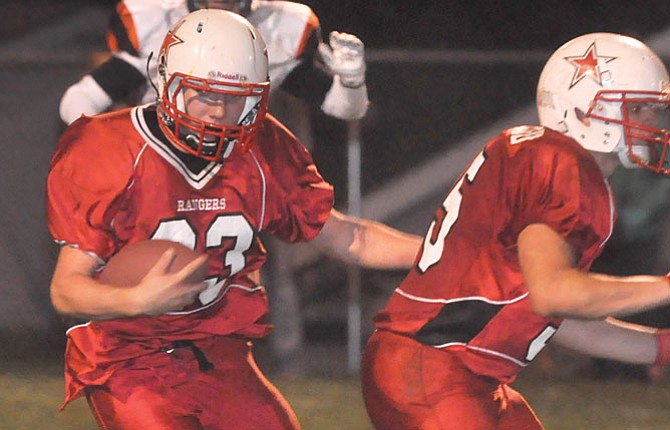 With a playoff berth within reach, the No. 5-ranked Dufur Rangers have a road date slated for 7 p.m. Friday against No. 21-ranked Ione.
If they are to further solidify any postseason berth, the Rangers will have contend with an Ione Cardinal team led by Alessandro Panozzo, Henry Padberg, Jason Juarez and Cord Flynn.
Ione brings plenty of pop on both sides of the ball, and can also do damage on special teams.
Last week, Ione slipped past Mitchell-Spray-Wheeler by a 36-34 margin to end a three-game losing streak.
In six games, the Cardinals average 28.3 points a contest, including 40 points a game in both wins.
Dufur coach Jack Henderson is well aware of all of defensive challenges Ione presents, emphasizing responsibilities and consistently performing at a high level to achieve greater success on the gridiron.
"Ione is a very athletic team that can create problems for their opponents," Henderson said. "They are fairly diverse, they'll pound it at you and then run a fly sweep on the next play. You have to be disciplined to have success against them."
The Dufur scoring defense is currently ranked eighth in the state with an average of 18.5 points allowed a game.
On three occasions, the Rangers have given up a touchdown or less in wins over Lowell, Triangle Lake and Arlington/Condon.
While the Ranger defense has shown ability to shut down opponents, the offense, with Bailey Keever, Hagen Pence, Kurt Nuevo and company can light it up at a moment's notice.
On the year, Dufur is ranked ninth in the state with 314 points scored in seven games for a 44.8 point average.
When scoring 35 points or more, the Rangers have a record of 5-0.
Last week, the No. 5-ranked Rangers used a dominant running game to secure a 76-28 victory over South Wasco County, as they racked up 449 yards on the ground on 26 carries for 17.3 yards a carry.
Tabor McLaughlin had 99 yards rushing on four attempts, Anthony Thomas had 104 yards and Pence rushed three times for 97 yards.
In all, Keever completed 6 of 8 passes for 193 yards and his two best receivers in the game were Curtis Crawford, who had 116 yards on two grabs and Pence, who had one catch for 66.
Offensively, the goal is to show a little more improvement in the rushing game to contend with an Ione defense that allows 40 points a game.
The Cardinal defense has held opponents to 22 points or less twice overall.
"We need to be balanced and keep our opponents off-balanced," Henderson said. "We have the ability to run and throw equally well and will look to take advantage of what our opponent gives us."
After consecutive losses to Perrydale and Sherman, the Rangers have come back with vengeance with lopsided wins over Arlington-Condon and South Wasco County to climb back into the league race.
Just like a lot of football teams, Dufur has overcome injuries to Keever and Kolbe Bales and a few others, butthat has created a cohesive bond in the locker room.
"The adversity that we experienced has made us stronger," Henderson said. "The kids were placed in roles that they weren't used to, or comfortable in. But, they worked hard and improved, which has made us a better team. This is the first game we have had everyone available in three weeks. I expect a great effort against Ione on Friday."