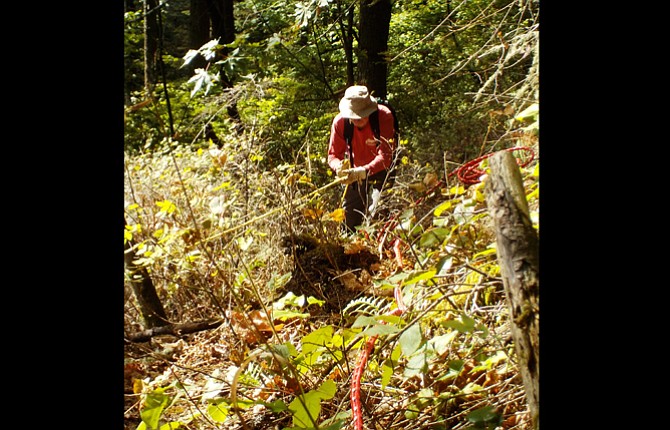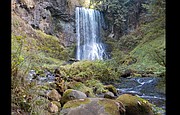 I first wrote about Janet's and my quest to find Upper Bridal Veil Falls on Sunday, April 27, 2014. I wrote about finding an article about the highest year-round waterfalls in the Columbia River Gorge. I had heard of most of the larger falls but one waterfall stopped me in my tracks; Upper Bridal Veil Falls.
Almost everyone knows about Bridal Veil Falls. It has a big parking area and has lots of visitors almost every day of the year. But an upper falls, that was news to me. It had a 5 star rating and was listed as extremely difficult to reach.
This hidden jewel is over 90 feet high and 50 feet wide. I found directions to the falls on yet another website. They were both exact and vague enough to the point where I just had to see everything for myself.
My wife, Janet, and I made a pact: The first day that it wasn't too inclement to hike the east end open slopes we would take the opportunity to go on a hunt.
We found a foot path that wanders toward the canyon. At first it is easy to follow but suddenly it was just gone. We may have turned left when we should have turned right. We searched and searched to find where the trail appeared. No luck. Everything was soggy and the footing was sketchy at best. We walked back to the road and decide to try our luck walking further up Palmer Mill Road. We found nothing.
I ended my column with this thought "Our decision was to give it up and try again when the gorge had dried out. We would come back with full backpacks and our good ankle high boots. And guess what? I found a trail map. Watch for part 2 of this story soon." Well, it took 18 months to write the second part of this story.
We found time this summer to go back to Bridal Veil Canyon and try once more to find Upper Bridal Veil Falls. We drove to Palmer Mill Road and followed it for one mile. Our instructions said to drive 300 feet past a small side creek coming in from the left and park in a wide area on the right. Now we were back to the same spot we had been to 18 months ago.
By some kind of strange luck we parked exactly where a faint path headed towards the canyon. If we had parked a few yards either way we would have missed the trail. We followed the path; a distance of about 200 feet to a point where the trail plunged into the canyon. When I say "plunged" I mean it was way too steep to continue down without the aid of climbing ropes. For the second time we had to turn back.
Two days later we returned. I tied the rope to a sturdy tree and Janet and I began our adventure into the canyon. We climbed down to the end of our rope but were still on an extremely steep slope. Janet hates to turn back, so she did a butt scoot to another large tree. She yelled back to me that she thought she could see the creek but it was too dangerous to continue without more rope. For the third time we had to turn back.
Another two days and another 100 feet of rope and we were ready to give another try. By now we were very familiar with the first segment of the hike and quickly reached the point where Janet thought she could see water.
We tied our new rope to another tree and slowly inched our way deeper into the canyon. Our second rope ended on a small shelf in the canyon wall and by golly we could see the top of Upper Bridal Veil Falls. But as seemed usual for us, we were once again out of rope and the trail ahead wasn't any easier. For the Fourth time we had to turn back.
Another week elapsed before we could return to our nemesis. At last we were on the shelf where we can see the top of the falls. We tied off and started working our way down to the creek and once more we run out of rope. We now can see the falls but only through lush foliage. Now that we had seen the falls we talked about just staying safe and quitting while we are ahead of the game.
We are just about to starting the slow process of returning to our car when Janet spots a piece of orange survey ribbon next to the creek 100 feet to our left. Then I spot a faint goat track that traverses down the slope to the creek. The ferns are so thick that we can't see what our feet are doing but at long last we are standing at the base of Upper Bridal Veil Falls.
This is amazing. Other than the scrap of orange tape, there are no other signs that anyone has been here before us. There are no user trails to the falls, no litter, no anything. This is the most pristine place I have ever visited. We took lots of pictures and were sure we left the creek in the same condition we found it.
If you want to retrace our trek be fully aware that this is not for the casual hiker. You will need 400 feet of climbing rope, knowledge of knots, sturdy hiking boots with aggressive soles, leather gloves and the 10 essentials.