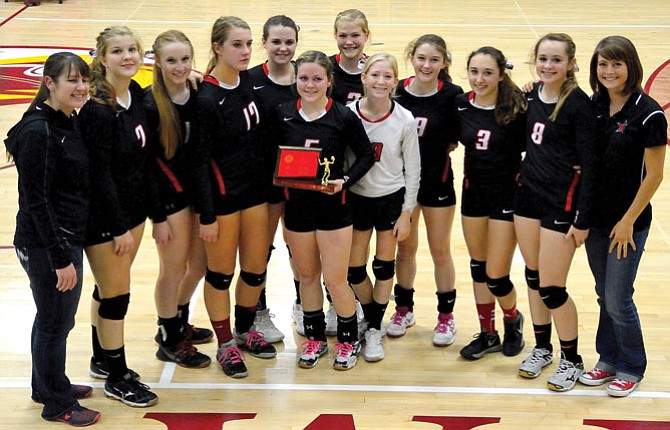 As the final point went in Ione's favor in a five-game Big Sky Conference District Championship win, players from the Dufur Ranger volleyball team slowly walked toward the sidelines frustrated and upset.
They had let one slip away.
But, they still live to fight another day.
"One thing about this team is that they are pretty resilient," said Dufur coach Jody Weaver. "They were sad they lost. They really wanted this one today. But, I think this will help put some fire in their bellies to make it to where they can play them again. To where they can make it to that next step."
Ione jumped ahead to lead 1-0 in the match after a 25-21 win in the first set.
The Cardinals led 24-21 in the second set, but Dufur erased three set-points and wound up using a kill by Chloe Beeson, an ace by Tianna Ellis and another kill by Beeson to give the rangers a 28-26 win to even the match at 1-apiece.
The Rangers fell behind in the second set by a 24-23 score, but had an Ione serve sail long, and then Ellis had a kill and Karaline Johnson stuffed a block to move the team to a 26-24 win and a 2-1 lead in the match.
Ione led throughout the fourth set and broke open a 6-4 lead with a 15-9 run to jump ahead 21-13.
Dufur scored four straight points on two Ellis kills, an ace by Sydney Reed and a block by Johnson to make it a 21-17 deficit.
After an Ione timeout, Reed laced another ace, and she later added a kill to inch the Rangers to within a 23-21 score, but Ione's Jessie Flynn had a kill and Rachel Holland added a block to secure a 25-21 win to send the match into a fifth set.
Ione led from the opening serve in the final set, as Holland dropped consecutive kills to give Ione a 15-8 win in the fifth set and a district title.
Ellis had 17 kills to lead Dufur, and the senior added six aces.
Beeson chipped in 12 kills, two aces, a block and three digs, Johnson added six kills, three blocks, three digs and two aces, and Emily DePriest was good for four kills and four digs.
Reed had six kills, four aces, 36 assists and five digs.
Dufur was able to outlast South Wasco County in the opening match of the day by scores of 17-25, 19-25, 25-17, 25-10 and 15-6 to vault into the finals against Ione.
The Rangers are in the postseason mix and are two wins from the state site.
They could possibly face Ione once again.
"I hope we meet them again. They beat us first, we beat them second and they beat us again. It's our turn," Reed said of the Ione rivalry. "I hope that we play them again. But, we need to continue to stay together and have everyone on the same page and have the same mindset and stay consistent. If we stay consistent, we can beat any team."
Dufur hits the floor again at Dufur High School at 6 p.m. Wednesday against Echo.
If they win that match, they will need another win to earn a trip to the state tournament site at Ridgeview High School.
"We are going to go out and shock the world," Ellis said. "They saw us play tonight and they know that we can play hard and keep fighting for every point. I think the team is going to go out and do well. We are going to state and people know that we are going to get better and we are going to go in focused and ready to go. I have no doubt that we are going to come out better and better."