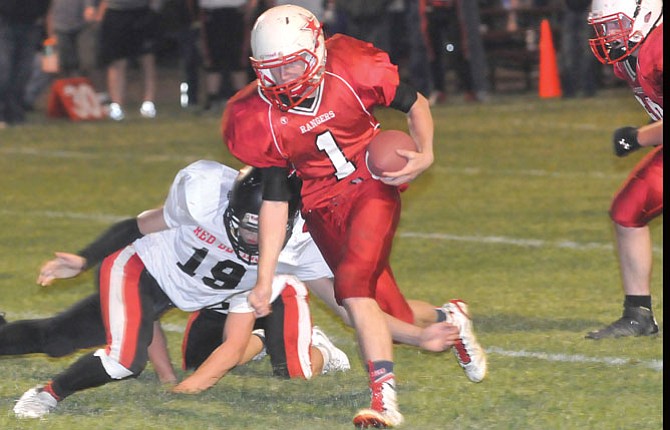 With a full complement of players available, Dufur head football coach Jack Henderson is liking the current momentum this group is on as the playoffs hover across the horizon.
Right now, the No. 6-ranked Rangers are riding a three-game winning streak and are coming off a lopsided 50-14 drubbing over Ione last week in a performance that helped clinch a postseason berth.
"This group continues to work hard and improve each day," Henderson said. "They were faced with adversity with the injuries we experienced, but kept working diligently to improve their game and have made great strides in becoming a team that can be competitive in the playoffs."
At 7 p.m. Friday, the Rangers play host to Jerod Wright, Joe Jaeger, Riley Eades, Cade MacCinnes and the Mitchell-Spray-Wheeler Eagle-Loggers.
On the year, Mitchell has scored 231 points and are coming off its second-highest scoring output of the season in a 36-0 road victory over South Wasco County.
"They can attack you in a number of ways, both pounding it at you and spreading you out as well," Henderson said. "Jordan Cheo-Mbonifor is their quarterback, he weighs 220 pounds and can move. Cade MacCinnes is tough on both sides of the ball."
The Eagle Loggers represent a physical challenge to a Dufur defense that is ranked sixth in the 1A classification with 144 points allowed in eight contests.
Dufur has held teams to two touchdowns or less five times in its eight games played.
"We need to be more physical and play downhill more consistently," Henderson said of the defensive game plan.
In eight contests, the Eagle-Loggers allow 37.3 points a game, but face a Ranger offense that is ranked 11th in the state at 45.5 points a game, including 50 points or more four times.
During its streak, Dufur is outscoring opponents by a 140-48 margin.
"Mitchell-Spray is big, strong and physical and play extremely hard," Henderson said. "They flow to the ball well and tend to force mistakes by their opponents."
Last week in its 50-14 win, Dufur's Hagen Pence led all running backs with 152 yards on 18 carries, Tabor McLaughlin added 72 yards on nine carries and Bailey Keever went for 52 yards on three rushes.
Keever completed 4 for 8 passes for 107 yards with two scores to Kolbe Bales.
Curtis Crawford tacked on two catches for 66 yards.
Dufur hit on 4 of 7 conversions and the offense racked up 383 yards, 276 on the ground.
While the size of Mitchell-Spray is a daunting task to overcome, the Rangers have speed and playmakers, who can explode for a big play or chip away to wear down defenses.
Henderson still eyes more consistency from his offensive group moving forward.
"We need to be quicker off the ball and make quality blocks and have our backs hit the holes with greater urgency," Henderson said.
Radio station 102.3 FM broadcasts the football game live at 7 p.m.