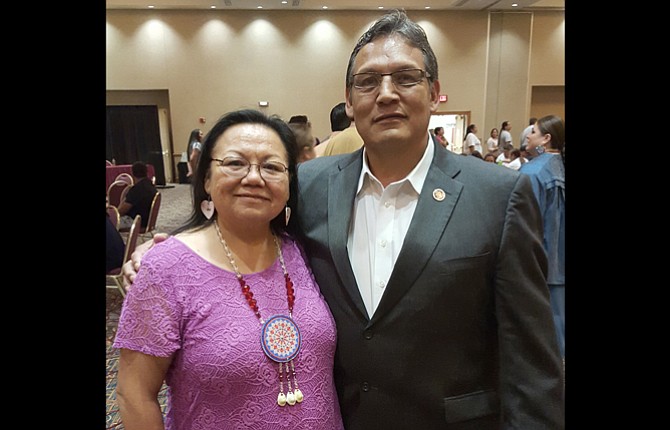 The Confederated Tribes of Warm Springs have added another tool to the tool box when it comes to the challenge of job creation for their nation.

Warm Springs has established a new Tribal Employment Rights Office on the reservation at the Ventures/Construction Office.

The office was established through the support of the Warm Springs Tribal Council earlier this year. "We see the inherent value to our community and surrounding communities through the partnerships we will
develop through our TERO projects," said Eugene Greene Jr., chair of the council.
Mary Sando-Emhoolah has been hired as the first TERO director. She and her husband, Mike, own Emhoolah Trucking and have been in business since 1997.
They work on construction projects around the state and have worked through both the Confederated Tribes of the Umatilla Indian reservation and The Confederated Tribes of Grand Ronde TERO offices.
"I am excited that Warm Springs is establishing a TERO office," she said. "I see the benefits for local training, employment, contracting/subcontracting and creating long-term positive working relationships with local contractors and all that will be involved with our TERO office."
Sando-Emhoolah is a Warm Springs Tribal member and original shareholder of Chugach Alaska.
According to a tribal report, TERO ordinances require that all construction employers, including ODOT contractors who are engaged in operating a business on or near reservations, give preference to qualified Indians in aspects of employment, training, promotion, contracting, subcontracting and other business activities.
TERO offices are established and empowered to monitor and enforce the requirements of the Tribal Employment Rights Ordinance.
There are three vital characteristics of TERO:
• TERO is a true act of self-determination. The decision to enact a Tribal employment rights ordinance is based on each individual tribe's needs and priorities.
•TERO programs are action orientated. TERO offices are a no-nonsense, hands on, result-orientated and process driven compliance programs.
•TEROs are systematically structured programs.

Key elements of the structure include:
• Legal framework: TERO utilizes a sound and comprehensive framework that encompasses the use of Tribal, Federal, contract and where applicable, State employment law.
• Administrative Structure: TERO programs have a well-developed administrative structure which utilizes a thorough enforcement process.
• Synergistic Partnering: TERO programs apply synergistic partnering principles in relations that benefit both parties.
The tribe's authority to enact and enforce Indian/Native employment preference law is grounded in its inherent sovereign status.
According to Greene, inherent sovereign powers derive from the principle that certain powers do not necessarily come from delegated powers granted by express acts of Congress, but belong to a sovereignty that has never been taken away.

Tribes have a basic relationship with the federal government as sovereign powers that is recognized in both treaties and federal statutes.
The Warm Springs are an original treaty tribe in the state of Oregon.
Sando-Emhoolah can be reached for more information at 541-615-0853 or mary.emhoolah@wstribes.org