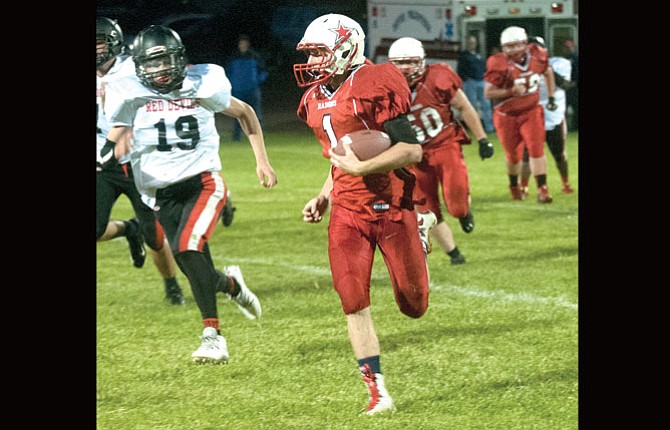 DUFUR – Dufur's offense was running on all cylinders Thursday night.
Behind five touchdowns from junior quarterback Bailey Keever, the Rangers easily defeated Lowell 58-6 in the Eight Man Classic to open the season.
Keever completed eight of his 13 pass attempts for 213 yards and four touchdowns.
He also added a 14-yard touchdown run in the rout.
"Our offense really showed tonight," Keever said. "We just have to play like that every game."
Dufur's defense often made it easy to score, putting the offense in ideal starting field positions.
The shortest field came on the Rangers first touchdown of the game as Kolbe Bales recovered a Lowell fumble inside their opponent's 3-yard line.
Kurt Nuevo crossed the goal line the very next play and Keever added a successful two-point conversion to give Dufur an early 8-0 lead.
The Rangers had to march 65 yards for their second touchdown but needed just two plays. Hagen Pence did most of the work.
The sophomore running back broke a tackle and tiptoed down the sideline for a 63-yard touchdown.
The two-point conversion failed but Dufur led 14-0 with 1:35 remaining in the first quarter.
The Rangers passing game took off in the second quarter as Keever connected with Curtis Crawford for a 35-yard touchdown and Bales for the two-point conversion to extend the lead to 22-0.
With 3:14 remaining in the first half, Keever found Crawford again for a 22-yard score.
"He's in his second year as the starter for us," Dufur head coach Jack Henderson said of Keever. "We knew he was going to be one of the player of the year type kids in the state. He played well."
Lowell got into the end zone for the first and only time with 2:24 left to play in the second quarter.
Quarterback Ryan Sinnett dumped the ball off to tight end Samuel Thurman, who made at least two Ranger defenders miss and raced down the sideline for a 68-yard touchdown.
"I thought our defense was great," Henderson said. "We did good things and there are a lot of things we can clean up and get better at but we played well. You give up one touchdown in an eight man football game, you've got to go home pretty happy about that."
Dufur quickly answered as Keever found Bales wide open for a 52-yard score.
The two-point conversion was no good but the Rangers took a commanding 34-6 lead into halftime.
The Rangers scored three more touchdowns in the second half, all on short fields as Lowell chose to continue to go for it on fourth down rather than punt.
After the first turnover on downs, Dufur took over at the Lowell 30-yard line.
Keever connected with Bales for a 16-yard gain and then carried the ball for 14 yards to extend the lead to 40-6.
A successful two-point pass to Crawford made it 42-6 with 8:33 remaining in the third quarter.
Keever then connected with Bales for a 37-yard touchdown and Crawford for the two-point conversion.
With 19 seconds left to play in the third quarter, Tabor McLaughlin added a 3-yard touchdown run and a successful two-point conversion completed the scoring.
Dufur's defense had three takeaways, including interceptions by Pence and Keever.
In addition, the Rangers stopped Lowell five times on fourth down to force turnovers.
"I'm just proud of our kids' effort," Henderson said. "I thought we came out and played hard and executed periodically and did some good things."
The Rangers next play Friday, Sept. 11 at Triangle Lake.