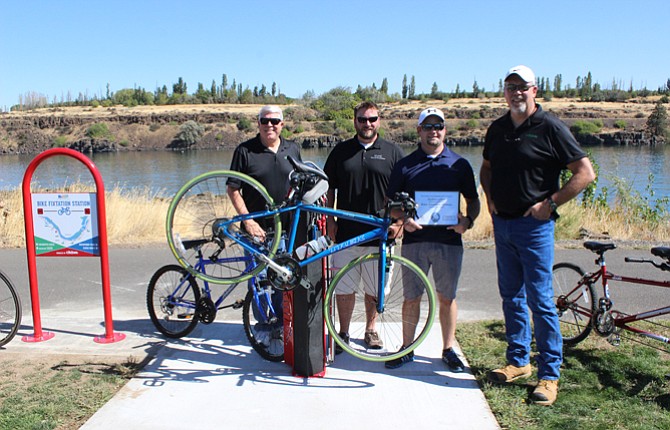 Biking on the Riverfront Trail became ever more convenient last week, thanks to a gift from CH2M to the Northern Wasco Parks and Recreation District. Looking to do something for the community, CH2M Hill, which runs The City of The Dalles wastewater treatment plant, decided to purchase a Bike Fixtation Station after seeing the unit in Mosier.
"It gave us the idea that it would be nice to have out here on the trail because I use the trail myself and there wasn't anything like this here," CH2M Hill Project Manager Richard Wolf said. "We connected with parks and rec to see if they'd be interested in it and they were. It's just been a good partnership. We've been here since 1993 and we're just continuing to look for ways to be part of the community."
The bike station, which was placed on the trail at Kiwanis Pocket Park, has a work stand with a manual tire pump and gauge, Phillips and standard screwdrivers, steel core tire levers, wrenches and a hex key set.
"It's going to have a
positive impact on the community and get very well used," NWPRD Executive Director Phil Lewis said. "It's huge. We rely on local businesses to truly step up and help us with certain projects and this is something that came from them contacting us."
Lewis would like to see more Bike Fixtation Stations added to the Riverfront Trail. "We'd be very interested," Lewis said. "Even though finances are always tight, we'd like to get some other units in if there are some local businesses that would like to partner with us."
The first station was completely donated by CH2M Hill. All NWPRD had to do was install it. A ribbon cutting was held last Thursday afternoon.
"We very much appreciate their investment in our community," Lewis said.