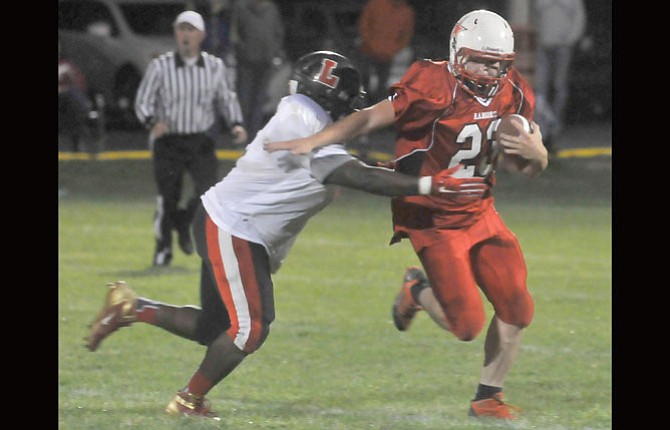 Playing against a top-10 team on the road, the No. 1-ranked Dufur Rangers showed they were worthy of that top status with a 44-14 victory over No. 9 Hosanna Christian Friday in Klamath Falls.
Hagen Pence had a touchdown through the air and on the ground to go along with racked up 96 yards rushing and 29 yards receiving to pace Dufur's offense.
"It really means a lot to be on the road and to earn this win was huge," said Dufur junior Bailey Keever. "It showed us as a team what we can really do."
Dufur led 8-6 after one quarter, but scored 28 unanswered points to lead 36-6 entering the fourth quarter.
Pence had an eight-yard run in the second quarter, and Kolbe Bales hauled in a 23-yard pass from Keever to make it a 20-6 game.
Keever then completed the conversion pass to Curtis Crawford to give Dufur a 22-6 halftime cushion.
Pence completed his touchdown trifecta early in the third quarter, as he returned an interception 78 yards for a touchdown.
Later in the third, Keever scrambled for four yards to put Dufur ahead by 30 points heading into the fourth frame.
In the fourth period, Kurt Nuevo had a two-yard run and Keever added the conversion.
In all, Dufur piled up 284 yards of offense, 205 coming on the ground, as Pence had 96 and Keever went for 88.
Offensive lineman Jon Keyser liked the response level the line showed against Hosanna's front.
"It was quite satisfying to play a physical team. Hosanna was a really good opponent this week," Keyser said. "The line was getting off pretty good, but there is always room for improvement. The most enjoyment out of that is knowing you played hard and the next week we will improve more and be able to play faster and harder."
Keever completed 8 of 15 passes for 79 yards, with Bales leading with three catches for 47 yards.
Pence had four grabs for 29 yards, and Crawford added a three-yard catch for his lone grab.
"We came together tonight well, we blocked well, we played defense well and for the most part, we had the intensity we needed to," Keever said. "We just need to keep working hard and not let this game go to our head, but also remember that if we play like we did last night, then we have potentially a good future with these kids."
Dufur (3-0 overall) heads to No. 7 Perrydale (3-0) next Friday for a 7 p.m. start.