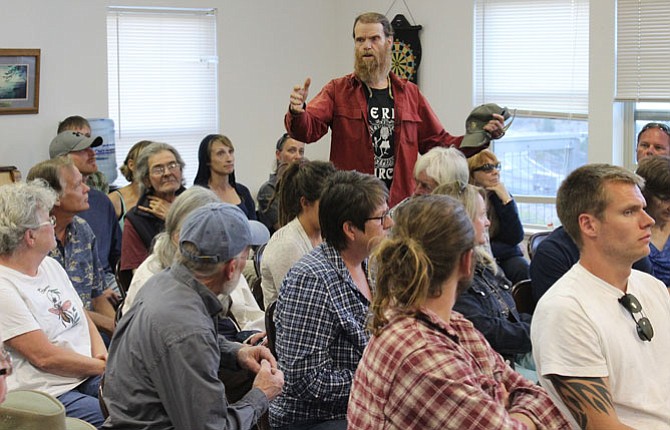 There wasn't an empty seat in the Mosier Senior Center for Monday night's town hall as the Wasco County Board of Commissioners heard citizen after citizen tell them exactly why marijuana businesses should be legal in the county.
Some were offended Wasco County was even contemplating opting out of Ballot Measure 91, which Oregon voters passed last November.
"I think it's ridiculous for you to put this through another vote," longtime Wasco County citizen Bill Wolf said. "It passed state wide. It's legal and we should just go forward with it. I don't know why in the world, Wasco County, who's always whining that they don't have any money, would turn down
anything that has any tax potential. I think opting out of this is totally irresponsible for the county."
Several potential marijuana producers in Wasco County were at the town hall.
Cole Griffin recently moved to Mosier because of the sunshine and power from the dams.
"This is one of the best environments to be able to produce marijuana," Griffin said. "I've already begun setting up a facility here in Mosier. Hopefully, this law will pass. If it doesn't pass, I'll probably just hold off and keep my facilities and move to a different county where I can still produce."
Griffin is already a medical marijuana grower and said his 48 plants go through around 500 gallons of water a day but through hydroponics, which doesn't use soil, that number could be much less.
Owen Papworth, who also recently moved to Wasco County to be a producer, tackled the water issue as well by comparing the amount of water it takes to produce a pound of marijuana compared to other crops. Reading from the Web on his phone, Papworth noted that a pound of corn needs 107 gallons of water. The average for marijuana is 100 gallons.
"A pound of cannabis goes a really long way compared to a pound of corn," he said.
"The impact of water is going to be very limited. If they ask me for a water right, my company is going to haul water from wherever we're allowed to do it. I'm totally fine with paying for it."
Jeremy Plumb, a bud tender for a cutting edge medical dispensary in Portland, acknowledged producers could use rain water to avoid water rights.
"I think Wasco County is an amazing and special place," Plumb said. "It's an amazingly unique environment for producing cannabis. There's really some structural advantages here."
One woman, who chose to be unnamed, told the commissioners growing marijuana could save her small vegetable farm in Maupin.
"It's very difficult for a family farm to be able to survive in this economy," she said. "Wheat prices are down, we can't change that. What we can change is what and how we grow. In just doing the numbers without much knowledge with how we do it, what you can do in half an acre of farm land which right now is in vegetable production but can be made into marijuana production, we would make more in three years on one crop than all of our other business possibilities and growing possibilities combined."
Georgia Murray was the only citizen at the town hall to directly ask the commissioners to opt out.
"I voted against this," she said. "I will continue to vote against this. I want the county commissioners to put it to the vote of the people. I believe that marijuana alters the state of your mind, therefore you can't think clearly and when you can't think clearly, you don't make good decisions. I'm totally against it. I've never smoked. I've never drank and I don't believe in it. I want it to go to the people so we can vote this down."
Representing YouthThink, Debbie Jones voiced her concern for kids in the county and hoped the community could join together to make them a priority.
"Even if we chose not to opt out, we can use between October and December to come together and we can be the star child for the state of Oregon as far as this is a community that came together and made kids a priority," Jones said. "Just keep in mind the perception the kids have out there. We just want people coming together and making our kids first, however that can be done."
Others didn't believe opting out would help children.
"There were fields of pot growing when I was a kid. There's fields of pot growing now," Wolf said. "Nothing has changed. Opting out does zero to protect the kids. Kids will have access to whatever the heck they want."
The woman who previously chose to be unnamed agreed.
"Folks, if your kids want to get a hold of marijuana, they are going to get a hold of marijuana just like alcohol, she said. "That's life. You'll have to parent and train your kids what they should be doing. I see no problem with the county bringing in new business that's going to create new jobs and new taxes." Plumb noted the best way to protect kids from marijuana is regulated dispensaries.
"One of the things that we've seen in many markets, and I've spent a lot of time in Colorado, Washington and California, is absolutely the best regulated markets have the least access of cannabis for the kids," Plumb said. "Regulating it really proves to be the best solution to ensure that it does stay out of the hands of kids."
Sandee Burbank questioned the 25 percent state sales tax on pot.
"We have a sales tax in Oregon for the first time and we never voted on it," she said. "How did that happen? Measure 91 is going to bring us a lot of money. You have no idea how much money is going to be spent on everything that needs to be bought. So many jobs, you just have no idea."
At least two examples of that were present at the town hall. One man said he'd already spent between $60,000 and $70,000 helping his son get started in the marijuana growing business. Patricia Martin, a mother of two teenagers in Hood River, has also invested in property in Wasco County to become a grower.
"Both of my kids know what I'm doing," Martin said. "It's not something I do in my home but I do think it's a good opportunity."
Wasco County Commission Chair Scott Hege didn't know when the county would make its decision on whether or not to opt out of any of the marijuana businesses. The next commissioners' meeting is scheduled for Wednesday, Oct. 7.