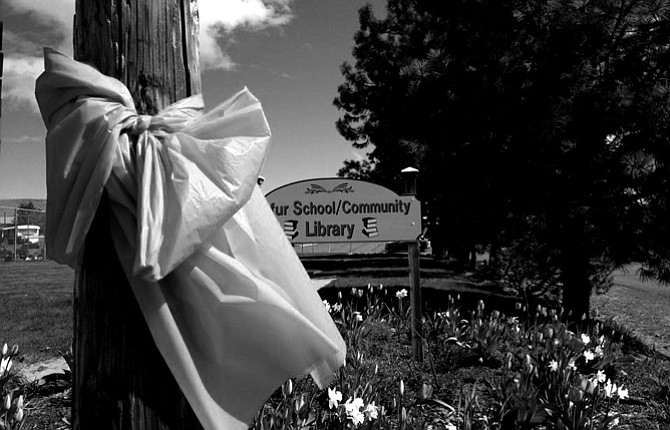 In less than two weeks, you will be seeing teal-colored ribbons displayed on lamp posts along streets in The Dalles.
Although the decorations look festive, they stand for a serious societal problem. The ribbons are visible symbols of Sexual Assault Awareness Month and hung by HAVEN (Help Against Violent Encounters Now) of the Columbia River Gorge volunteers to raise public awareness about the grim issue.

"Having visibility brought to a subject that is typically kept quiet can alleviate some of the shame and embarrassment that some survivors may feel," said Tara Koch, director, about the effort.
The ribbons will be up in The Dalles from April 22 through 29 but are already on display in Dufur and communities in Gilliam and Sherman counties where they are allowed to be up all month.
"A lot of the work HAVEN does is private and confidential so this is a way of showing our communities that we are present and available to everyone," said Koch.
During 2015, HAVEN helped 85 adult and teen survivors of sexual assault, 395 adults and teens — plus 10 children — who had survived domestic/sexual violence, 45 teens who had been subjected to dating sexual violence and 12 adults who had been victims of stalking.
It is likely that the number of actual victims is higher, said Koch, because many individuals do not report sexual assault.
The National Sexual Violence Resource Center reports that 63 percent of sexual assaults are not brought to the attention of police, often because, in eight out of 10 cases, the victim knows the assailant.
The organization says 91 pecent of rape and sexual assault victims are female and 9 percent are male.
One in five women and one in 71 men will be raped at some point in their lives, according to the resource center.
On the local front, HAVEN works to educate youth and community members about healthy lifestyles and the warning signs that abuse may be occurring. 
Their top goal is prevention, followed by helping people better understand a survivor's trauma. That understanding serves as validation and helps the person with recovery.
Acts of sexual assault include a wide range of victimizations that occur through coercion, threats or being forced to have sex.
In short, any unwanted sexual contact between the victim and offender. Sometimes the victim is unable to interpret the various behaviors of the offender as abusive.
Sexual abuse is about power and control and includes: objectifying women, telling sexual jokes that make the victim uncomfortable, criticizing the victim's sexuality, using sexual jealousy as a tool to control, touching in a way that is uncomfortable or unwanted, withholding sex as punishment, demanding sex, flaunting affairs, rape, forcing sex after beatings, forcing the victim to witness or participate in sexual activity with others, sexually assaulting the victim in front of children and engaging in sexual torture.
Parents of teens need to be watchful for a relationship that has become, or is likely to become, abusive.
Look for behavior changes, especially a sudden lack of interest in school and activities that were important to the teen.
Note changes in appearance, such as a lack of grooming, and mood swings that include anxiety and depression.
Sexual Assault Awareness Month was first observed nationally in April 2001 and organizations such as HAVEN have been working ever since to encourage community conversations about healthy relationships.
Psychology Today printed 50 characteristics of a proactive relationship in 2013 and the list basically portrayed a couple who was accepting and comfortable enough together to celebrate individuality.
Partners were viewed as trustworthy and could acknowledge each other's thoughts and feelings, even in disagreement. Each person in the relationship was treated with affection and given a strong sense of security as an important part of a team.
Teal ribbons on poles reflect the exact opposite of that type of nourishing relationship.
No one should have to feel shame for the way they have been treated by someone who claimed to have loved them.
It really comes down to a matter of respect. When someone is truly loving and validating, you will know it.
No one who claims to have your best interests at heart will force you into sexual activities that are unwanted and hurtful.
The cost to society to deal with sexual assaults is phenomenal. NSVRC reports that each year, rape costs the U.S. more than any other crimes ($127 billion), followed by assault ($93 billion), murder ($71 billion) and drunk driving ($61 billion).
Eighty-one percent of women and 35 percent of men report the need for treatment due to significant short-term or long-term impacts, such as Post Traumatic Stress Disorder, from sexual abuse.
Health care expenses are 16 percent higher for women who were sexually abused as children.
Kudos to HAVEN for raising public awareness about this ugly issue.
Let's take the opportunity this month to have family discussions with sons and daughters about how to recognize signs of trouble and behaviors that constitute abuse in a relationship.
Together, we can empower our youth to be better human beings and healthy partners.

— The Dalles Chronicle