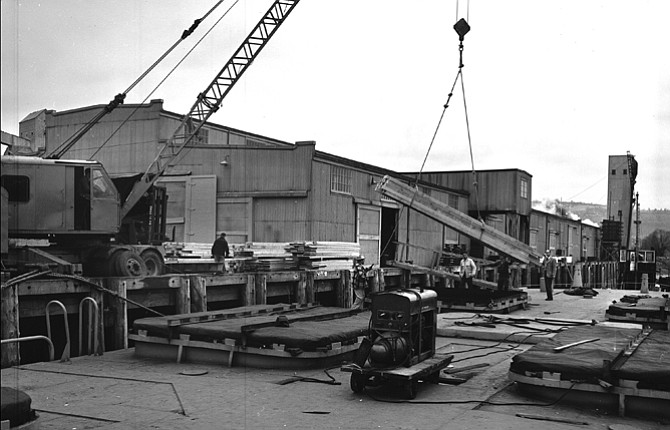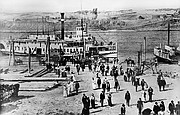 April 24
20 Years Ago – 1996
Publicity stunt or quest for justice? Depends on who you talk to. A press release last week announced plans to sue Mid-Columbia police agencies for $30 million for alleged civil right violations during an August 1994 confrontation with Native American supporters at Lyle Point. Jerry Dierker, a plaintiff, is still amazed at what happened ... He said police arrested 24 people during that weekend because they were not Yakama Indians and were not allowed to attend a tribal ceremony on Lyle Point. Lyle Point property owner Henry Spencer agreed to let Yakamas on the property for a salmon ceremony, but said their non-tribe supporters were not welcome.
40 Years Ago – 1976
Efforts to secure a Japanese market for Northwest cherries are still open and promising, George Stadelman reported Thursday. The key issue revolves around opposition from the Japanese voicing fears that American cherries would hinder their market.
Martin Marietta Aluminum has begun a $20 million plant improvement program in The Dalles and Goldendale in a move which the company sees as an effort to stay in the marketplace. The company will install new heavy electrical gear which will increase the efficiency of power utilization, is installing computers to monitor the smelting process, and is installing dry air scrubbers to replace the wet air scrubbers now in use.
Hudson Insurance Agency will soon enter its 85th consecutive year in The Dalles. In April 1882, Judge Caleb Thornbury and Thomas Hudson opened the Hudson Insurance Agency as a partnership in a frame building on the present site of the Granada Theater.
60 Years Ago – 1956
The weather bureau predicted a continued "rapid" rise in the lower Columbia river for the next day or two but said the stream then is expected to slow down before reaching the critical flood level. In Idaho, some 640 acres of rich farmland were under water after one of three dikes on the St. Joe river gave way.
A special meeting to organize a television cooperative will be held by the Dallesport Booster club in the community building at 8 p.m. Wednesday. Under the direction of Club President Frank Toda and Secretary Artlyce Edding, the group has invited Lew Davenport of The Dalles TV Co. and Harry Morioka, a Dalles television repairman, to explain how television can be brought to the area.
Plans of Harvey Aluminum company for inbound and outbound ocean vessel cargoes from The Dalles are outlined in a letter read at yesterday's Chamber of Commerce board of directors meeting.
80 Years Ago – 1936
Several business firms in the city's east end served by a spur track of The Dalles and Southern Railroad were caused worry today by notification that all service on the road will be suspended by April 30. The Diamond mill, Cooperative Union grain elevator, Tum-a-Lum Lumber company and Builders Supply company, all of which receive or dispatch rail shipments on the spur, would be without shipping facilities if the service is suspended.
Rural districts in The Dalles area were blessed with welcome showers last night that broke a three-week April dry spell. The rain measured .06 of an inch in The Dalles,
The Utopia club members motored to Ramsey park Tuesday for the regular meeting and picnic. The members attending were Miss Marian Vanderpool, Mrs. Verne Hanna, Miss Helen Slusher, Mrs. Bruce Underhill and Mrs. LeVoy Mulkins. Datelined Dufur.
Barbs: "Doctors didn't know what to do with that Louisiana women who talked for seven days. From experience, they new it was futile to say, "Yes, dear."
100 Years Ago – 1916
The Dalles is on the map. It is becoming known for what it really is – one of the finest and best little cities in the northwest. It is, and has always been a strategic point, both geographically and commercially, and with the development of one of the worlds great power sites, it is to become a center of industrial activity. Some of the best chautauqua that have ever been held in the state have been held here. That is great. That is fine, but that is not al. This week, to-wit: Thursday, Friday and Saturday the "Mid-Oregon Convention of the State Sunday School association" is to be held here. This will be a great convention.
No one ever accused a man with side whiskers with being afflicted with a sense of humor, but when Secretary of Commerce Redfield announced that American rags were of little use to the manufacturers of paper because the "American people wash to much" there was a burst of laughter which ran country wide.
Advertisement: Horseshoeing receives special attention in my shop, but I also do all kinds of blacksmithing. Matt Schoren, The Dalles.