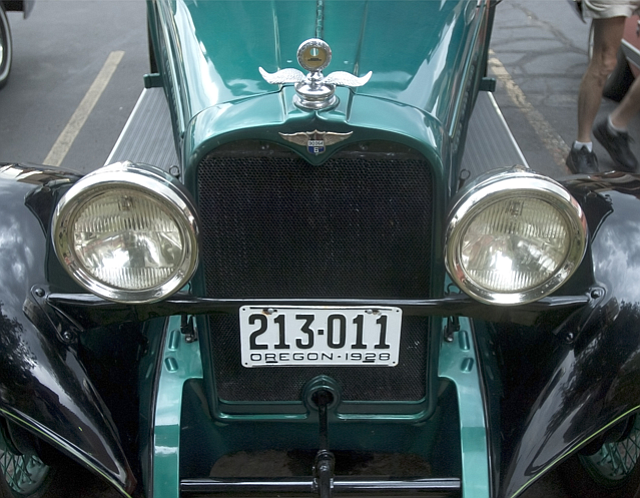 If you love cars, The Dalles, Dufur and Dallesport are the places to be this weekend.
The annual "Cruise the Gorge Classic Car Show" will feature a wide variety of cars and other vehicles in a variety of settings -- from stationery to cruising to racing -- and the events are free to spectators.
"It's predominantly cars, but there are vans, pickups and muscle cars," said Steve Hudson, tour chair of the Mid-Columbia Car Club, which, along with The Dalles Rotary, sponsors the three-day car show. "More than half the cars that show up are from the 1950s and 1960s. That seems to be the popular era. But there are cars from the teens up to modern cars. We're all over the board."
The weekend's love-fest with cars will accelerate into high gear starting at 6 p.m. Friday, Aug. 12. First up will be the "Neon Cruise," which takes place in The Dalles downtown business district. All types of cars will cruise up and down Second Street and Third Street for several hours.
"It's dragging the gut, like people did in the 1950s and '60s," Hudson said. "It's an open cruise, with no registration needed."
On Saturday from 9 a.m. to 4 p.m., an automobile showcase – "Show in the Shade" – takes place in Sorosis Park, located at 300 E. Scenic Drive. Festivities will include a 3 p.m. awards ceremony.
According to Hudson, there will be more than 40 awards given out for the best car in a variety of categories, everything from "Best Ford" and "Best Chevy" to "Best Red Car."
Registrations are $20 per vehicle. Hudson said there is just one basic guideline to follow when considering whether to pay the car registration fee so your car can be featured.
"If it's a cool car, bring it," he said. "We're expecting more than 400 cars this year. There is a lot of buzz."
Cars can be registered at Sorosis Park Saturday morning. Participants also have the option of registering their car early at Burgerville (118 W. Third Street) on Friday from 5 to 8 p.m.
On Sunday, the car-crazed weekend will spread to neighboring communities, with the Dufur Threshing Bee Car Show in downtown Dufur from 9 a.m. to 3 p.m. Also, the Dallesport Drag Races will be held at The Dalles Municipal Airport in Dallesport, with displays and live drag races going on from 8 a.m. to 4 p.m.
Hudson said organizers expect a big turnout this weekend.
"All indicators are that we're looking at a record year. Pre-registrations are up from last year," Hudson said.
The Dalles Mayor Steve Lawrence said he is a big fan of the car shows in The Dalles.
"I have been to many," Lawrence said. "My favorite has always been the car cruise itself. The unbridled joy of everyone for the muscle and antique cars is contagious."
Lawrence added that the big crowds are great for the city's economy.
"It's the one time all hotel/motel rooms will be filled," he pointed out.
The Mid-Columbia Car Club organized the first "Cruise the Gorge" event in 1994. The club, which was formed in 1982, has about 120 families that are members, and the club's mission is simple: "It's having fun with cars," Hudson said.
In another unique aspect of this year's car show activities, Dennis Gage -- who hosts a national TV show called "My Classic Car" -- will be coming to The Dalles to feature the cars on display at the Cruise the Gorge event.
"My Classic Car" is a program that "captures America's love affair with automobiles," and Gage films about 20 episodes of the program a year from locations across the United States and around the world.
"He's quite well known all over," Hudson said. "He picks less than a dozen shows each year, so it's quite a coup we got him coming to our little town this time."
Gage is expected to select about half a dozen cars that catch his eye, and he'll interview the car's owners and discuss individual aspects about their cars.
"It's quite an honor if he selects your car. You'll end up on national TV," Hudson said.
While they will certainly be the most visible, cars are not going to be the only attraction in The Dalles this weekend. Also coming will be a concert by the band Stone in Love, which will perform Saturday evening at the Lewis & Clark Festival Park, part of The Dalles Summer Celebration concert series. According to promoter Randy Haines, Stone in Love performs faithful renditions of songs from the group Journey, "one of the most beloved rock groups of all time."
"The band delivers a high energy performance that showcases all the hallmarks of the Journey sound — soaring lead vocals, lush four-part harmonies, signature guitar licks, fat keyboards, and driving rhythms," Haines said.
Stone in Love will be preceded by two opening acts, including Ants in the Kitchen, a seven-piece horn band that plays a mix of 1970s era funk, blues, and soul.
Opening the Saturday concert will be the Sceptre Brothers, a four-piece band that reinvents classic rock and roll hits of the 1960s from bands such as the Beatles, Rolling Stones, Bob Dylan, the Ventures, etc. The Sceptre Brothers will take the stage at 7 p.m.
"I missed the Neon Night concerts after they stopped, and am excited about the return of a concert," said Lawrence.
Advance general admission tickets for the concert are $15 (available at The Dalles Chamber of Commerce office, 404 W. Second, from 9 a.m. to 5 p.m. on weekdays) or $20 at the gate on the day of the show. Kids 12 and under get in free.
Hudson said this year's events promise to be special.
"Everybody is enthusiastic. Unless we get a huge rainstorm coming through, it looks like it's going to be great," he said.
Haines agreed.
"There's plenty to do this weekend," he said. "It's a fun time in our area. Support what you can."