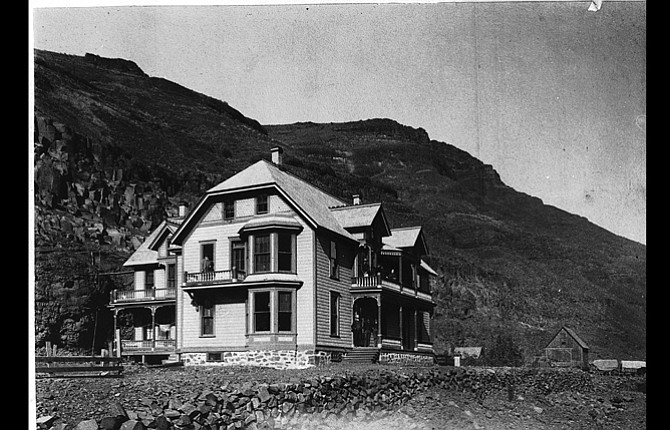 Charley Hore, Eilene Eslinger, Gary Conley, Lee Langston, Dale Roberts, Virginia McClain, Laurel Harmier, LaVerna Bolton Harmier, Betty Richmond, Diana Ezelle, Sherry Kaseberg and Pat Fowler all contributed to this report.
The photograph above was scanned from a 4- by 5-inch black and white negative from the archives of The Dalles Chronicle in 1958 — But the negative image of an undated glossy print. The envelope label reads, "Sherar's Bridge Hotel" in pen, with "House (copy)" added in pencil
Betty Richmond wrote that the hotel was next to the bridge over the Deschutes River at Sherar Falls, east of Tygh Valley. "You could get off the train and use a walkway to get to the second story," she said. "The barn was right next to the Deschutes River and they cleaned it into the river."
Sherry Kaseberg sent an excerpt from "Sherman County Place Names," which reads, "Sherar's Bridge crosses the Deschutes River in Wasco County south of the Sherman County line and south of the mouth of Buck Hollow."
"Joseph Sherar involved himself in commerce on both sides of the county boundary and the river.
"He bought the toll bridge site and toll bridge rights in 1871 for $7,040 from O'Brien. He and his wife, Jane Herbert, operated the 33-room hotel, Sherar House, livery stable, blacksmith shop, bridge and other properties.
"Sherar spent years building roads in and out of the Deschutes River canyon.
"He bought the Finnegan Ranch in Sherman County where he raised hay for winter livestock feed. Jane Herbert, age 12, with her family, is shown in the 1860 U.S. Census of Fifteen Mile Precinct, Wasco County.
"Indian Pete [Peter LaHoeme] helped Sherar build roads and bridges and in freighting operations. His brand for hundreds of horses about 1900 was shaped like a wine glass."
Jana Webb wrote, "Rocky's family (Ernest & Agnes Webb) were living in the old hotel at Sherars Bridge when it burned. His father rebuilt a small home on the foundation and they lived there until the highway came through where the house sat."
Laurel Harmier Slatt wrote that her mother, La Verna Bolton Harmier, said her parents, Guy and Violet Bolton, of Dufur, had stayed at the hotel. It burned about 1938, the year La Verna graduated from Dufur High School.
"The History Mystery is of one of our favorite articles in the Chronicle, and we look forward to it every week," she added.
The Chronicle thanks all those who contribute to this ongoing article, published every Sunday.