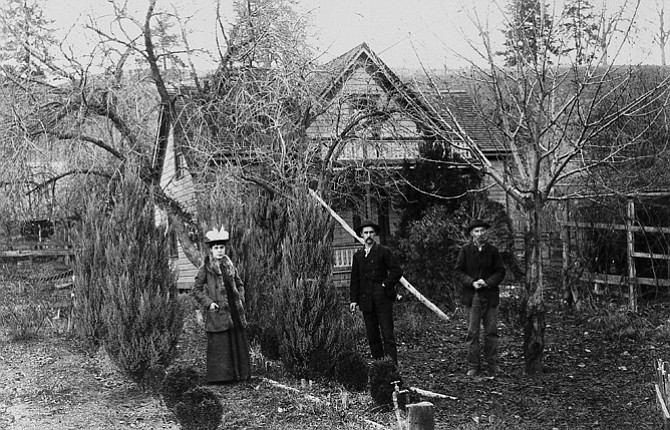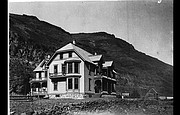 History Mystery answers, from Aug. 14, 2016
20 years ago – 1996
YAKIMA, Wash. – A judge ruled today that a Yakama Indian who killed two elk near a feeding station was allowed to hunt out of season under a 141-year-old treaty. But the case still hinges on whether prosecutors can prove a need to regulate hunting to conserve animal populations. Former Yakama Nation police chief Joseph Young is charged with four gross misdemeanors for shooting the bull elk last winter: hunting elk during a closed season, killing elk in excess of bag limit, hunting without a license and hunting without an elk tag. Each count carries a penalty of up to a year in jail and a $1,000 fine. "There's no question Mr. Young was hunting on ceded lands under full benefit of the treaty," Yakima County Superior Court Judge James Gavin said today. Gavin ruled that case law cited by Prosecutor Jeff Sullivan did not apply in this case, because of wording differences between the Yakamas' treaty and the treaties with different tribes involved in the other cases. Both Young and Sullivan on Tuesday promised to appeal if Gavin's final ruling goes against them. "I am in it for the long haul," Young said Tuesday outside the courtroom. "We are affirming our rights." Sullivan said he wants a final ruling on the recurring issue of treaty rights regarding hunting.
Community Meals, Bread and Blessings and St. Vincent DePaul have joined forces to build a permanent kitchen to feed the hungry and on Saturday, Sept. 14, there will be one of the biggest parking lot garage sales in the history of The Dalles to raise funds for the three agencies.
PASADENA, Calif. – New images of Jupiter's frozen moon Europa are giving scientists tantalizing hints that its fractured crust of icy slabs may be sliding on a layer of slush or even water – the fundamental ingredient for life. The new images, taken by the unmanned Galileo spacecraft from 96,000 miles away, show its surface dotted by a series of dark spots that could be she scars of slush-spewing geysers. The presence of slush would add additional weight to the argument that Europa is not frozen solid, but has water within what was believed to be a 50- to 60-mile-thick icy layer.
40 years ago – 1976
HEPPNER (UPI) – Peter Byrne, operator of the Bigfoot Information Center in The Dalles, Ore., says the prints purportedly made by Sasquatch on Johnson Creek southeast of Heppner 10 days ago are fakes. Byrne first said they were fakes after looking at pictures of the imprints. After viewing the area in person, he concluded that tufts of grass and natural depressions were construed as Bigfoot prints. The Bigfoot researcher said he did not think that Guy Patterson, one of those who found the prints, was involved in the hoax, but he added that Patterson's "interpretations were amateurish and 100 per cent wrong."
The Columbia Basin CB Search and Rescue Club's second annual Golden Eagle Break will be held Sunday starting at 9 a.m. at The Dalles Armory. Over 2,000 people are expected by club officials. Games and prize drawings will highlight the day's activities. Various items for sale will be displayed. Games will include a dart throw, flying saucer throw, dime throw and pin the eagle on Golden Eagle game. Prizes to be given away include a new $850 CB radio and four car tires.
60 years ago – 1956
WASHINGTON (UP) – Secretary of State John Foster Dulles said today he believes a formula for "international operation" of the Suez Canal consistent with Egypt's rights and dignity can be found. He said after another meeting with President Eisenhower on the Suez crisis that "I go to London hopefully and with confidence that we will find a peaceful solution." Dulles was to fly to London later today for a 22-nation conference starting Thursday on the Suez dispute.
HONOLULU (UP) – Airman Jackson H. Kilgore, 21, of Meadowview, Va., has been given an "administrative reprimand" for talking about the May 21 H-bomb test at Eniwetok. Maj. Gen. Sory Smith, commander of the Pacific Air Force, said an investigation showed that Kilgore disclosed no secret information. Kilgore was the man who told a Honolulu newspaper that the big H-bomb drop of the spring test series missed its target by several miles. The Air Force subsequently admitted the miss. Kilgore's commanding officer on Eniwetok administered the reprimand Monday.
Alfred Ily, a 19-year-old Indian fisherman from Toppenish, fell into the Columbia river below the Oregon Trunk bridge this morning about 5 a.m. and is presumed drowned. Ily and two unidentified companions were on their way to fish from an island on the Washington side of the river when Ily, who had just climbed down a ladder from the bridge to the island, slipped from the concrete base of the bridge pier. The fisherman fell four feet to rocks and then into the river, according to Deputy Sheriff Charles Wyman. This is the second accident at the bridge in eight days. Monday Aug. 6, Alexander George was found dead after falling from the structure onto rocks below.
80 years ago – 1936
District Attorney T. Leland Brown was delving into the law governing election procedure today to determine whether or not E. C. Fitzgerald, who yesterday filed declaration of becoming an independent candidate for county judge in the November election, has a legal right to have his name placed on the ballot. Brown has been asked for a legal opinion by Henry W. Scherrer, county clerk and recorder, with whom Fitzgerald's declaration was filed. Scherrer said today that Fitzgerald's eligibility to a place on the ballot is under question due to the fact that he was a candidate for write-in votes during the primaries.
MOSCOW, Aug. (UP) – The soviet Russian government today announced that the followers of Leon Trotzky and Gregory Zinoviev have been preparing under the direct orders of Trotzky a terrorist plot against leaders of the communist party and the soviet government. The NKVD, or peoples' commissariat for internal affairs, ordered the trial of Zinoviev, Kamenev and 14 others. Trotzky is in exile in Norway. Kemenev and Zinoviev are veteran Bolshevists. They broke with the orthodox elements of the party and in 1935 were sentenced to prison for a counter-revolutionary plot to overthrow Josef V. Stalin. They are now serving from five to ten years in prison.
SEATTLE, Aug. 14. (UP) – A strike of 25 employees, all members of the Newspaper Guild, and a picket line of 100 men and women, including members of several unions, prevented the Seattle Post-Intelligence, morning daily owned by William Randolph Hearst, from printing any editions today. The employees went on strike Thursday in protest against the recent dismissal of two members of the staff, Frank Lynch, veteran photographer, and Everhardt Armstrong, drama editor, assertedly because of guild activities. There were several outbreaks of violence as a driver of a delivery truck was beaten by pickets this morning.
100 years ago – 1916
The New Jersey authorities are holding officials of the Jersey Central and Lehigh Valley railroads in connection with the serious explosion of dynamite, cellulose and shrapnel at Black Tom, a peninsula on the Jersey City side of upper New York bay. The ammunition was consigned to the allies, and when it went off it shattered windows ten miles away, lower Manhattan and Brooklyn suffering greatly. Six lives were lost.
The Dalles Dip was opened yesterday afternoon when a large crowd of men, women and children enjoyed its bathing facilities. The Dip had not been completed yesterday, and lacked many conveniences which will be provided within the next two days.
The Dalles baseball team, minus several stars and augmented by a veteran and tyro or two, journeyed to Prineville and played the natives a 12-inning game yesterday, losing 8 to 7.
Editor's note: Did you know that historic editions of the The Dalles Mountaineer and Chronicle are available on our website? Under the "News" tab, click on Historical Archive.