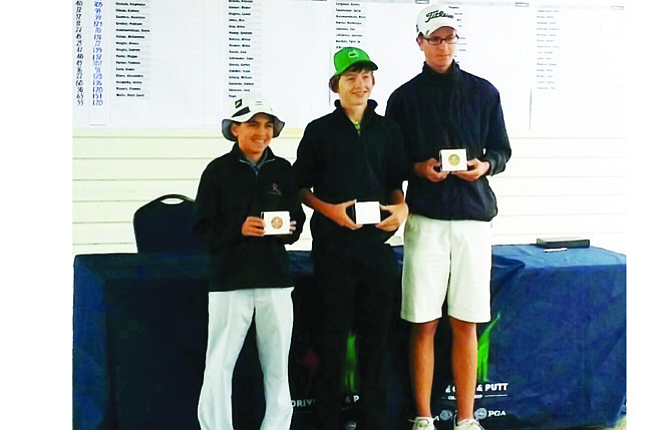 The Dalles golfer Tyler Vassar is not one to put his clubs away for the summer.
He has been on the links, playing in tournaments and working on his craft at The Dalles Country Club in an effort to sharpen up his game.
All of that work paid off in spades at the 14-15-year old Drive, Chip and Putt Sub-Regional Championships ending Aug. 9 at Meriwether National Golf Club in Hillsboro.
"This was exciting to get this win," Vassar said. "I worked really hard and prepared for this event, so to have this kind of performance means a lot."
Vassar competed against 18 other participants, earning his highest score in the putting division, sinking an eight-footer and a 15-footer, but laid his 30-foot putt a foot and a half from the hole for 65 points, the best amongst the field.
In the chip event, players had to get as close as possible from 14 yards away.
His first chip shot sailed too long, but then he responded by holing in his next shot to score 25 points.
Vassar's last shot wound up three inches from the hole and gave him 20 points.
In the driving event, Vassar had his opening shot hook out of bounds, but then he had two solid drives in his final two to score 40 points.
His second drive sailed 251 yards, and then he ended up with a 254-yard drive to finish ahead of the pack.
Vassar held the lead with three other entrants still to shoot, but his scores were high enough to stay ahead.
Spokane, Wash., native Zane Mularski also qualified for regionals with a 139 for second place.
Jacob Tarkany, of Bend, had a 136 to earn alternate status, and Billings, Montana native Adam Nedens was a second alternate after his 132.
At regionals on Sept. 10 in San Francisco, Calif., Vassar will compete at the Olympic Golf Club against two golfers hailing from Nevada, Arizona, California, Oregon, Canada, Washington, Idaho and Montana.
If he can continue his current level of play, Vassar punches his ticket for the National Championships in Augusta, Ga., for National Championships.
"It is going to be very exciting to be out there with some of the best golfers in the region," Vassar said. "Hopefully, I can play well down there. I need to keep practicing and hope for the best. I need to keep playing well to give myself a chance."
With a three-week timeframe to prepare for regionals, Vassar said he plans to improve on his putting. He also wants straighter and longer drives, since he hit a shot out of bounds.
He said there is always ways to improve his game, especially the mental aspects and dealing with the pressure of the situation and the moment.
This summer, Vassar has played seven two-day tournaments and a pair of one-day tournaments with one top-25 finish, while playing against 14-17-year olds from across the Pacific Northwest.
He has one more tournament in Hood River still left on his docket.
Coming off an impressive first year on the varsity level, Vassar aimed to pick things up in his short game, mostly putting.
Matches are won and lost with the short game.
"Putting is the most important part of your game, whether you are an amateur or a pro," Vassar said. "Anybody can hit the green and anybody can hit the fairway and anybody can hit the ball far distances, but you still have to be able to get the ball in the hole."
Vassar and teammates Mark Felderman and Chase Snodgrass have been working out together to improve for 2017.
The expectations are even higher for this boys' team.
"I am looking forward to next season," Vassar said. "Chase and Mark will be seniors, so it is their last year. Their game has dramatically improved since this last golf season, so has mine. Next year, we hope that we can do something good. We have a ton of potential and we have been working, so it gives us confidence knowing that our hard work will pay off in the end."
Two other golfers participated in the 10-11-year old girls' division, Tora and Tygh Timinsky.
Tora, placed ninth overall with 52 points.
She had nine points in the drive division and added 17 in the putting event.
In the chipping portion, Tora Timinsky totaled 26 points for third-best, out of the top-13, in her classification.
Vassar is looking for sponsorships opportunities to help offset travel and lodging costs for his upcoming trip to California.
To donate, call Kris Vassar at 541-993-2905.