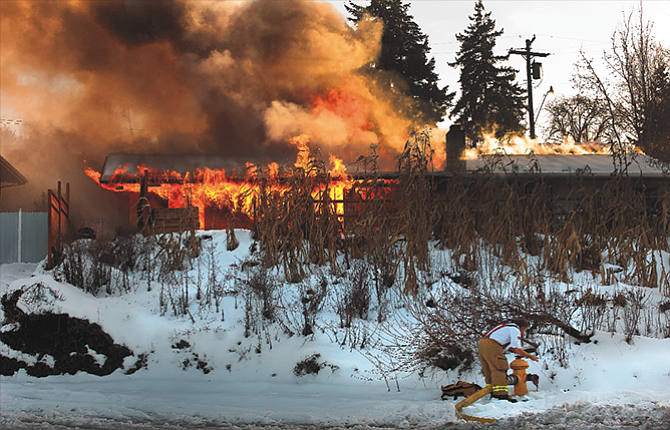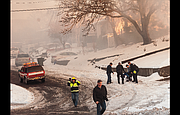 Five members of a family, including an infant, lost everything Tuesday, Dec. 20, in a fire at the house they were renting in the 1900 Block of Dry Hollow Road in the Dalles.
No one was home when the blaze started and the cause is still under investigation, according to Mid-Columbia Fire & Rescue Division Chief Dave Lapof.
"We heard there might have been a problem with the dryer but we're going to start at the top and work our way down today to look at what might have happened — we don't want to go in there with tunnel vision," he said on Tuesday morning.
The mother of the family worked at Bickler Orthodontics in The Dalles, which is now spearheading a drive to collect clothing and household items to replace the things they lost.

"It's just awful and we're trying to help," said Katie Pickthorne, who works at the 1625 E. 12th Street office. "They just need everything, including a new place to live."
She said people can drop off donations for the family at the dental office from 8 a.m. to 4:30 p.m. Monday through Friday. For more information call 541-298-4072. Family friend Blanca Flores invites people to leave furniture donations at her place, 712 E. 21st Place.
Donations of mattresses, bedding and kitchen supplies are critically needed, said Pickthorne.
She said the family's clothing sizes are: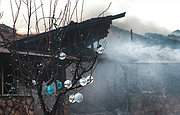 • An adult male 24, with intellectual disabilities wears size 5 men's shoes, men's small in jackets and shirts and either size 14 or 30-30 pants. The family has requested help to make sure he has Christmas gifts of children's movies and books (he likes Spiderman and Sponge Bob) and anything with a light on it, such as a flashlight.
• The 5-month-old baby boy needs 6-12 months clothing, bottles, formula, diapers and wipes. He still has a car seat, which was not at the home when the fire occurred.
• The mother, 30, and her sister, 24, wear women's size small or extra-small. Jeans are size 3 and their shoes are women's 6-1/2 and 7.
• The father, 36, wears size 34 pants, medium shirts and jackets, and size 9-1/2 shoes. Pickthorne said gift cards for any amount will also be appreciated.
Lapof said the emergency dispatch center received a call about the fire shortly after 3 p.m. Dec. 20.
MCF&R Chief Steve Biehn was about three blocks away after responding to a medical call and arrived at the scene moments after dispatchers alerted the fire department. He saw flames coming through the roof and smoke pouring out of the single-family residence.
He checked to be sure no one was inside and relayed information about the situation to firefighters on the incoming engine.
"We still had the chains on so it took us a few minutes to get there because we had to go slower than usual," said Lapof.
Within seven minutes of being paged out, MCF&R's crew arrived and began battling the fire, which threatened a nearby structure.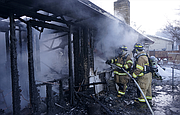 Ed Goodman, retired captain from The Dalles Police Department, and two city officers helped a neighbor woman who was in a wheelchair leave her home in case the fire spread.
Lapof said Dallesport firefighters also arrived to lend assistance, but no one was sent inside the structure, which was fully engulfed in flames.
"We assumed a defensive posture and protected the outside and neighboring houses," he said. "It was unsafe to put anybody in."No one was injured during the two-hour battle to extinguish the blaze, said Lapof.

"The west side of the house — living space and bedrooms — was completely destroyed and I think the family was able to get some things out of the other side, but there was a lot of damage there also," he said.
He said Marilyn Roth, chaplain for MCF&R, helped the family connect with the American Red Cross Cascades Region for assistance, although they stayed with friends last night. The Red Cross offers temporary housing, food, clothing, comfort kits, information about recovery services and health and mental health care.