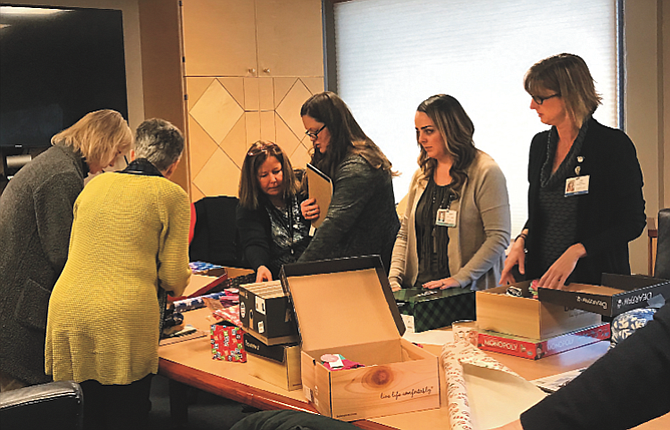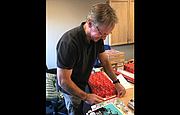 A group of doctors and staffers at Mid-Columbia Medical Center decided to help needy families as a holiday outreach and raised about $800 in about three weeks.
The money was used to fill boxes with books — many donated by Klindt's Booksellers — games, miscellaneous fun items and winter supplies, such as socks and gloves.
In addition, Tracy Davis in the MCMC printshop, created prepaid coupons for $40 that could be redeemed at Grocery Outlet for milk, fresh fruits and vegetables, which can be rare items for families on very, very strict budgets, along with staples such as beans, rice, cheese, peanut butter, etc.
Members of the Credentials Committee, chaired by Dr. Paula Lee-Valkov, a radiologist, took on the project to benefit students at Dry Hollow Elementary School involved in the Community Backpack program and their families.
The Backpack program provides kids who don't have enough food over the weekend with two breakfasts, two lunches and two dinners.
"I thought that it would be a good community service project and a good bonding experience for the committee members to gather together to wrap presents for these families," said Lee-Valkov.
The committee is tasked with making sure physicians and health care providers practicing at the hospital meet experience and competency qualifications.
Physician members of the committee include Dr. Jason Morich, hospitalist; Dr. David Guarraia, cardiologist; Dr. Kathy Omer, pediatrician; Dr. John Elliott, emergency room; Dr. Sonia Schuemann, hospitalist; Dr. Dorothy Sherwood, internist; Dr. Bob Alaimo, family medicine.
Guest physician, Dr. Sara McCaffrey, a pediatrician, wanted to participate in the outreach to low-income families.
Lisa Sosa and Katie Kelly, members of the Risk Management Team, attend the committee meetings and also asked to participate. Joining them were team members Becky Raulston and Tasha Sandoval.
In addition to area businesses, community members stepped up to help out when they found out what the committee was doing, said Lee-Valkov.
For example, her friend, Heidi Baker, provided boxes covered in wrapping paper and books for the students.
"There was a lot of enthusiasm for the project; everyone was happy to do this for deserving kids/families," said Lee-Valkov.

She worked with Kate Hagner, school counselor at Dry Hollow, to get a list of kids' ages and sexes to customize the items that she purchased at Fred Meyer as much as possible.

Last year, Lee-Valkov purchased food for Backpack families on behalf of Riverside Gymnastics, so she had already established a working relationship with Hagner.
Since the 2015 effort was successful, she decided to once again help out with Dry Hollow's program.
On Dec. 7, hospital personnel involved in the outreach gathered for a lunch and then undertook the job of wrapping gifts.
"It was truly a collaborative effort," said Lee-Valkov.
She delivered the presents to Hagner's office the same day they were wrapped. However, bad weather has delayed delivery of food coupons until early next week
"Apparently, this will be timely as many families run out of food benefits at the end of the month," said Lee-Valkov.
She hopes to include the entire medical staff in the fundraiser next year because it was very rewarding for everyone involved.