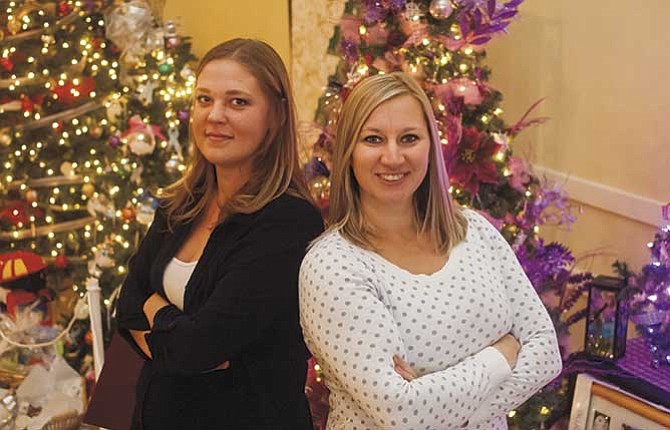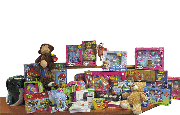 They came from different biological families, but Ashley Almas and Tonya Flory bonded during their fight to escape nightmare childhoods and are now sisters for life.
"Tonya is the only human who is always there for me, the only one I rely on," said Almas, 24, of The Dalles. "She is like the big sister I never had; the first person who showed me things I could look up to and be proud of."
"I just love Ashley," said Tonya, 31, who also lives in The Dalles. "She's a fighter and she wants to be better. She wants to leave the past in the past and love her child and be a great mom."
In and out of more foster homes than they can count, Flory and Almas are determined in adulthood to help other children from troubled families.
Flory recently spent a week collecting Christmas gifts from the Hood River and The Dalles communities, which she turned over to the Department of Human Services for distribution to foster kids.
"There were times when I was in foster care that the biological children would get a gift from their parents but we wouldn't, our gifts came from DHS, " she said.
Almas said that lack also applied to school clothes and other needs during the years that she bounced around in the system.
"If the state didn't give them (foster parents) a voucher, we didn't get it," she said.
Flory recently became a Court Appointed Special Advocate (CASA) for children. Now married and raising three daughters — Jadyn, 1 month, Alexis, 2, and Rachel, 13 — she said life is stable enough for her to take on the fight for fragile youth.
"When our youngest is in school we will get licensed to do foster care," said Flory, who has gained agreement from husband Ryan to take on that challenge.
Almas, single mother of Hayden, 6, is still in the process of getting life in order and isn't ready to become the activist that Flory is.
She is fully supportive of her sister's efforts, though, because she also believes the foster care system needs reform to stop a revolving door that prevents children from finding the stability they need to develop self-esteem and a sense of security.

Both Almas and Flory work in the advertising department at The Dalles Chronicle.
They can't explain why they connected so strongly out of all the potential "brothers and sisters" they met over the years.
What they do understand is that family isn't about blood, it's about having someone in your life who is there for you, no matter what.
"Ashley is my family. I don't have any connection with my birth family so she's the aunt to my children and her son is my nephew," said Flory.
"She is the only one I trust my kid around," said Almas of Flory.
Both women were moms at age 18 and admit to being overprotective of their children because they learned first-hand the bad things that can happen to kids when no one is paying attention.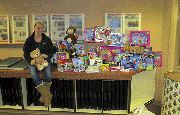 TONYA'S STORY
Flory did not want to provide details about the abuse that occurred when she lived with her birth mother. She has chosen to cut ties with her biological family because of what happened in the past.
The earliest age that she can remember being in foster care was 4, although she might have been younger.
Born in Tennessee, her family settled in the gorge, but not before Flory had been removed from her mother's home. Her birth father was never in the picture.
"The first foster home I specifically remember was in Utah and it was horrible. I remember them letting their own children play in the snow but I was not allowed," she said.
Over the years, Flory found there was often a disparity between the way foster parents treated their own kids and those they had taken into their homes.
Good experiences were a rarity but she fondly remembers a foster home in Bingen where she landed at the age of 11 after running away from her mother's place.

Her foster mother provided respite care and was a very giving person, said Flory.
"I asked her if she was going to keep me because I didn't want to go back home," she said.
Nevertheless, in a system that makes it a priority to reunite families, Flory was sent back yet again to her mother and was unable to return to Bingen when her parent failed, once again, to
adhere to custodial conditions.
"I think it is ridiculousness to keep putting children back in an unstable home," said Flory. "I disagree with the current focus being on reunification, it should be obvious that this system isn't working. I think the focus should be on what's best for the kid and providing some type of stability."
She watches her eldest daughter play softball each year with the same team members and sees that continuity as vitally important to Rachel's social development and well-being.
"No child should be starting over again and again," said Flory. "Every time they go into a new foster home, these children must learn what is allowed and what isn't, and it changes every time. Soon, you just get numb."
Despite the emotional roller coaster ride of her childhood, Flory excelled in school. She was a cheerleader at high school in Stevenson and received a full-ride scholarship to any public college in Washington from the Bill Gates Foundation during her junior year.
"I was very focused on sports, that was my outlet, my stress release," she said.
When the state transferred her to a different location, Flory was no longer eligible for the scholarship.
In her senior year, she became pregnant and then had to figure out how to pursue her plan of college while caring for her own child.
While pregnant, she lived at a foster home in Dallesport and that's where she met an angry Almas, who was making some bad life choices.
Although she was busy with her own responsibilities and began living independently once she turned 18, Flory kept an eye on Almas. The two didn't initially get along well because Flory "ratted out" the teen who was seven years her junior for smoking and skipping school.
"I would tell Ashley that I cared about her and she wasn't going to do that," said Flory.
She was able to get four years of paid tuition through a governor's scholarship program and started school about eight months after giving birth.
Flory earned her associate degree from Columbia Gorge Community College and her bachelor's degree in criminology from Portland State University.
Life was a struggle with no family support. Later, Flory learned that there were resources available to help foster kids who aged out of the system, — she had just not been told about them.
At one point, Flory decided to reach out to the foster family in Stevenson where she had lived the longest. She had parted ways on bad terms because of problems created by the different way the biological children were treated; excuses were made when they did something wrong and she was subjected to stringent penalties.

"I wanted to repair that relationship and felt I needed to apologize for my part in the problems," she said.
She emailed her former foster mother and received a shocking reply. The woman told Flory that she would be doing the baby a favor if she put him or her up for adoption since it was too late for an abortion. She said Flory was unlikely to be a good mother and pointed out how much better her own children were doing in life.
"It was a very hurtful letter and it's people like that who will keep getting foster kids," said Flory.
Almost seven years ago, she met Ryan through a mutual friend and, for the first time in life, Flory had her own family. She said with three children and two dogs (one a puppy of three months), life is often hectic but she feels blessed beyond what most people can understand.
The after-effects of trauma are still with Flory, however, and something that she sees as a struggle for years to come, or perhaps a lifetime.
"I can be too overbearing and there are times I push Ryan away because I grew up with too many losses and I am waiting for him to walk as well," she said. "There are definitely scars that I am working through all the time."
On the plus side, Flory said she has both "book smarts and street smarts" that allow her to be assertive about achieving goals. She describes her personality as "no nonsense."
"I'm black and white and I don't beat around the bush," she said.
She is also very tidy out of the need to have her environment in order.
"I run a tight ship," said Flory. "If things are out of place or it's a disaster, it's stressful."
ASHLEY'S STORY
This is a rough time of year for Almas, who learned long ago that giving foster kids a Christmas gift is all well and good, but what they really need to know is that someone truly cares.
She works hard to create holiday magic for Hayden but the holidays are a reminder of her painful past.
"It's just so hard, I try to do things with meaning," she said. "I don't want Hayden to think like I think, that Christmas is bull----."
What drives her to do up the holidays for her son is the memory of a good foster home with a couple she called Grandma and Grandpa. They decorated for Christmas "like crazy" and baked delicious molasses cookies.
"I remember that I liked to go into their laundry room because it was so clean," said Almas, laughing about that memory.
She keeps in touch with that couple, now at an advanced age, who are still interested in her welfare.
"Grandma tells me how proud she is of me becoming the mom I am," said Almas.
She was removed from that home to return to her mother, a drug addict, during one of the many times mom was living clean.
Months later, mom was back on methamphetamine and Almas and her eight brothers and sisters were once again in state custody.

"I was pretty much raising kids before I had my own," she said.
One of her sisters was put up for adoption and Almas does not know where she ended up.
"I went to the hospital when she was born and stayed there for the three days before she was taken away," she said.
Almas first entered foster care at the age of 3. Her father was in and out of prison for varied crimes so he was never available to parent.
"I grew up watching my father age by his booking photos," said Almas.
She remembers eight foster homes but believes there were more. Her primary stomping grounds were Goldendale, although she also lived in other locations.
Sometimes she had siblings with her, but most often they were separated. Some of the foster homes were well-tended, but just as many were as unclean as her mother's.
Almas learned early not to ask for much because that seemed to irritate her caregivers.
"You learn to get by, to live day-to-day," she said.
One thing that really bothered her was the way that people looked at her as a foster kid — with pity and like something was wrong with her.
"Going into foster care is like being the person who got raped; everybody knows it, everybody talks about it and you get singled out. It just makes you feel tainted," Almas said.
No matter what her mother was doing, Almas said there was a longing to be with her. She said there were times when mom was functioning well but those times never lasted.
"It would always end. The drugs would always win," she said.
When she was about 12, Almas boarded a bus with her baby sister and they went to live with relatives in Missouri. They stayed for about six months before returning to Oregon and another round with mom.
"I started doing things I shouldn't have been doing," said Almas. "I needed attention and I wanted to make the wrong people happy all the time."
She was full of anger at the hand life had dealt. Although she did well in school, she didn't attend regularly. And she began to experiment with drugs and alcohol about age 10, after the loss of a biological grandmother she had loved.
When she was 18, she found out that she was going to be a mom.
"I was eight months pregnant walking down the aisle at graduation," she said.
For a time after Hayden was born, Almas followed in her mother's footsteps. However, one day she had a wake-up call and decided that the dysfunctional family patterns had to stop.
"I had to get a job to take care of my son," she said. "I went off the deep end trying to do everything. Then I realized that Hayden deserved better, he didn't deserve to grow up the way I had and I had the choice."
She worked in housekeeping at a local motel and then as a bartender. It was tough going for a while to fulfill her responsibilities but having her own family made the sacrifices worthwhile.
"I'm happy I had a kid. I feel like he calmed me down; he made me see time in a different way. You can see time when you have a child, when you watch them grow," she said.
Almas started college but had to put those plans on hold to take custody of a younger sister, who turned 20 last weekend.
"She was not going to school but I made her because I wanted her to have a normal life," said Almas.
She sums up her childhood with a simple sentence: "I guess I was just born tough."
One residual effect of her tumultuous upbringing is that Almas finds it very difficult to return to her old stomping grounds.
"It hurts to go to Goldendale; my anxiety goes through the roof," she said. "My heart seriously hurts because it's pounding so hard – I become a completely different person."
CHANGES NEEDED
Almas urges community members who really want to help foster kids to get involved in mentoring programs, such as Big Brother Big Sisters of the Columbia Gorge.
"Take them out at least once or twice a month to do what other families do, things like bowling or camping," she said.
"That child is only going to be in the foster home a minute and you have the chance to provide him or her with something good to hang onto," said Almas.
She and Flory said more people interested in the welfare of children also need to step forward to become foster parents. When the state is scrambling to find places to put children who are being abused or neglected, it becomes harder to turn down assistance.
"There's good and bad in everything and it's the state's job to weed out the bad," said Flory. "Picking foster homes shouldn't just be about who passes the background check and completes the training. There needs to be commitment to the child, a 100 percent effort.
"That child should be in that home unless something extreme happens – because, if not, it's just business."
Her idea of ideal foster parents: "They embrace you like family, they make you feel like you are supposed to be there. It's not doors and windows, it's your home."