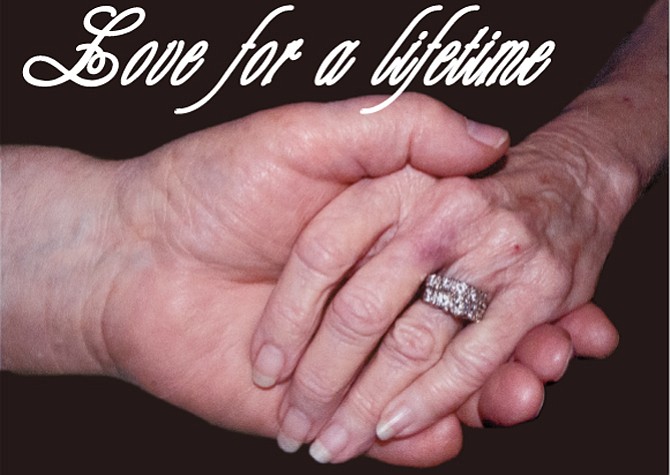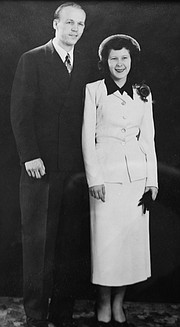 They met when he was hospitalized for a hand injury and she was the nurse who bawled him out for his complaining attitude and coarse language.
"She folded her arms and let me have it with both barrels. I thought, 'This gal has guts' and filed it in the back of my mind that she deserved further investigation," said Delmar Kendrick of Louise, his wife of almost 66 years.
"I was busy that night – I was the only nurse on duty and had nine patients to take care of," she said. "He was moaning and groaning and carrying on and I thought, 'This has to stop.'"
Delmar landed in the Oklahoma medical center after falling out the cargo door of a grounded airplane that he was working on.
Prior to taking the job as an aviation mechanic, he had served in the Navy with the intent of using his flight training to battle the enemy in World War II.
However, the timing for his training was wrong and Delmar never saw combat, something that he remains disappointed about but which Louise is grateful for.
"About the time they were ready to send me out to the Pacific, the war had ended," he said.
After leaving the military a couple years later, Delmar signed up for aviation technical training in Tulsa, Okla., and worked on aircraft to pay his way while he attended classes.
The night of the fall changed Delmar and Louise's lives forever – even if it took a while for them to realize it.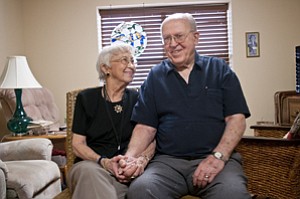 After being lectured by Louise, Delmar asked her out on a date, which she flatly refused.
"I don't go out with guys I don't know," Louise said.
"I started giving her a pretty wide berth after that – I wasn't really interested in getting chopped up again," said Delmar.
He was shocked to have Louise tell him a couple of days later that, "If you bring a friend and I bring a friend we can double date."
"And you know I never dated anyone else after that," she said.
It wasn't smooth sailing for the young couple after they realized there was a mutual attraction.
Delmar returned to his home state of Oregon to heal from a herniated disc.
He was five years older than Louise, who was still in nursing school but decided it was worth taking the risk to leave that career behind and follow the man who had won her heart to the Pacific Northwest.
"About the first thing she told me was that she wanted a family – that she loved kids a lot," said Delmar.
Several weeks later, he travelled to Oklahoma to claim his bride and they were married in Kansas with $200 in their pocket.
"We drove around looking for a Baptist Church and when we found one, we told the pastor that we didn't have a witness," said Delmar. "He said, 'Don't worry about it, you don't need it in this state,' so we paid him $5 to marry us."
"And then we got to Oregon as fast as we could because we were broke," said Louise.
The trip brought their first challenge as newlyweds when a car tire blew out while they were traveling through Colorado.
"We found a place to stay that the rats wouldn't even have stepped in – it was horrible," she recalls.
The towering mountains also made Louise nervous because she was used to much flatter geography.
"I just didn't know about that," she said.
It took three days for the young Kendricks to arrive in The Dalles, where his family ran a grocery store, and Louise was nervous about the introduction.
"I hadn't even met his mother and I thought, 'I'm just a little Okie kid, I don't know siccum from boo,'" she said. "But it turned out they were absolutely beautiful people, I was so blessed."
As for Delmar's in-laws, Louise's mother was supportive of the marriage but her father didn't think Delmar was going to amount to much.
The couple returned to Oklahoma so he could finish his training for a career that took them to several locations and saw him working with the giant manufacturing companies of Boeing and Douglas.
Delmar also flew jets in the Navy Reserve once a month – until he was called back to active duty during the Korean War.
By that time they had two of their three children and were stationed in Hawaii for the next year.
After Delmar finished military service, the Kendricks moved to The Dalles and he joined his father in the grocery business.
The family opened a second store in Lyle and Delmar and Louise resided in that community.
"We were both raised in church and continue to be that way, it has served us well," he said of their life together.
It turned out that his love of aircraft ended up as one of the only areas of contention in a marriage that has spanned six decades.
"He was building a plane in the garage and he was out there so much, I started calling the plane, 'The Other Woman,'" Louise said.
It took Delmar 13 years to finish the small plane, by which time Louise had run out of patience.
"I was about ready to throw them both out," she said.
Although he enjoyed flying his custom plane, Delmar ended up selling the aircraft because Louise couldn't ride with him due to health problems caused by air pressure changes. The condition also affects her in higher elevations during vehicle travel.
Delmar, now 91, is quick to praise Louise for being the "best mother he has ever seen," not only to their own children but the many young people she has worked with over the years as a Sunday School teacher.
"I didn't know anything about kids but she demonstrated right off that she knew what was going on and how to handle them," he said.
Louise, 86, is equally quick to praise Delmar for being not only a good provider for his family but always supporting her with kind words and actions.
"I fell in love with him right away, he was everything I ever wanted," she said. "He gives me love beyond anything I've ever known and I am so content to be his wife and
the mother of his children."
Their advice to young couples just getting started is to realize that they will also be marrying their partner's entire family, it's a package deal.
"It's the biggest step you'll ever take," said Louse, "You have to work at it — it's not just all one way."
The best way to keep a marriage harmonious, say the Kendricks, is to know "when to shut up."
Every night finds the couple joining hands to say their prayers to God, who they have relied on for a lifetime to guide them in the right direction.
"It seems like on every corner, things just worked out," said Louise.
Now in the twilight of their marriage, she and Delmar pray that they will pass from this life hand-in-hand when the time comes.
They recently had a photo of their clasped hands taken to grace the cover of their memorial service program.
"I ask God to let us go together, I can't imagine life without him," said Louise.