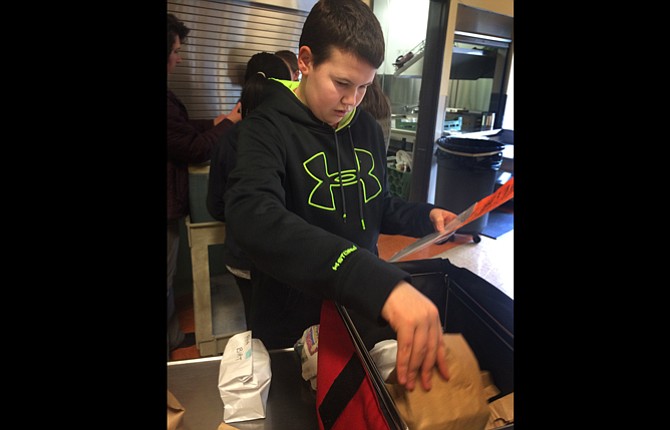 For three years now, students at St. Mary's Academy have delivered Meals on Wheels once a month to senior and disabled citizens in The Dalles.
On Tuesday, seven groups of chaperoned St. Mary's middle school students headed off with hot meals, cold side dishes, and a special treat – a gallon of apple juice for each person on their route.
Eighth grader Jake Dollarhide knew the drill. As soon as he got his route assignment at the Mid-Columbia Senior Center, where Meals on Wheels is housed, he started checking off the bagged side dishes in a large tote to make sure the count was accurate; same thing for the hot dishes when they came out.
Once on the road, Dollarhide enthused, "I like helping people."
He agreed with sixth grader Conor Blair that it was actually a double bonus because they not only got to help people, but they got to skip class to do it.
The kids on this route — eighth grader George Harrison rounded out the trio — have 14 homes to visit. At one of the first homes, a woman was glad to see youngsters deliver her meal.
Heading back to the car, Dollarhide said, "Well, she was excited to see us. Phew!"
He said, "I like when people get excited. It's fun to help them."
Ashley Lauterbach is assistant director of Meals on Wheels. She welcomed the regular help of St. Mary's, whose students make up the 125 or so volunteers who help out each year.
Meals on Wheels delivers meals Monday through Friday, and on Friday sends frozen meals for the weekend.
It serves about 100 people on the driving routes, and about 50 to 100 people dine at the senior center each day, she said. In all, about 46,000 meals are served each year.
A donation is suggested for the meals, but no payment is ever required. The suggested donation is $3.75 for those over 60 and $5.50 for those under 60.
Meals on Wheels started in the 1970s and was first housed in a service organization downtown, Lauterbach said. In the 1980s, it moved to the Senior Center, a facility that was built for them, she said.
The organization gets $1 per meal from the state for each person served aged 60 and older, through the Older Americans Act. It is also funded heavily by United Way.
"Without United Way, we couldn't do it," she said.
It also fundraises through its weekly Thursday Bingo game, plus it accepts donations.
It's been a rough eight or so years, with the loss of some state funding, said Lauterbach.
"We worked hard to make it up with fundraisers and bingo," she said. "And we've gotten by."
But they do have to make do. They could use a new dishwasher, but can't afford one. "We use twisty ties to hold our dishwasher plug in. We've got a few things that are held together by duct tape and prayer.
"I really think God sees us through the tough times."
Back on the route, another woman enthused to the young contingent
at her door, "Oh my
gosh, this is such a surprise!"
Heading back to the car, Blair said, "It's so nice to make somebody's day like that. It makes you feel so good to see that big grin on their face."
The kids have done the routes so much that they remember details. One home comes with special instructions to leave the meal in the fridge if nobody's home. Harrison said, "Oh this place, I know where the fridge is on this place."
Other homes come with instructions to either knock very lightly, or to call them on the phone number listed if nobody answers.
In one special turn of events, Jean Hampton greeted the students by telling them it was her 94th birthday. She happily agreed to pose with them for a quick photo.
At the next stop, Dollarhide happily returns to the van saying, "I like meeting new people."
"Me too," Blair agrees.
As Blair hopped in and out of a van at each stop, he was habitually whacking his head on the ceiling. It became a game to see how often he did it. The chaperone asks him how many times it's been. He said, "It's seven. Make it tally marks, because I might not be done."
Indeed, by the end of the route, he'd hit his head nine times.
Lauterbach is appreciative of St. Mary's, which is the only school that
volunteers for route deliveries.
"We love having them," she said. "The kids always seem to enjoy getting out."
She said St. Mary's development director, Wendy Palmer, called her three years ago about having the kids help out with deliveries.
She said they both agreed that "It's so important to involve kids in this because this is the next generation of people who are going to care, and teaching them community service is huge."
Each week, 35 different volunteers drive the routes, she said.
"We live in a community that's there for itself," she said.
"People really believe in it and that's a really cool thing.
"We're really blessed to have a good group of people and we're especially grateful for our volunteers," she said.
For more information, to volunteer, or to donate to Meals on Wheels, call 541-298-8333.