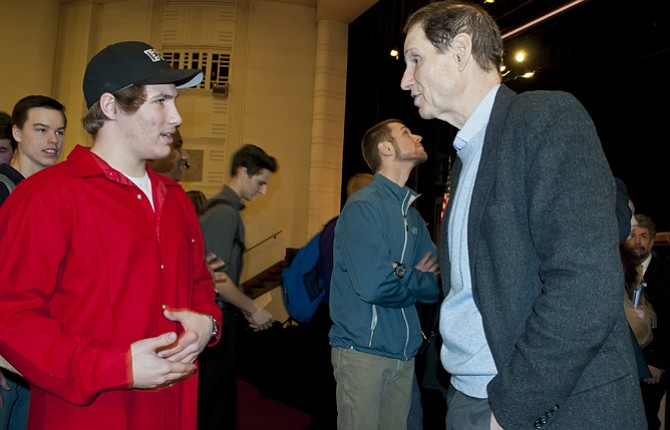 U.S. Sen. Ron Wyden, D-Ore., visited The Dalles High School Tuesday and fielded questions from students about a wide range of topics, including his opinion of GOP presidential candidate Donald Trump, his stance on Syrian refugees and thoughts about the militant standoff in Harney County.
However, Wyden spent most of his 90 minutes with teens and community members talking about plans to improve graduation rates and give youth a brighter financial future.
He asked senior Logan Kalsch to work with his staffers on getting more input from students about the types of changes that would motivate them to earn a diploma.
"The opportunities aren't there anymore and a lot of things are getting overshadowed," said Kalsch, who told the senator that budgetary shortfalls were reducing the number of available elective classes.
He said losing classes that spurred student interest made it more difficult for many to succeed.
Wyden said his dream to be a professional basketball player had fueled his desire to go to college. While he had been "too short and slow" to achieve that goal, Wyden said he trained for the legal field and became an advocate for seniors, a role that eventually led him into politics.
"If I hadn't had basketball, I'm not sure that I would have been willing, day in and day out, to do all that studying," he said. "What really excites a lot of students are the electives and sports programs."
It was time to take action, said Wyden, when Oregon ranked near the bottom in the nation for high school graduation rates.
He invites youth suggestions for change at www.wyden.
senate.gov.
Wyden is hopeful that his provision in an education reform bill will help more low-income and low-performing middle and high schools receive federal funding to enhance student achievement.
He envisions grants being used by educators to locate at-risk students and intervene early to help them achieve academic success.
Higher graduation rates, said the senator, have been linked to lower unemployment and better earnings.
COMMENDATIONS
The Every Student Succeeds Act also includes a provision pushed by Wyden that focuses on helping foster children and those experiencing homelessness.
"We need to identify new ways to provide them with support," he said, commending local resident Gary Casady for getting kids off the streets by establihsing a Youth Empowerment Shelter.
Casady said it took a team of people to make that happen and he was only one of the many who invested great effort in the cause.
The Dalles Police Chief Jay Waterbury was also applauded by Wyden for preserving the peace and protecting the public in a career that had spanned 40 years.
BUDGET ISSUES
Once opening remarks were made, Wyden settled into a discussion about education.
He said allowing managed harvests in national forests would provide more revenue for schools and accommodate biomass, a renewable energy source.
However, in a time of budget constraints, he said more community programs were also going to have to be developed to fill the gap with the learning needs of students.
"You need to put heat on Congress but also put it on your local school board," he said.
Wyden told students that Medicare and Medicaid reforms were vital to the economic health of the nation."Every day 10,000 seniors retire and that is going to go on for decades," he said of the need to overhaul the system to make it more cost effective.
"If we don't find a way to make sure seniors get good quality, affordable care that's where all our money's going to go," he said.
The 12 percent spike in prescription drug costs was one of the issues that needed to be addressed, said Wyden.
THE DONALD
When he was asked to share his thoughts about Trump, Wyden laughed and said that he usually tried to stay away from politics in his town halls. The Dalles was his 749th since taking office in 1996.
"What I've tried to do more than anything else is stay away from the scapegoating and some of the finger-pointing and rhetoric that doesn't help us find solutions," he said.
He did not weigh in on any of the controversial remarks made by Trump, except to note that media "sound bites were often overly simplistic."
The bottom line, said Wyden, was that the Senate had to come together to find solutions since neither party had enough of a majority to "have it their way."
"When I see all the presidential candidates with rhetoric over the top, I think, 'That's not the Oregon way,'" he said. "The Oregon way is to find ways to work together to solve problems."
REFUGEE STATUS
On the issue of Syrian refugees being allowed into the United States, Wyden said the U.S. should remain open to people fleeing from political persecution.
Between 2001 and 2015, Wyden said about 2,000 refugees had come to the U.S. from war-torn Syria.
He said the vetting process for resettlement of these refugees was very tight and it often took a year to get through all of the paperwork involved.
However, Wyden said the visa waiver program, which was enacted in 1986, is "problematic" because it has loopholes that can potentially allow terrorists into the country.
The program, which brings almost 20 million people to the U.S. every year, allows people from 38 countries — 30 of which are in Europe — to cross borders with minimal screening.
Wyden said that makes it difficult for officials to weed out people seeking to enter the U.S. after training in terrorist camps.
The basis of the growing threat by the Islamic State and other militants, said Wyden, is the U.S. decision to invade Iraq, something he voted against.
"I sure wish my position had prevailed at that time because I think we wouldn't have the problem we now have in that part of the world," he said.
Wyden said more than $1 trillion had been spent on military action in the Middle East since 2001 and that money could have been used for numerous domestic programs.
He said spending by the Pentagon had become so "poorly coordinated" that he and Sen. Ted Cruz, also a GOP presidential candidate, were calling for an audit.
On the Harney County standoff tied to the federal sentencing of two ranchers for arson, Wyden condemned militants' takeover of the Malheur National Wildlife Refuge or any other type of illegal behavior. He serves on the Senate Intelligence Committee and said he had been receiving regular briefings on the situation from the FBI agent in charge.
"I do not support people taking the law into their own hands," he said.
Wyden believed a high level of frustration about the ailing economy in rural America had contributed to the conflict.
He said ranchers and other citizens in outlying areas felt that federal officials were not listening to their concerns, or even interested in their welfare.
"Too often, somebody sets in a government building and says, 'This is the way it's going to be' and I'm trying to change that," he said.