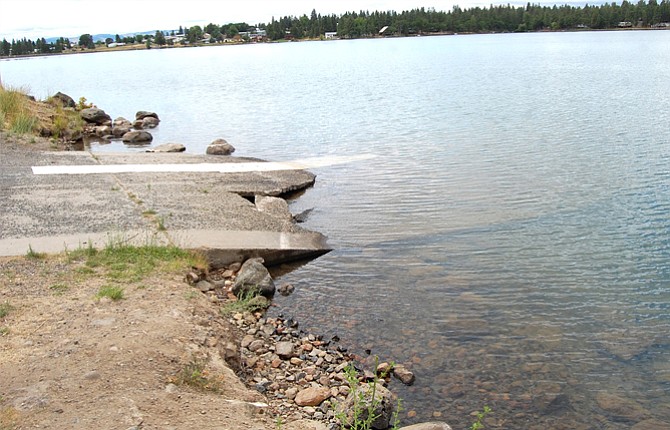 Inspired to fix a broken boat ramp at Pine Hollow Reservoir, a group of motivated South Wasco County citizens want to form a non-taxing parks and recreation district.
At Monday's Wasco County Board of Commissioners meeting, they got a consensus to move forward.
Members from the South Wasco Alliance, Wamic Rural Fire Foundation and Wamic Boating Access Improvement Committee began meeting with Commissioner Steve Kramer, Administrative Officer Tyler Stone, County Clerk Lisa Gambee and Planning Director Angie Brewer in August to figure out what do to about the north boat ramp, which has been closed for about five years.
The group realized in order to get any grants from the Oregon State Marine Board, Oregon Parks and Recreation Department or Oregon Department of Fish and Wildlife, they needed to form a parks and recreation district.
One of the first steps they did was an Oregon Kitchen Table survey to get an idea of the support for forming a parks and recreation district in the south end of the county.
A total of 289 people from 81 zip codes responded to the survey. Sixty percent considered their primary community to be in South Wasco County and 90 percent had visited recreation sites there in the last 12 months.
The results were overwhelming as 91 percent "agreed that a development of a parks and recreation district would benefit their community and would support its formation, even if that means that the district would need to occasionally solicit voluntary contributions to match state and federal grants."
"It was absolutely remarkable the interest that we got from those people that responded in favor of running a parks and rec district," Merle Hlavka said.
Nearly half of respondents stated they would want to see the Pine Hollow boat ramps replaced and maintained.
Embarking and debarking on the Deschutes, providing signage to distinguish recreation sites from private lands, updating and repairing buildings at Hunt Park and creating new parks in under-served areas were other issues people thought a parks and rec district should tackle.
The boundaries of the district have yet to be determined but Gambee said Maupin, Shaniko and Antelope have all indicated they want to be included.
Dufur already has its own parks and recreation.
Gambee and Hlavka said the district will be non-taxing because that's the only way they believe it will get through. A taxing parks and rec would have to be approved by the district's citizens and they don't see that happening.
In 1977, a group of South Wasco citizens got enough signatures to put a taxing district on the ballot and that failed. More recently, the Wamic Rural Fire Protection District tried to become a taxing district and also failed.
"With this austerity we have going through the United States, I think a tax district would fail miserably," Hlavka said. "I think down the road it could be readdressed. It's a new enough idea that people need to see what's going on. I would be more comfortable having a track record, a demonstration of capability before that was addressed."Hlavka gave the example of the Wamic Rural Fire Protection District as one that has been successful without taxing.
Carol Aarnio, the wife of Chairman Bill Aarnio, concurred.
"We really don't need one," she said. "The people have been very generous with their money and their time and I think in their minds, maybe the rec district is maybe more important because it involves fun things and I think they would support it even if they had to pay taxes to do it. I think it's worth trying."Once the boundaries are set, the board of commissioners can initiate the district. They must then wait 30 days for the first public hearing and then another 20 days to sign an order to form the district after a second public hearing.
The recreation district's board of directors would be voted on in November.

"I've never seen so much support for this," South Wasco Alliance board member Mike Davis said. "You see it all of the time. It's not whether we should or shouldn't have it, it's what we should be doing.
"We've got the people to do it. I ask the commissioners to move this forward as fast as we can. We've got the momentum."