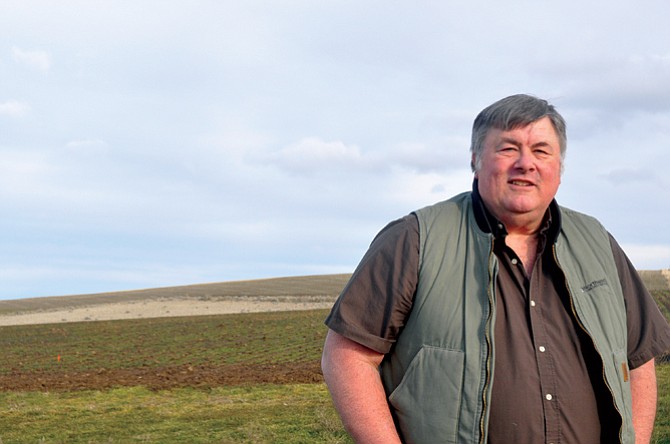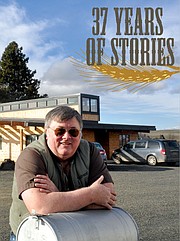 A few years ago, Sandy Macnab picked up a Sherman High School sports program and started counting the number of kids who came from farm families.
Out of 19 players, he found three who had any kind of association.
An Oregon State Extension agent, Macnab spent 37 years making sure those other 16 weren't missing out.

"I've always felt strongly about agriculture," Macnab said. "I've always felt strongly about the people involved in agriculture and I've always felt strongly about telling our story to the rest of the world because there's less than 2 percent of the population associated with farming and the average American today is more than three generations removed from the farm, so most kids don't even have a grandparent they used to go visit once in a while and see them feeding the cows. It's a lost world out there."
Macnab grew up on a 1,850-acre wheat farm on the Deschutes River in Sherman County.
Long before he was of legal driving age, Macnab would follow his father in a pickup truck 10 miles into town to an old seed plant in Wasco to get a load of grain. So at age 18, when asked by the DMV how much driving experience he had, Macnab put down 12 years.
Macnab assumed he would become a fifth generation farmer.
However, his older cousin had another plan.
"He told me I was too smart for farming and would be wasting my time, which I don't think is entirely true, but I can see where he was coming from," Macnab said.
Instead, Macnab began a career with the Oregon State University Extension Service in 1979. He served Sherman and Wasco counties until he retired on Dec. 31, 2015.
Macnab, who will work half-time in 2016, graduated from Oregon State University in 1975.
After three years working on the farm with a local rancher, Macnab attended a Sherman County Club dinner. Speaking at the dinner was a man from extension.
Macnab went back the next day to apply for the Sherman County position, which had been vacant for almost a year. He started working in May.
In 2012, he was the 27th member inducted into the National Association of County Ag Agents Hall of Fame.
Macnab accomplished a lot in 37 years, but compared selecting his proudest achievement to picking his favorite child.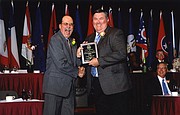 Bull Tour
Macnab organized the Wasco County Bull Tour for 23 years even though he had little livestock experience. As a freshman at OSU, Macnab fed beef cows for a research project.

"I walked clear across campus, and this was the year that, from Oct. 15 to the 15th of May, they had 82 inches of rain," Macnab said. "We had a girl that was knifed in one of the dorms and they hadn't caught the killer yet. There was all kinds of security things and the campus police would follow me every morning until they realized that I was not a killer, leaving at 4:30 or 5 in the morning. I walked to the furthest end of campus and did that every morning in the rain and fed cattle, shoveled it in one end and shoveled it out the other. It was a process. It worked and it paid."
The bull tour regularly attracted 140-350 people and under Macnab's watch turned from a social event into an educational one.
He said the key to a successful Bull Tour was hiring the right people.
"Get the people who know what they are doing and put them in charge," Macnab said. "You set up the program and introduce them and let them go. That's worked tremendously."
One thing that made the tour so much fun was listening to longtime livestock specialist Dean Frischknecht's stories.
"He could tell stories all the way across and never stop talking and all the way back and never stop talking and never tell the same story twice," Macnab said. "He could tell you who had which bulls, where those bulls came from and what part of Montana that ranch was in and what was the wife's name and the family dog. He just knew the details. He just had a mind for those things. He was an incredible guy and great storyteller."
Off Stream Watering
Macnab also worked with the state legislature.
One issue facing ranchers was the rule that they could not water stock in the stream because of damage to riparian areas. Instead of letting it kill the livestock industry, Macnab worked with local ranchers and the Soil and Water Conservation District to write a bill that allowed stockmen to pipe water from a stream to an off-riparian water trough as long as the overflow was released directly back to the stream. Macnab presented testimony and was even on the floor when the bill passed.
Wind Farming
Long before it was popular, Sherman County had wind turbines.
In 1980, Macnab assisted an OSU researcher gather wind data for two years.
The data was finally available in 1998 and garnered interest from the wind-generated power industry where technology had improved enough to take advantage.
The first 16 towers were set and started a land rush by wildcatters to tie up leasing rights of land. A public meeting drew nearly 150 people and explained the cost to landowners and their rights in a standard contract.
"We received notes from five different wind energy folks saying it was the most un-biased and fair program of the kind they had been involved with," Macnab said.
Sherman County now has 564 operating wind towers.
Macnab has led tours and conducted workshops on wind farming. He's also delivered seminars on what the county has learned by having the towers in its back yard.
"It has been interesting, but I am no way an expert in the field," Macnab said.
Recycling
As a freshman at OSU, Macnab joined Eco-Alliance, which started a recycling effort for the city and college.
In 1991, he then took that experience and conducted a PR campaign for the first household hazardous waste collection in Wasco County and preceded that with an agricultural chemical container recycling program, which brought in over 7,500 pounds of unwanted, cleaned plastic and metal pesticide containers.
The household waste collection brought in over 300 vehicles with volunteers from the farm community directing traffic, conducting surveys and distributing educational materials.
The Department of Environmental Quality then included in a grant its first ever agricultural hazardous waste collection, which has since become part of the on-going collection process.
Macnab was court appointed and served as chair for the Sherman County Solid Waste Advisory Council, which wrote the recycling plan for the county and obtained grants to secure recycling containers for each city.
When DEQ stopped funding the hazardous waste collections, Macnab served on a tri-county steering committee to develop a plan to set up permanent facilities and collection events in Wasco, Sherman and Hood River counties.
"That's had a huge impact. I think we're at about 1.3 million pounds of
hazardous waste that have been kept out of the landfill," Macnab said.
The ag collection program won a national award and was copied by Nebraska.
Introducing Wheat
When Macnab's youngest son was in the fourth grade, the students learned math by following the wheat markets each day.
After it was discovered the kids knew so little about wheat, Macnab put together a class to teach the students about the history, biology and economic impacts of wheat.
They made bread and pulled apart plants to find the tiny heads inside the stems.
Macnab taught the class to more than 300 elementary school students over 12 years.
Sherman Development League
In May of 2000, OSU Extension conducted a statewide, county by county needs assessment.
In Sherman County, the biggest needs identified were economic and community development so Macnab was named a specialist in those areas. He and a group of six leaders in the county formed the Sherman Development League. Macnab has served as secretary since the first meeting.
The group established a teen center that operated for more than five years.
"It was not without its unique challenges but it provided many good community services, especially providing a safe haven for some very at-risk kids in town," Macnab said. "It was an incentive to reduce juvenile delinquency in the county."
To date the SDL has invested over $776,000 in grants and $150,000 in loans to build social, educational, economic and general health to the county.
Ag Agents Meeting
When the National Association of County Ag Agents needed a site for its 2009 annual meeting, Macnab knew that Oregon had not hosted since 1970 and began organizing support for his state.
He agreed to chair the event held at the Oregon Convention Center in Portland, not knowing it would come during one of the worst economic downturns in history.
The association expected only 600 people but Macnab got more than 1,000.
"I wanted to show Oregon off," Macnab said. "Over the years I had gone to this thing probably 22 times. They knew about different parts. They have family that lives out here but they've never come and visited them."
Macnab helped organize 24 different tours to different parts of the state.
One went into Sherman County to see the wind towers and mulch-tilling, he explained.
"We showed them a hillside combine and they'd never seen that, a lot of those wheat grower guys from the flat lands of the Midwest," Macnab said. "That was really fascinating."
Weed Districts
Thanks to farmer Carl Kaser and the discovery of a noxious weed, Rush Skeletonweed, Macnab helped take the Wasco County Weed District from an annual budget of $3,000 to more than $650,000.
Kaser walked into a county court meeting wearing a pair of welder's blacksmith gloves that came up the his elbows and carrying a 12-foot Scotch thistle plant.
"He wasn't on the agenda but they couldn't wait to get done with the topic they were talking about," Macnab said.
Kaser's display got the budget back up to $10,000 and skeletonweed did the rest. Macnab said they got over 800 calls one summer to identify what people thought might be skeletonweed.
Retirement
Years ago Macnab felt the pressure to change jobs.
About every eight years, extension agents were expected to move to get any kind of promotion or pay increase. But Macnab managed to buck that trend and spend all of his career in Sherman and Wasco counties.
And even though he's no longer a full time employee of the extension service, Macnab isn't moving anywhere.
"This has been home, this whole community," Macnab said. "I like the area. I like the people. It's got everything you need here."
Macnab isn't exactly sure what he wants to do next. He wouldn't mind working on a tractor or getting more involved in harvest.
One thing is certain, like his location, Macnab's mission will remain the same.
"I still want to tell agricultural stories," he said.