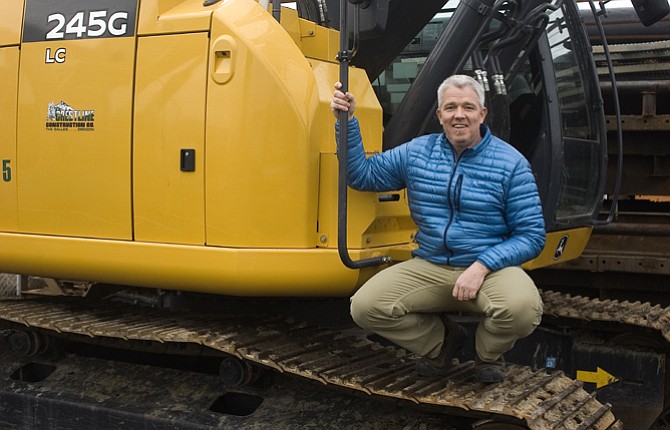 When Crestline Construction was recognized as the 2016 Business of the Year by The Dalles Area Chamber of Commerce, Operations Manager Erik Kerr had no trouble articulating why he felt the company had received the award.
"Crestline is a company of its people — we are as good as our people are. I think [the award] is a result of our investment in our people, our visibility in the community. That's what completes the circle."
Crestline was started in 1994, and is currently owned by Kerr, his brother Tim Kerr, their uncle by marriage Brent Kerr and Alan Aplin, who purchased the company from Ron Schmidt and Bill Lancaster in 2008.
In the summer, when the workload is greatest, they employ about 70 workers full time. In the winter, that number drops, although in recent years not by much: This winter they have 59 employees.

Crestline Construction is a "heavy civil construction" company — which means they do earthwork.
"If it's built above the ground, it's not us. But for anything to be built above the ground, we have to get there first," Kerr explained.
"If it's work on or under the ground, that is the work we do."
They work with local and state governments on a variety of projects, as well as with private developers. They work in the energy sector, including hydro and wind projects. They do roadwork and grading.
Their market, said Kerr, is primarily within a 100-mile radius of The Dalles.
"We can serve that area without sacrificing quality," he explained, and "allows employees to work in an area that is part of their community."
Although they will occasional house workers during the week on a distant job — as they have in Yakima — that is not their model. "We really concentrate on our core circle, because that is where we can perform at our peak, for our clients," he said.
The key to their success is doing the job right. "Enduring work is built correctly, by way of a process," he explained. "Crestline employs processes that have been developed here over 20 years, with the experiences of our supervisors and project managers.
"We have been through the learning curve. You're not paying for the learning curve when you work with Crestline." To prove his point, Ben Lancastor, Crestline field operations manager, has 35 years of experience, as does Hank Keith, Crestline general superintendent.
Retention of employees, added Kerr, is a big reason the company is doing well. "I came from a market in Portland, we had a new crop of operators, laborers and foreman, probably 50 percent turnover, every year."
In contrast, Crestline has less than 10 percent turnover, Kerr said.
The key to retaining employees, he said, is the diversity of the work, the amount of work available, strong community support, good client relationships and competitive pay and benefits.
"We aim to have a collective team that can out produce any individual," Kerr said.
Another big factor in Crestline's success has been an outstanding safety record.
"Our culture of safety opens the door to working with sophisticated clients who understand the importance of safety on their projects," he explained.
The company employs Greg Jensen as a full time safety director. He does it all, said Kerr, from traffic control and putting up signs to safety training and monitoring onboard safety equipment. He gives safety training to new employees and does state-mandated training as well.
"It keeps that culture of safety front and center," Kerr said.
Their safety record is one of the first things a visitor sees when arriving at their office on Crates Way in the Port of The Dalles Industrial Park: The signboard currently scores 2,125 days without a lost-time injury accident.
Kerr anticipates that number will continue to grow — as will the number of satisfied clients they serve — in the coming years.