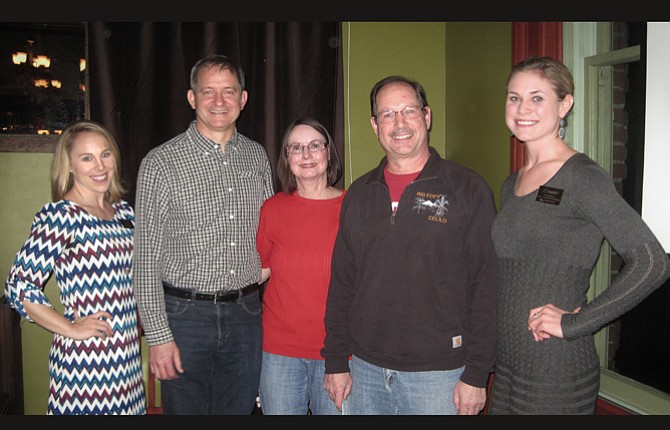 Kathy Pierce of Wasco County has been honored as "Big of the Year" for her efforts to mentor a "Little" during 2015.
Pierce was described by Big Brothers Big Sisters of the Columbia Gorge at a recent award banquet as "kind-hearted, easygoing, and understanding.
She had an eagerness to get involved and make an impact on a young girl's life, so she was matched with her first Little Sister in December 2012, according to information provided by the organization.
Big Brothers Big Sisters of the Columbia Gorge hosted its annual Mentor Appreciation event at Clock Tower Ales in The Dalles to thank all of its volunteer mentors for the work they do on behalf of children.
Pierce and her Little Sister have gotten together once a week to have dinner, watch a movie, and play board games.
They also enjoy baking, arts and crafts, and having important, heart-to-heart talks together. Pierce's Little Sister will be graduating high school in June with goals of seeking a higher education.
At that time, their match will close, but they have decided to stay in contact and remain great friends.
Pierce has an additional Little Sister that she will continue to spend time with. The seven-year-old girl is described as "full of energy and curiosity."
They have enjoyed cooking together, attending the annual BBBS Christmas breakfast, and are creating an ongoing scrapbook about the time they spend together.
Along with the recognition for Bigs at the Jan. 20 gathering that drew about 30 people, the organization also named a Match of the Year for Wasco County: Bill Ferderer of The Dalles and his Little Brother.
Their match began in March 2013 and these two always have a good time together. Ferderer's Little Brother's mother pursued BBBS because she knew that her son needed a positive male role model he could count on.
According to BBBS, his home is currently in a state of unrest, and Bill has provided his Little with a space where he feels comfortable talking about his feelings with a trusted friend.
Since being matched with Bill, the Little's confidence and self-esteem have both improved, and he has been able to stand up to peer pressure, says his mother.
Over the past two-plus years, Bill and his Little have completed many woodworking projects, caught numerous fish, and have attended countless BBBS annual events. They enjoy riding their bikes, going camping, and working on homework together.
BBBS, a program of The Next Door currently serves 85 matches in Wasco, Hood River and western Klickitat County.
There are currently 27 Little Brothers and Sisters between the ages of 6 and 14 waiting to make a new friend.
For more information, please contact Kateel Muhs in Wasco County at 541-399-0259 or Justine Ziegler in Hood River and Klickitat counties at 541-490-9979.