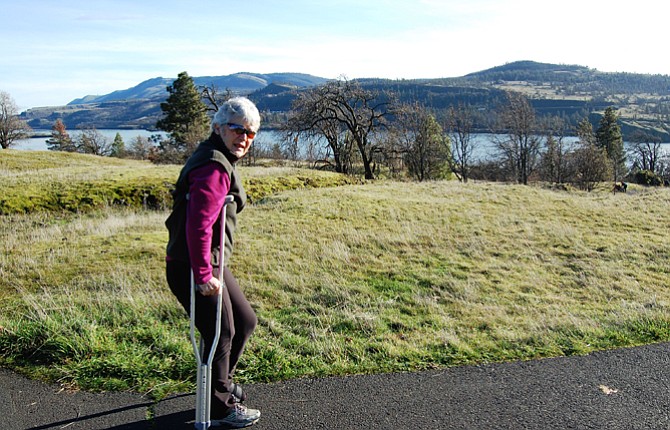 I did my first alpine downhill ski run in 1949 and my wife Janet followed those tracks in 1964.
That, my friends, is a combined 117 years skiing everywhere from Pocatello, Idaho's Pebble Basin Ski Area to Heavenly Valley, in California.
Between the two of us we have never had so much as a sprained ankle.
And then four weeks ago Janet went downstairs to our kitchen to dish up a bowl full of Ben and Jerry's Cherry Garcia ice cream and on her way back up broke 4 of the 5 metatarsal bones in her left foot.
Ouch!
It looks like we are going to miss the first 8 weeks of this year's ski season.
Lucky for us, we will still be in good physical shape to enjoy spring skiing in late March and April, because we live within 15 miles of four universal access hiking trails.
These trails are all paved except Klickitat Rails to Trails, have grades easy enough for folks using crutches, walkers and even wheel chairs.
We won't miss out on our semi-weekly hikes or early season wildflowers.
THE DALLES RIVER FRONT TRAIL
You can access this trail at the new boat dock at the bottom of Union Street or the Kiwanis's Klindt's Cove Park at the Port of The Dalles Industrial Area.
My favorite spot to begin a hike on this trail is at Klindt's Cove.
There is a handicap parking spot and a restroom complete with drinking fountain.
Your best bet for a nice walk is to head west towards the mouth of Chenoweth Creek. Here is superb habitat for beavers, great blue herons, ospreys and an occasional bald eagle.

Keep following the trail as it swings past the west end of the Google complex and follows the creeks wetlands. Just past Home at Last there is a small footbridge that crosses Chenoweth Creek that at the right time of year is chocked with colorful monkey wildflowers.
This is also a good place to have a snack and a sip of water before heading back to the parking lot.
CATHERINE CREEK
Interesting enough, although this is one of the first universal access trails built in the gorge it is also the only one that does not have handicap parking areas.
Getting someone to the paved trail can be tricky but not impossible.
It is just a short walk across the road to where the paved trail starts and then it is a piece of cake.
This trail system is configured as a figure 8 with several route alternatives.
For a short walk take a left at the first junction and follow the trail for .25 mile to an overlook with a stunning view of Catherine Creek Waterfall.
This walk will take you past early season grass widow flowers and later on prairie stars, bitterroots, and poet's shooting stars.
Later in the spring if you follow the trail to a vernal pond you will be treated to large patches of camas and death camas flowers.
To find Catherine Creek trailhead take Washington Hwy 14 west to Lyle and then follow Old Hwy 8 for several miles to the parking area at Catherine Creek.
As with any hike take water, snacks and don't forget your camera.
KLICKITAT RAILS TO TRAILS
You will find this easy to walk gravel trail on the east shore of the Klickitat River just off of Highway 14 in Lyle, Wash.
This trail follows an old railroad bed for the first 31 miles of track that connected the towns of Lyle and Goldendale.
The first 1.5 miles of this trail are easy to walk on gravel and perfect for anyone needing a nice path to follow.
This trail is unique in the fact that it is the only trail that follows an old railroad right of way that starts in one of the nation's only National Scenic Areas and follows a designated Wild and Scenic River.
BALFOUR-KLICKITAT PARK
You will find this gem by following Highway 14 west across the Klickitat River and taking a right hand turn onto Old Highway 8; the parking area is just a few hundred yards away.
This paved path is a big loop that if you follow it in counter clockwise direction will take you past a grove of Osage orange trees and downhill until it reaches the west shore of the river.
This is a perfect place for winter bald eagle viewing and year round waterfowl and song bird watching.
There are two picnic tables that overlook a small cove that is home to a winter salmon run.