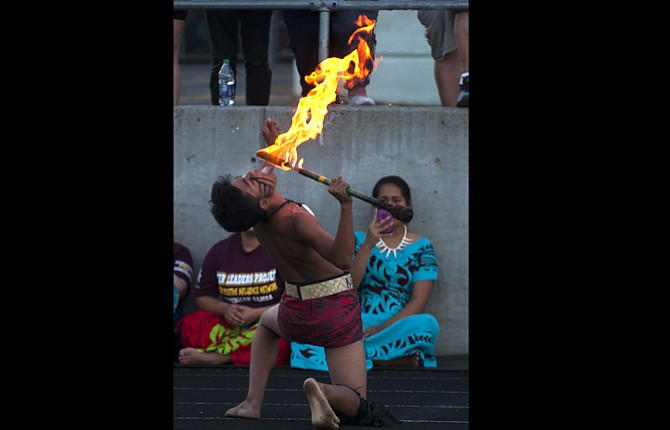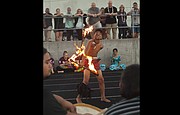 A recent exchange of students from American Samoa visiting The Dalles was such a success that the local students – from Wahtonka Community School – hope to visit Samoa next year.
The visiting group of students are part of a peer leader program that draws students from various local schools, said Moelilia Seui, executive director of the program, Intersections, Inc.
The goal of the program is to encourage students to avoid risky behavior. The program director is Loso I'aulualo, whose parents live in The Dalles. His sister, Sala I'aulualo, is an educational assistant at Wahtonka Community School.
The visiting and local students worked during the week on writing a short play on teen pregnancy, titled "Dreams Interrupted," which was presented by the visiting teens on Thursday, July 14, along with Samoan dancing, including a fire knife dance.
The play featured a girl with dreams of joining the military with her two friends, but a pregnancy – from a single encounter at a school dance — ruined that chance. The lead character said, "One night, but that's all it takes to change your whole life."
There was a gift exchange before the performance, as is customary in American Samoa.
Wahtonka student Jordan Lutu, an incoming senior, was surprised to see his Samoan counterparts walk around shoeless.
"They shared their culture with us and we shared our culture with them," he said. The local students participated in some of the dancing and learned the routines in just a day.
Lutu enjoyed how all the kids got along. "They named out some things we did that were interesting, like talking back with our teachers. They said they couldn't do that."
Meanwhile, visiting Samoan student Werner Tumanu, 15, said the biggest surprise for him was that "Usually, I hear some bad things happen in the states and these kids were actually nice."
Though the students came here during summer, Seui said it was still cooler than winter in Samoa.
Wahtonka Community School principal/teacher Brian Goodwin said he hopes to take a group of students to Samoa next April for a week to do service projects.
The school is writing grants to help fund the trip, and will also fundraise. Goodwin would like an exchange to happen every year.
He also hopes to send students to Japan and Brazil on exchanges. "These kids deserve it," he said.
American Samoa, a U.S. territory, is a small group of islands in the South Pacific with a population of just 65,000. It is a very conservative society, Seui said, but there is still a problem with teen pregnancy.
In American Samoa, teen pregnancy "is a shameful thing. It's frowned upon," she said.
But there is cause for hope: the last two years have marked the first time that no 14-year-olds were pregnant in Samoa, Seui said.
Some girls who get pregnant are sent to the states or to the outer islands, she said, and often the grandparents will take care of the child, she said.
American Samoa has no abortion providers, she said.
The exchange offers a way to show students that the problems teens face are universal.
The peer leader program seeks to show students about the effect of media on their thinking, and what healthy relationships look like.
It also addresses issues like bullying, drinking and substance abuse.
Seui said American Samoa is so small and isolated it's easy for students to think these problems are unique to them. She said the most powerful part of the exchange was seeing her students realize that "these are universal issues. They thought they were alone in their issues."
She said, "You don't have to be ashamed of certain issues because the same thing is the same here."
Her group seeks to challenge the message that all teenagers are having sex, and to challenge students to set a higher standard for themselves. "What kind of legacy do you want to leave for the next generation?"
Her group focuses on reaching students when they are in the seventh and eighth grade and challenges them to plan for the future, and not focus solely on the here and now.
The power of having students address students is that where adults might not be listened to, students are more willing to listen to a peer, Seui said.