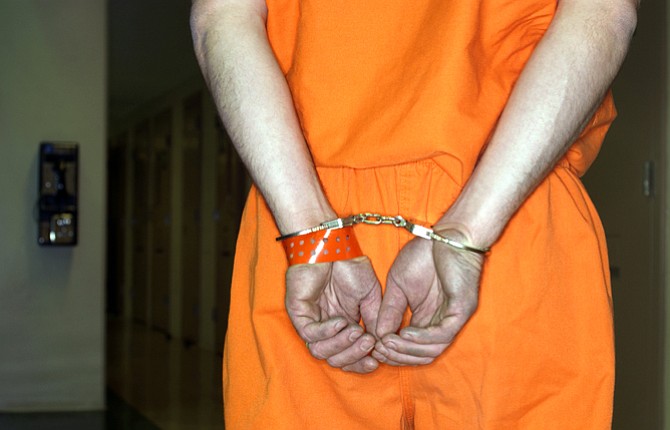 Wasco County Sheriff Lane Magill's "community policing" policy is being incorporated into regional jail policies intended to lower the rate of recidivism and help people build meaningful lives.
Magill and Bryan Brandenburg, jail administrator, have a team of professionals lined up to help an inmate kick an addiction and get treatment for mental illness while serving time.
They are also focused on helping a soon-to-be-released inmate locate housing, find transportation, and get a job — all part of an effort to build self-esteem and stop the high turnover rate.
"We need to meet the needs of offenders and citizens alike," said Magill. "We can do that by spending more time with them and creating solutions."
Behind the new push for greater involvement with inmates is the fact that the Northern Oregon Regional Correctional Facilities in The Dalles, which serves four counties, has more repeat offenders than other areas of the state.
The daily average population in 2014, the last year that full numbers are available, was 120 people on the adult side. There were over 300 admissions and discharges per month, with the average length of stay at 13 days, and a recidivism rate of over 60 percent.
INMATE ISSUES
Brandenburg said many returning inmates — between 80 and 90 percent —have a substance abuse disorder or diagnosable mental illness.
"We have become a de-facto psychiatric unit," he said.
Changes in mental health laws, which make it more difficult to commit people, and fewer facilities to house them, have created a crisis situation across the U.S., said Brandenburg.
The Vera Institute of Justice reports that the number of annual admissions to the nation's jails has nearly doubled in a little more than a decade, from six million in 1998 to 11.7 million in 2013.
The institute found that 72 percent of people in jail with a serious mental illness also have a substance use disorder.
Costs associated with the increased population have skyrocketed nearly 235 percent.
Of the more than $60 billion spent annually on correctional institutions, $22.2 billion is spent by local jurisdictions, according to the institute.
It wreaks havoc on NORCOR's budget, said Magill and Brandenburg, when two-thirds of the 3,360 total admissions last year were released within six days.
"It certainly increases staff work load when we have that kind of turnover." said Brandenburg.
NEW PROGRAMS
NORCOR's operating expenditures are about $6.5 million per year, Brandenburg said, so keeping a balanced budget requires streamlining costs wherever possible. There is close to $1 million in reserve funds, which he said is not enough to weather years of added expenses.
The jail that serves Wasco, Hood River, Sherman and Gilliam counties, and provides beds for federal detainees and other contract entities, has 58 corrections deputies and support staff in the adult and juvenile facilities.
In addition to the adult population, there are 19 to 30 juveniles housed at NORCOR each day.
The counties' share of the budget is split, with Wasco paying 50 percent, Hood River 40 percent, Sherman 5 percent and Gilliam 5 percent.
"We're going to keep that standard for the next two years and then we'll re-examine," said Brandenburg.
He brings to the challenges facing the local jail a master's degree in clinical psychology from Eastern Washington University and 27 years of working in corrections.
His resume includes overseeing all operational aspects of 12 in-state jails in Alaska, which had 1,400 employees, and a budget in excess of $220 million. His experience also includes managing a men's psychiatric unit at a prison in Alaska.
Brandenburg has introduced several programs from Alaska that focus on anger management, substance abuse, changing criminal thinking, and preparing inmates for re-entry into society by providing them with educational, vocational and parenting programs.
"I am a strong advocate for these programs," he said.
ASSESSMENTS DONE
Brandenburg has obtained permission from the NORCOR board to partner with Mid-Columbia Center for Living, Goodwill and other agencies and organizations to provide inmates with needed services.
"We are asking why they come to jail and how we can divert them from being incarcerated," he said.
As a result, Brandenburg said the number of mentally ill housed on an average day has been cut in half, from 40 to 20.
"That's pretty significant," he said.
Incoming inmates are now assessed for risks, such as the potential for violent encounters with others inside the facility and how likely they are to re-offend when they leave.
If they have alcohol or drug problems, they are given resources to help them overcome addiction.
The jail has also utilized state funding to add a full-time mental health clinician and a certified substance abuse counselor to the employee roster.
A program coordinator position is being paid out of the jail's general fund.
Some inmates arrive with chronic health problems caused by hard living and they are provided with medical treatment to get these conditions under control, said Brandenburg,
People with criminal attitudes, those with a predatory outlook on life, and/or anger management issues, are offered counseling and given instruction about how to change their thinking so they can change their life patterns.
Along the way, they can take advantage of parenting classes that can help them overcome generational crime.
"Our job is to give a hand up to people and help them to learn skills and behavior to make better choices," said Brandenburg.
GETTING OUT
When it is time for an inmate to get out of jail after a stint that usually doesn't top a year, although there are exemptions, the focus turns to finding them housing and helping them get ready for a job search.
Magill said Goodwill executives then step in to help offenders prepare resumes and learn interview skills.

People are also matched with professionals to help them find housing, child care and sign up for food stamps and other programs that can help them get on their feet.
"We really look at the whole package," said Brandenburg. "If you get sober, find a place to stay and a job, the odds are good that you're not coming back."
It appears the programs are working, he said, although it has only been seven months since they've been fully implemented, so it is too soon to adequately measure success.
To date, he said 67 people have gone through the programs, and only 10 have returned to jail.
He said a control group of 90 people will be tracked for three years to see how well the programs work over a longer period of time.
"Everything's trending in the right direction," he said. "Hope is really all someone needs to turn things around."
Because of the partnerships that have formed, he said the jail has incurred some added training costs for staff, but these expenses are balancing out with fewer short-term inmates.
"We are reducing victimization in these counties by making people contributing members of society," he said.
LOWERING COSTS
According to Brandenburg, with the cost of jail operations going up each year, it isn't sustainable to have the inmate population across the nation keep growing.
To address the situation at the local level, Wasco County has signed on to a "Call for Action," a program being spearheaded by Hood River County Commissioner Karen Joplin.
She is working closely with John Olson, presiding judge for the Seventh Judicial District, to bring law enforcement, prosecutors, defense attorneys and parole/probation deputies together to discuss ways to increase efficiencies in the Mid-Columbia criminal justice system.
Joplin is seeking grant funds to provide technical support for the process, which could begin as early as fall. She is hoping the counties can find ways to reduce incarceration costs while still protecting the rights of defendants and victims and providing for public safety.
SERVICE CHANGE
Meanwhile, Magill is working to keep former inmates and prisoners on the straight and narrow by lowering the caseload ratio of probation/parole deputies.
State funding has allowed the addition of a deputy — there are now five – and that has reduced the overall caseload to 50-60 clients for every deputy.
Previously, the caseload was up to 110 clients for every deputy, almost four times higher than some other counties, said Magill.
"We couldn't really give those offenders the time they needed," he said.
Putting more of a focus on building a working relationship between the deputy and his or her client recently paid off, he said.
"The other day, an offender started to go off the rails and would have gone to jail if he didn't show up in court.
His probation deputy worked closely with him and helped him through the process, so we got a positive outcome," said Magill. "I think you get a lot more cooperation if people feel that someone cares about them."
He said caring is really the basis of the community policing model.
"If we put effort into this, we're going to get success," Magill said. "Yes, these offenders have to follow the rules and our first responsibility is to protect the public. But we need to get to the root of the problem that is causing criminal behavior so that problem can be fixed."
One of the ways the probation department is opening up lines of communication with probation and parole clients is by utilizing the services of "Ellie," a service dog.
"She visits the office two days a week.'' said Magill, "and you would be surprised to see how well people respond to her."
Although he didn't buy into the idea at first, staffers convinced Magill to give it a try and he allowed the small Shih Tzu-mix into the office on a trial basis.
Magill was sold on the idea after a repeat offender with a long-history of uncooperative behavior came in for a visit with her probation deputy.
She was being obstinate and refusing to talk about what was going on in her life, when Ellie came bounding over to her. The dog jumped up on the woman's chair and she began to scratch his ears.
The next thing the probation deputy knew, the woman was crying and sharing that she had been sexually abused years earlier, which she believed created a sense of shame that became the basis for her criminal behavior.
"So, we set about helping her get some things worked out," Magill said.
He and Brandenburg agree that spending time to help an offender with long-term stabilization of his or her life pays off by creating more stable communities. And that, they say, is the best way to preserve public safety.